Assignment on Consumer Behavior Essay Sample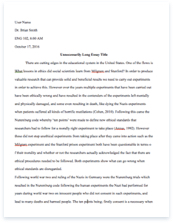 The whole doc is available only for registered users
OPEN DOC
Pages:
Word count: 1184
Category: brand
Download Essay
Get Full Essay
Get access to this section to get all the help you need with your essay and educational goals.
Get Access
Assignment on Consumer Behavior Essay Sample
Definition
Brand personality is the way a brand speaks and behaves. It means assigning human personality traits/characteristics to a brand so as to achieve differentiation. These characteristics signify brand behavior through both individuals representing the brand (i.e. it's employees) as well as through advertising, packaging, etc. When brand image or brand identity is expressed in terms of human traits, it is called brand personality.
EXAMPLES:
For instance – Allen Solley brand speaks the personality and makes the individual who wears it stand apart from the crowd. Infosys represents uniqueness, value, and intellectualism. Brand personality is nothing but personification of brand. A brand is expressed either as a personality who embodies these personality traits (For instance – Shahrukh Khan and Airtel, John Abraham and Castrol) or distinct personality traits (For instance – Dove as honest, feminist and optimist; Hewlett Packard brand represents accomplishment, competency and influence). Brand personality is the result of all the consumer's experiences with the brand. It is unique and long lasting.
Brand Personality VS Brand Image:
Brand personality must be differentiated from brand image, in sense that, while brand image denote the tangible (physical and functional) benefits and attributes of a brand, brand personality indicates emotional associations of the brand. If brand image is comprehensive brand according to consumers' opinion, brand personality is that aspect of comprehensive brand which generates its emotional character and associations in consumers' mind. Brand personality develops brand equity. It sets the brand attitude. It is a key input into the look and feel of any communication or marketing activity by the brand. It helps in gaining thorough knowledge of customers feelings about the brand. Brand personality differentiates among brands specifically when they are alike in many attributes. For instance – Sony versus Panasonic. Brand personality is used to make the brand strategy lively, i.e., to implement brand strategy. Brand personality indicates the kind of relationship a customer has with the brand. It is a means by which a customer communicates his own identity.
The 5 Dimensions of Brand Personality:
Consumers make purchasing decisions based on any number of associations they have with individual brands, and companies spend millions on advertising and marketing activities so that they can influence what those associations might be. Just as we each chooses our friends based on their personalities, brands can elicit the same sort of response in consumers. So the dimensions of brand personality are given below: 1st Dimension – SINCERITY:
Consumers interpret sincere brands as being down-to-earth, honest, wholesome, and cheerful. 2nd Dimension – EXCITEMENT
The most exciting brands are daring, spirited, imaginative, and on the cutting edge. 3rd Dimension – COMPETENCE
Reliability, intelligence, and success are the traits associated with these brands. Even in these trying economic times, there are a few financial services firms that still manage to play well in consumer minds. 4th Dimension – SOPHISTICATION
A brand that is sophisticated is viewed as charming and fit for the upper classes. When it comes to esteem and seemingly eternal longevity, the Chanel brand is unequaled 5th Dimension – RUGGEDNESS
Interestingly, consumers pick up on this personality dimension quite well. Rugged brands are seen as outdoorsy and tough. Tips to create brand personality: Just like people, brands must develop dynamic "personalities" to keep fans engaged. Creating a unique and engaging brand personality is no easy task, but these three tips will help get you started. 1. Establish a Solid Brand Identity: Establishing a solid brand identity that definitively separates you from competitors is critical to successfully shaping your brand's personality. For example, Target has clearly distinguished itself from competitors Wal-Mart and Kmart on social media by not focusing solely on deals and low prices but instead incorporating style, design and lifestyle into content and a more hip, trendy language to align with their offline brand image.
2. Know Your Audience: Make sure to also identify your audience's likes, dislikes and behavioral patterns when developing or reshaping your brand personality. For instance, If your brand is meant to be informative or serve as extension of customer service you will have to be more cautious and maintain an authoritative tone to be taken seriously and not alienate current consumers/fans. 3. Don't Be Afraid to Take Risks: As mentioned, finding your brand personality is not always easy. You may have to test different strategies before you identify a winning persona for your brand. You have little to lose and much to gain. In some instances, it may even make sense to establish multiple presences for your brand to avoid confusing messaging like Allstate. What Brand Personality needs to be?
Brand Personality needs to be different!
By being original and authentic, we stand a much greater chance to be noticed by our consumers. Taking Southwest Airlines for example. When every budget airlines shout "I'm affordable!", "No frill!" and the like, SA went further, finding a niche personality that create a uniqueness by adding "FUN", now if we do not want to pay through your nose for our airline ticket, but also do not want to get bored stiff, we will fly Southwest. Brand Personality needs to be credible!
Just like human being, brand personality needs to be crafted in an authentic way based on our capabilities and competencies. Otherwise, consumers will find the discrepancies and start to doubt our brand. A neighboring country immigration office includes "Friendliness" as their personality, but unfortunately, nobody could, after 8 hours shift day in and out, smile at everyone they face. It would be more credible if they adopt "courteous" and "efficient" as their personality. Brand Personality needs to be relevant!
It might be a no-brainer, but sometimes, because of the creative process, strategists often forget that whatever they create, should relate back to the targeted customers! If we are in a B2B business, most likely we would not adopt a "fun, carefree" personality because this is not what your target market wanted. So we must pick the best personality that connects to our brand and audiences! Brand Personality needs to be consistent!
We are always the biggest advocate of consistency. Without consistency, our message will simply be diluted overtime, and again, your customers will start to doubt us. To do this, we as the strategist of the brand, need to formulate the personality clearly, and translate this personality to our touch points, thus creating the coveted consistency. Creating a brand personality (or creating a strong, world-class brand in that matter) is not an easy task. It is a journey that never ends and sometimes you will find obstacles in the way.
Brand personality and celebrity should supplement each other. Trustworthy celebrity ensures immediate awareness, acceptability and optimism towards the brand. This will influence consumers' purchase decision and also create brand loyalty. For instance – Bollywood actress Priyanka Chopra is brand ambassador for J.Hampstead, international line of premium shirts. Brand personality not only includes the personality features/characteristics, but also the demographic features like age, gender or class and psychographic features. Personality traits are what the brand exists for.