Athletic home Essay Sample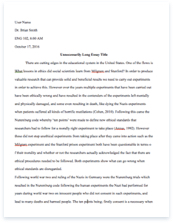 The whole doc is available only for registered users
OPEN DOC
Get Full Essay
Get access to this section to get all help you need with your essay and educational issues.
Get Access
Athletic home Essay Sample
I have grown up in an athletic home. Throughout my four years of high school, I have been a three sport student. I have played varsity tennis for four years, and junior varsity and then varsity in baseball and basketball. It has taken constant work to keep my grade point average at 3.7 while traveling and playing all through high school. Many nights I do my homework before or after a game in a gym, on a bus, or at home until after midnight to keep my grades up. My goals have always been high and I feel confident that I have been successful by taking advanced placement courses while being a student athlete.
I was almost born playing basketball. My dad has coached basketball for 30 years, and he has played, practiced, and coached me since I was old enough to walk. I realize that not everyone was blessed to have a coach for a dad, so I spend time each summer refereeing basketball games for young players in our small community. Taking time to discuss fouls, modeling appropriate court presence, and being a positive role model for younger athletes is extremely rewarding.
Every basketball season I help out the Shelton Parks and Recreation by coaching a little league basketball team. I work with each kid on his fundamentals in dribbling, shooting, and playing defense. After each short season, my goal has been to teach kids the idea of teamwork and to show them how fun competition can be. I've also been a "Big Brother" to ten kids over the past couple years. I go to Mt. View elementary and play games with kids whose home lives aren't the best or who are picked on at school. After working with these kids each year, I hope I have given them more confidence in themselves.
Conflict management class brought out extreme challenges for me while working in my mom's school during my junior year. The most difficult student I was given responsibility for was a boy named Tyler. Tyler was a 'non-reader' and needed to make significant improvements in his reading assessments or risk retention. Both my parents and my sister are teachers, so my instructor felt I was the perfect candidate for this job. After lengthy discussions with my family, reading effective teaching strategies, and keeping a positive, supportive attitude, Tyler surpassed everyone's expectations and learned to love to read! We were given special recognition for our hard work.
I have been involved with the Natural Helper program now for about 5 years. As a Natural Helper, I help feuds that arise between two or three students at a time. I address them and if they would like to undergo mediation, the conflicted two/three and I have a conference and try to settle the differences between them. This process has taken place at school or during the natural helper special retreat training in our community.
All of these activities and experiences I have had have given me a sense of hunger to be successful through the rest of my life. I am a very hard worker and strive to reach goals and overcome obstacles that are thrown at me. I want to, and I will, get a Master's degree in Pharmacy or Medical Science. I will get a Master's degree in Pharmacy or Medical Science because I know that each of these degrees includes helping people. In the past experiences I have had, I have found that helping people is very rewarding. Becoming a professional in the medical field will give me an opportunity to help people just about everyday.