Australian Fashion throughout the 1900's Essay Sample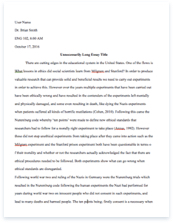 The whole doc is available only for registered users
OPEN DOC
Pages:
Word count: 850
Category: dress
Get Full Essay
Get access to this section to get all help you need with your essay and educational issues.
Get Access
Australian Fashion throughout the 1900's Essay Sample
Fashionable ladies enjoyed the grand occasions surrounding the federation of Australian colonies, and later the openings of new federal parliament, in Melbourne where royalty was going to be in attendance. Society matrons were lucky that the extravagant magnificent dresses of the Edwardian era coincided with Australians own premier events. Women liked to have a pinched waist, a big bust with no cleavage showing (as this was considered vulgar) and a big rear end. This S. shaped silhouette was extremely uncomfortable. The skirt fitted tightly over the waist and down to the knees, and then in a wave like line showing the petticoat. The only problem with these skirts was that when walking down the street the bottom of the dress would pick up rubbish as it dragged along the ground.
Ladies added volume to their hair by wearing pads called "rats" to attract even more attention. If that failed, fake hair was added. The most important accessory of all was the hat which was decorated with feathers, ribbons and sometimes even stuffed birds of small animals and all this was topped with a large hat pin.
Ladies wore high-heeled shoes which were pointed and peeped out from beneath the skirt.
Fashion colours were moving from the bright, strong Victorian colours into much more pale colours such as whites, mauves, and light blues. Also the fabrics changed to delicate, filmy silks, cashmeres, tussore and faille. Nellie Stewart, an Australian actress was reported to be wearing these new fabrics and colours to the Melbourne races. Elaborate jewels provided additional glamour.
The tea gown; a loose trailing garment of chiffon or lace was slipped on around 5:00 p.m. and the woman could finally enjoy the relief of loosening her stays.
Although women's fashion was changing rapidly and dramatically the men lived in suits, starched shirts, a vest and a top hat. Later for less formal occasions the three-piece lounge suit and bowler hat was created. Standards weren't allowed to slip. It was compulsory, even in the hot summer, to wear a waistcoat.
By 1909 boaters or as they were called in Australia "deckers" were popular amongst the male students, worn moored to coat lapels by a black cord, and boots were worn on their feet.
Women's fashion was mostly trapped in a constricting silhouettes throughout the decade, but by 1908 it began a radical change (caused by the craze of sport.)
Loose jackets with pivot sleeves were made for car and golfing wear. This was a major breakthrough for women because they could finally play golf properly without the tight cut dresses interrupting their swing.
Still whilst most sport wear was becoming briefer, there was still the problem of the heavy, cotton swimsuit. Annette Kellerman (an Australian swimmer) was one of the first women to wear the one-piece swimsuit.
A change of spirit was beginning to take over society, every body wanted to show off their natural figure and sizzling pinks, greens and oranges were the craze for women. Poiret created a straighter silhouette. He didn't dispense with the corset but created a new one, which was a little more comfortable. Women had set foot on the long road to emancipation and although the prospect of ease, comfort, and a natural shape was still definitely in the distance but it was at least still in sight. In 1910 King Edward died and gaiety was set aside for a short time.
The craze for wild oriental colours soon continued and in 1913 when the Imperial Russian ballet toured Australia Turbans, tassels and kimonos were added to the fashion scene and the flavour of the orient maintained its popularity for years. Harem trousers were only worn by the most daring.
The hobble skirt was introduced soon after (a straight cut tight fitting skirt, that was so tight you needed to wear a hobble garter to prevent your legs from moving too far apart.)This silly style ensured that the wearer could only hobble. The simpler shapes caused an increase in the appeal of ready-made clothes.
The tango, a sensuous dance form South America became the rage. It was considered vulgar and scandalous, but nevertheless took off. The Tallien dress with a revealing split and short sleeves was worn with a turban and an ostrich plume. Hollywood movies another ballroom dances inspired slinky, clingy dresses. Society was loosening up and so were clothes. Waists moved higher, giving an Empire line effect, often softened by a cross over bodice. Fashion writers worried over what the sunshine would do to newly exposed flesh. Hats remained large and combined with the narrow hemline they produced a silhouette resembling an inverted pyramid.
Around 1912 men's trousers were made with waist bands so the braces could be abandoned, which became popular made out of flannel, for casual wear, collar height was reduced but men still clung to the safety of pin stripes, three piece suites and morning suits. In 1914 just before the war the brassier was invented. Which was about to cause more fashion change.