Autobiography: Childhood and Child Care Center Essay Sample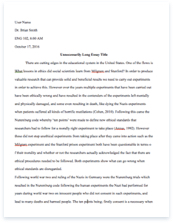 The whole doc is available only for registered users
OPEN DOC
Download Essay
A limited time offer!
Get a custom sample essay written according to your requirements urgent 3h delivery guaranteed
Order Now
Autobiography: Childhood and Child Care Center Essay Sample
As early as I can remember I have always loved children. I had a lot of cousins growing up because my mom came from a family with 11 brothers and sisters. I could always be found playing and caring for the babies and toddlers. I also loved to play "school" when I was little and I always wanted to be the teacher. It seems I have carried those two loves into my adulthood and have spent half of my adult life caring for small children and homeschooling my children.
When asked the question "What do you want to be when you grow up?", I always answered "a teacher". I am by nature a caregiver with strong motherly instincts. I have the ability to be able to get on the child's level and understand their emotions and behaviors. I create a fast and easy bond with them.
In 1994, I married and we had a beautiful son. From the moment I laid eyes on him I knew I would not be able to return to my job as an insurance agent. I wanted to devote 100% of my time to this new life we had created and not miss one minute of his development. At that time I began a family home daycare.
In 1997, I had our second child. She was just as wonderful as her older brother. When she was three and her brother had started Kindergarten at a public school, I accepted a job at a church based daycare center as a teacher in the two year old room. She attended the daycare in the pre-school room. I worked there for two years until she began Kindergarten and the church closed the daycare. After that I worked in other fields but nothing fit as well as early childhood care and education.
Now with my kids grown, I find myself with much more time on my hands and looking to license my daycare and increase enrollment. There is a strong need in my area for a child care center. My first step toward that is to take the early childhood course I need to acquire my CDA credentials. I am very excited about this next stage in my life and look forward to opening the doors of my child care center.
The child care center will care for children from birth to 5 years old with an afterschool program for children up to 12 years old. My main responsibility to my families enrolled is to provide loving care for their children. My second responsibility is to provide educational activities and projects for all the age groups that will challenge and encourage them to grow and love learning. Through our program my hope is that each child will have a sense of comfort and develop confidence and self-esteem to carry with them throughout their life.
It will give me great joy and peace to know that I can provide families with the child care that every parent wants and every child deserves for the best start in life. We commit to loving and caring for every child enrolled above and beyond the expectations of the parents.