Autobiography Sample Essay Sample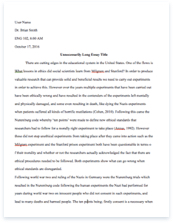 The whole doc is available only for registered users
OPEN DOC
Get Full Essay
Get access to this section to get all help you need with your essay and educational issues.
Get Access
Autobiography Sample Essay Sample
Does the task of memoir writing puzzle you? It's alright. This autobiography example for students is here to show you that memoir writing can be easy and even exciting. All you need to do is to scroll this page down and enjoy this amazing sample and the related, practical hints. A Lazy Student Autobiography Example
An autobiography is a story of your own life. Even if you think you don't have much to include in your memoir, you can still make it quite interesting.
Bill Gates said: "I always choose a lazy person to do a difficult job, because he will find an easy way to do it." This is why we found a lazy but smart student to write an autobiography and we now share the easiest ways to do it with you. So, here is a student memoir sample, with subheadings: My childhood. (Why not start from the very beginning? Writing about your early years is the easiest and most logical start for an autobiography.) I was born on a cold winter night, when even time seemed to stand still in my native Bennington, Oklahoma. I do not remember much of my early childhood, but my Mom said that I was a very active, curious and communicative child. I could ask tens of questions per minute, even without waiting for the answers. I suppose this is why my parents offered me books and educational movies as early as on my 3rd birthday. Who Am I? (Describe yourself in a few words. It does not necessarily need to be too creative. Do not forget to make a transition from the previous part.)
Fortunately, my thirst for knowledge did not come to an end when I was at school. I was passionate about History and Science. This passion helped me develop very good skills in these areas and I was admitted to the college of my dreams. Today I am a student at a law school and I feel very happy about it. My goals. (They say that a life with a goal is a life that is whole. Be positive and show everyone that your life is whole.) I am certain that my degree will become my ticket to a better tomorrow. I want to become a good lawyer in the field of employment legislation. I study hard and devote my free time to reading scholarly reviews and watching interviews with recognized specialists in the field. My ups and downs. (This part will show that you analyze your experiences and try to learn certain lessons from them.)
Sure, I understand that life is not just a bed of roses and challenges and hardships are an integral element of life. As my parents could not help me to cover my college expenses in full, paying off my student loan has become an important challenge for me. I combine a part-time job and full-time study to earn my living and my education. Yet, I feel triumphant at the beginning of every month when I receive my wages and I plan how I will spend my money… An Autobiography Template for Students
Simply complete these phrases, develop the ideas, add some specific details to your student autobiography examples and ta da!! Your A-level autobiography is ready!
1. I was born in…
2. I was an active (quiet, knowledge-loving, shy, curious, etc.) child.
3. My childhood dream was…
4. My earliest memory is…
5. I am grateful to my parents (teachers/ friends), because…
6. My role-model was…
7. My lifetime dream is…
8. The most memorable day in my life was…
9. The phrase that I will never forget was…
10. If only one of my dreams could come true, I would wish for…