Banyan Tree Argumentative Essay Sample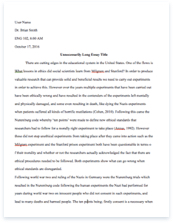 The whole doc is available only for registered users
OPEN DOC
Download Essay
A limited time offer!
Get a custom sample essay written according to your requirements urgent 3h delivery guaranteed
Order Now
Banyan Tree Argumentative Essay Sample
This report focuses on Banyan Tree Hotels and Resorts (BTHR) who will expand their business unit to China as a destination branding. To make this expansion sustainably and effectively, the hotel has to do research about market target, trends of the residents in particular regions, the main competitors. The market analysis will help marketers to understand consumers in more details like their ability to pay, their attitude about the products, and their preference of the particular groups of consumers. Moreover, the hotel has to know their brand personality that based on human personal traits according to Aaker's brand personality framework.
Besides, knowing its personality will help the marketers understand their brand image and brand position, as well as, be able to communicate to the right target markets whom have similar lifestyle and personalities. In this case, IMC is demonstrated to help the hotel in marketing communication processes. To do IMC, the hotel has to know their market targets and how to reach them by sending the messages through media. However, there is variety of media, but the hotel has to minimal its cost by choosing the proper one in order to enhance their brand image, and communicate with their guest. In the near future, the hotel has planned to expand its business properties through both hotel operation and real estate.
Introduction
Marketers keen to understand that whether their brands live in the connections or not, and that make they must grab the opportunity by constructing an effective integrated communications plan. The goal of marketing communications is to enrich brand parity by persuading customers with a customer experience to purchase that leads to sponsorship for the brand. Marketing communication plays a significant role to inform and educate customers and forecasts about new products their benefits and to enhance brand image of the particular companies. The Integrated Marketing Communication's objective is to deliver the right message to the right audience at the right time in the right place through the right media as well. It is quite challenging for advertisers to create an effective integrated marketing communications strategy that delivers transparent, consistent and persuasive messages to make the consumers purchase. Marketers will have to search new methods to pull out all elements of the marketing communication strategy and blend trends, consumer personality and social media into a single approach.
Market Analysis
In this case, China will be demonstrated as the market destination for the Banyan Tree's expansion. China or People's Republic of China (PRC) is a independent state located in East Asia and the country has the world's most population, which the number is over 1.35 billion ("China overtakes u.s.," 2011). The Communist Party as a single-party state governs the PRC and the government in the capital city of Beijing does the control. Unsurprisingly, China economic has incredibly and rapidly grown over the past decades, which made PRC the world's second largest economy, the largest exporter, and largest energy producer, but these are just a few titles that they are holding now. China also has a contribution to global particularly in the past five years. Moreover, there were some highlights of the changes and progress in their contribution to global economy. From the past five years, the total amount of China's oversea trade has risen on the average of 12.2% every single year ("China overtakes u.s.," 2011).
This figure shows that China basically spending more abroad. In addition, in 2008, China had total import of 1 trillion dollars for the first time that was five times from what they were for the last decade. Subramanian (2011), senior associated at the Peterson Institute for International Economics in Washington stated that, in 2010 as the world's biggest economy, China passed the U.S. as it can be measured in term of purchasing power. Its size of economy was $ 14.8 trillion, whereas the U.S.'s economy size was $ 14.6 trillion and the figures were calculated base on the countries' different costs of living. Furthermore, it can be assumed that Chinese has an enormous spending power according to the following statistics: 12% of Soul's GDP was generated from its exports to Beijing and, 11% of Africa continent exported goods to China as well ("China online spending," 2014). On the other hand, as one of the huge consumers in the world, China was, at the same time, ranked as the biggest user of energy in 2010.
However, in 2014, China consumption trends has been slightly changed, but can be easily noticed as well. Nolsoee (2014) agreed that consumer psychology and behavioral patterns has influenced on the changes of consumption behaviors. It is very vital to have fundamental understanding about the changes in consumer behavior, as the company will be able to do proper marketing and communication with their consumers. According to Chai, Huang, Du, and Lu (2014), there are totally initial nine trends of Chinese consumers. Firstly, "Move Like Geeks" is considered the first trend, which represent the way Chinese people have become more inactive. The 'Geek' movement is somehow typical for them. Because of high technology obsessives, they become slowly addicted to digital world, as it is convenient, fast, and free. More importantly, they use it as social currency. To extent this aspect, 31% of consumers say they are high-tech trend setters within their communities and the number went up to 35% in 2010 (Lu , Du , Huang & Chai, 2014).
Secondly, "Buying Balance" tends to play a great role in China market since they are now more concerned about the concept of a balanced lifestyle. As Chinese people become wealthier, they have been facing a lot of pressures from competition at work to insufficient nutrition food and pollution. As a result, they want to rebalance. They tend to be more environmentally friendly and aim to contribute back to the society. Moreover, they also keen on yoga uptake, juice diets and fitness memberships. Another trend is "Experiential Consumption". This is because Chinese consumers want to be encouraged and they tend to look beyond the physical product when they make purchasing decisions. They also expect interesting experiences to stimulate, provoke, and educate, for example, despite IKEA furniture is not so impressive, the in-store buying experience is fantastic. The fourth trend is "Wake Up Night" which lately just emerged. It seems like a 24-hour day is no longer enough, so night consumption has increased.
The Chinese consumers are now likely to extend their nightlife and brands. There was a 300% increase of people who choose a supermarket by extended business hours (Lu , Du , Huang & Chai, 2014). Moreover, they also need "More Transparency". As now, Chinese people have been empowered to make decision, so they need sufficient and accurate information about the product. Sometimes, they tend to purchase the products that are completely transparent, as they perceive that the consumers have a right to know. One statistic from CNRS shows that 50% of Chinese consumers want to gain fundamental information before they make their purchase (Lu , Du , Huang & Chai, 2014). Another trend is "New Fashion Of Chinese Brands", as they prefer made-in-China products to other sources. More importantly, they perceive their products as national pride. The seventh trend is "Power of The Niche". This is because standardized products and services no longer easily satisfy Chinese consumers.
As a result, they are more interested in niche market in order to express themselves and Banyan tree can use is opportunity to determine its brand positioning. Lu , Du , Huang & Chai (2014) shows that up to 53% of consumers are willing to purchase brands, which are original and unique. "Master Chef and Foodie" is considered one of the current trends is China. Normally, Chinese people love eating. Since they get richer, they are willing to pay for excellent food cooked by highly skilled chefs. Last but not least, Chinese people tend to be impressed by "One-finger Consumption". They are more difficult to live without smart phone because its advanced technology to solve almost everything. For instance, flight check-in via mobile. According to CNNIC (2014) mobile phone payment users exceeded 15% in mid of 2013, and went up to 43% in just six months (Lu , Du , Huang & Chai, 2014). These nine current trends are still ongoing in China regions, which will be beneficial to the marketers to present the advertising brand base on these subjects in order to communicate with them.
Brand Personality
What is brand personality? To establish content validity, the development of a comprehensive and representative set of personality traits are identified in process in order to define a particular brand personality. Keller (1993) argued that the brand personality is also officially defined as the set of human characteristics, which are associated with a brand. For example, Absolute vodka tends to be described as a cool, hip, contemporary 25-year old. However, different brands will be described in different perspective. Another example would be Stoli was more likely to be described as an intellectual, conservative, and older man. Besides, brand personality tends to serve a symbolic or self-expressive function. According to Gilmore (1919), the symbolic use of brands is possible because consumers always infuse brands with human personality traits. Rook(1985) said that they easily think about the brand as if they were superstars or famous historical figures and Fournier (1994) also supported that they relate to one's own self.
This maybe the reason why advertisers have been using this perspective to introduce a brand with personality traits, which associated with an individual and tends to be long-term and distinct. An obvious example would be, for all-American, Coca-Cola are cool and real and these personality traits differentiate Coke from its competitors like Pepsi which is young, exciting, and hip; and Dr Pepper which is nonconforming, unique, and fun (Plummer, 1985). However, the concept of brand personality will greatly influence purchase decision of the consumers as they are likely to choose the products that suit their personality and lifestyle in order to enhance or maintain their self image. In this case, Banyan tree are determined its personality based on Aaker's brand personality framework (1997), in Exhibit 1, as friendly, spirited, unique, and upper-class. Firstly, friendliness is universally required in hospitality industry. Wirtz (2011) stated that in order to create a sense of excellent hospitality which will make the guests feel that they are honored people, the employees need to be friendly and helpful. Secondly, another hotel's personality is spirited which refers to liveliness.
In some sense, liveliness will be one of the effective factors that attract a large number of guests. This is because Banyan Tree is portrayed as a place to escape away from stress, business, and pollution, as a result, those guests who come can be relieved with liveliness. Banyan Tree is also unique as it is focus on a niche market and upper-class. Its main target markets are high-end consumers and its premium price is provided based on unique services. This is because it has its own academy which its staff will be trained there in order to provide desired high spa and other services. Banyan Tree also provides signature spa products and spa, residences, memberships, museum shops, and retail outlet. In addition, the customer bases of Banyan Tree are limited to upper-class people as its price is slightly higher than the standardized resort hotels.
Integrated Marketing Communication Plan
IMC Objective
Banyan Tree originally utilizes advertising to build awareness in the particular niche market, but the advertising budget was limited in order to save costs. Actually, the whole number of marketing budget of Banyan Tree was 7% of the total revenue. Out of this 7%, 60% was allocated for trade and 40% was given for consumer promotions (Ng, 2011). However, the whole brand communications strategy has been underpinned by third party supports, especially by public relations, and word-of-month. The following figures represent of total revenues, and marketing costs in 2012 and, 2013 (Banyan Tree Annual Reports, 2013). In 2013, total revenue was S$356.1 million for the year ended 31 December (Banyan Tree Annual Reports, 2013).
The revenue went up 5% from 2012. However, the sales and marketing expenses were S$15.4 million for the year ended 31 December 2013, and the cost of sales and marketing increased by S$1.2 million for the year ended 31 December 2012 (Banyan Tree Annual Reports, 2013). From the numbers, it can be assumed that marketing was more or less help boosting total revenue. Nevertheless, there are some main reasons why the company needs to heavier marketing by 2014, which would require the cost around S $16.5 million. To boost monetary intake by 6%
To provide service to an average of 2,700 guests per month per unit Increase the amount of charity money contributed to local communities Increase the awareness level by 50% from the original survey Obtain 30% more for unique visitor per day to website
Obtain 50,000 new fans subscribed in WeChat(a mobile text and voice messaging service by China) Marketing Communication programs
To do marketing in 2014, the hotel executive boards are agreed to promote by using the four main marketing tools, which are a sale promotion, a complete public relations campaign, interactive/Internet marketing, and advertisement for local media. First of all, Banyan Tree need to creates a sale promotion. Normally, promotions encourage consumers to buy and this is totally something involved with psychological subject. Decker (2011) found that more than 150 specific perceptions that will dramatically influence on a promotion's performance. In this case, the sale promotion will contain a privilege of food & beverage and rooms. As a hotel guest in Banyan Tree chain, the guest will be able to experience high quality foods by Michelin chef with discount up to 20% during the stays. Another promotion is accommodation combo with the spa, as Banyan Tree spa is unique and highly recognized in China.
Moreover, Chinese people are more concern about balance life and wellness; this would be a good opportunity to create this sale promotion. This condition will be available as if a guest have to buy at least one night stay in the hotel and the guest will get free two-hour foot massage. The promotions will be monthly issue and some promotion base on special occasion like Valentine's day, Chinese New Year, and so on. However, the promotions will be posted on hotel's notification broads and put on the desk in every single room. In addition, local suppliers and communities produce the food ingredients and spa amenities and deliver to the hotel, so every support will generate revenue to local communities. Secondly, the hotel will launch a public relation campaign in order to promote its brand image in term of Corporate Social Responsibility (CSR). The campaign will be launched in Jiangsu province, which is located on the North of China plain ("Top 10 regions," 2014).
This reason why this city is chosen is because this region is one of a developing cities and mainly agriculture are demonstrated, especially rice and wheat. Moreover, all of agri-products will be transformed in to nutrient food and snacks, which are available for sale in a good price ("Top 10 regions," 2014). Besides, all local handcrafts that are used in the hotel will be available for sale in the campaign too. To launch this campaign, the hotel has to send out the press release first in order to inform the public and then write letters to the editor of local publications. More importantly, the hotel has to submit calendar listings to local media. During the campaign, the hotel will collect testimonials from clients in order to get some feedbacks from the guests. Thirdly, interactive/Internet marketing is considered one of the most effective communication channels. Nowadays, it cannot be denied that Internet plays such a great role in everyday life, as it is fast, convenient, and mostly free of charge.
Through the Internet, the hotel is allowed to create its own website which the guests can search for information by 24/7 including online booking, and so on. Moreover, online applications like WeChat and instagram are very useful in communicating since it require less costs to marketing, and enormous size of population in China are now up on these two applications. Apart from online applications and website, it would be more convenient for the hotel if they have relationship with online travel agencies like Agoda, Booking.com, lastminute, and Expedia. This is because the customers will more likely to use online travel when they want to search for the information (McCae, 2009). Moreover, the transaction through the Internet seems increasing day by day.
In 2012, the number of yearly sale from online travel agencies was 162.4 billion(statisticbrand, 2014). Last but not least, the hotel will use radio channel as a local advertising. This is because it is cost-effective and audience demographics are automatically known by each radio station(Zeske, 2014). As a result, the marketer will be able to know their consumers pleasurable level by knowing their demographics. Moreover, the hotel has to make sure that the conversation advertising is energetic, clear, and lively because the consumers just only listen to it.
The tone of the conversation will be cheerful, energetic so that customers will get the sense of liveliness, which is one of the personalities of SA. The ad end with the slogan "Let your soul come alive by sun, sea, and safari on South Africa". Then, customers will imagine themselves on a bright sunshine holiday during being stuck in the car. This will encourage customers to search more information about SA.
Future Development
In the near future, Banyan Tree has great opportunities to expand business units in China since the population size tend to grow and, at the same time, Chinese purchasing power has potential to rise up. As a result, by the end of 2015, the hotel has basically planed to operate up to 15 to 18 hotels in China and those hotel will be spread out among almost every main province like Hunan, Hebei, Zhejiang, Jiangsu, and so on (Zhu, 2013). Apart from operating hotels, Banyan Tree is now demonstrating to develop real estate projects in the growing cities like Chengdu and Huangshan. When compare other main competitors like Four Seasons, Shangri-La and other leading chains, Banyan Tree has slightly limit experiences in real estate projects (Zhu, 2013). As a result, it should sometimes reflect it brand image as an ambitious brand instead of a luxury brand. With that concept, the hotels will be starving to provide the same excellent to each guest; no matter he is a senior government officer or a college student on honeymoon.
Reference
Aaker, J.L. (1997). Dimensions of brand personality. Journal of Marketing Research, 34(3), August, 347–356. Banyan Tree Annual Reports. (2013, January 1). Retrieved October 2, 2014.
McCae, S. (2009). Marketing communications in tourism and hospitality: Concepts, strategies and cases. Elsevier
China overtakes u.s. as biggest economy when measured by purchasing power. (2011, January 14). Bloomberg. Retrieved from http://www.bloomberg.com/news/2011-01-14/china-tops-u-s-as-biggest- economy-by-purchasing-power-update1-.html China online spending power unmasked. (2014, May 28). Bloomberg. Retrieved from http://www.bloomberg.com/news/2014-05-27/china-online-spending-power-unmasked.html Decker, K. M. (2011). imc objective. (Master's thesis). Retrieved from http://www.sbu.edu/docs/default-source/imc-documents/see-katie's-completed-project.pdf?sfvrsn=0 Lu , Du , , Huang, , & Chai (2014). China consumption trends 2014. Retrieved from http://mecglobal.com/news/mec-china-makes-new-senior-hire Ng, H. (2011). Banyan tree analysis. Retrieved from http://www.academia.edu/5369920/Banyan_Tree_Analysis Subramanian. (2011,