Barriers to Health Services Essay Sample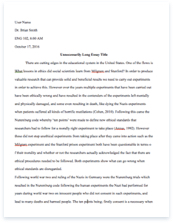 The whole doc is available only for registered users
OPEN DOC
Get Full Essay
Get access to this section to get all help you need with your essay and educational issues.
Get Access
Barriers to Health Services Essay Sample
Anything that comes in the way or prevents some service users from making use of the services they want, have a health or care-related need for and may even have a legal right to, are called 'barriers to health service'. Language Barriers When communicating, the ability to get the message across effectively to others can be hampered by a number of barriers. As a care practitioner it is important to recognise barriers to communication and learn ways to overcome them.
Language can be a barrier to communication because if the service user speaks a different language to the care practitioner, then they are not going to be able to communicate effectively if they do not understand what each person is saying. Having a language barrier between the care practitioner and service user isn't the only difficulty in communication, the degree of language used in the care environment can also create a barrier to understanding. Many service users find the medical words on hospital signs are often complicated and the jargon of care practitioners hard to understand.
The way the care practitioner uses language to communicate with the service user determines how the service user feels, therefore language being used to communicate should not be patronising, and avoid use of any such jargons or slang. Also advanced language should be avoided as the service user may feel embarrassed that they are unaware of what it means and so will be confused. It is best to use plain and clear English; this enables trust to be built at a faster pace between the care worker and care user.
In all of these circumstances, language can be an obstacle to effective communication between care practitioners and their service users. Overcoming language barriers to health care is important to the well-being of service users and to make sure a secure relationship between the care practitioner and service user is maintained. Patients who do not speak English need interpreters to describe potentially complex medical problems and treatment plans. Words that care practitioners may use, such as 'hypertension' or 'allergies,' often do not have equivalents in the other language.
Non-English speaking patients may be reluctant to deal with providers who cannot communicate with them, seeking care only when their conditions become more serious. Organisational Barriers Staffs, particularly frontline staff are unable to respond to the needs of all service users. Therefore most organisations count on staff to work long hours and possibly overtime to meet to everyone's needs. This could mean putting family commitments second to work commitments which may be difficult for many people who have children especially if they are a lone parent.
A possible solution could be to provide training and, where necessary, recruit staff to make sure that they are aware of the needs of all visitors. The term glass ceiling applies to organisational barrier situations in which many women feel, either accurately or not, that men are favoured and given better jobs. Mostly because apparently women choose to focus more of their time on family and, in the end, cannot dedicate as much time to their career. The limitation is not immediately apparent and normally an unwritten and unofficial policy. Emotional Barriers
Many people do not perceive themselves as in need of services. One of the emotional barriers to accessing services is that people do not like to see themselves as needy or dependent. The name of some benefits also brings about emotional barriers. For example, attendance allowance suggests that a claimant has to have someone attending to them. Many people would not see themselves as invalid – a term that can imply dependence and helplessness. Many older people do not feel they are 'elderly', associating that term with very frail people who have multiple impairments.
Stereotypes exist around that particular groups will show. These can impact and create barriers. If there is ineffective communication in a service user's life it can have a major effect on them as an individual. Things that can happen may be: This will make the person feel like they are alienated or excluded from others if they do not communicate with them. If a person is not being communicated with by other people they may find it difficult to cope because their social and emotional are not being met.
If people do not communicate with the service user they may feel that they do not know what is likely to happen because they are not aware of things. As a result they may feel threatened. Geographical and Physical Barriers Rural areas are often poorly served with services. This is often made worse by the lack of reliable and affordable transport. Often health care facilities may be many miles away from where people live and are not always easy to get to. Public transport – bus services for example – are often limited.
These can create real barriers to accessing care services. Physical barriers also create problems in terms of accessing facilities. The Disability Act has new regulations that came into force in 2004, which require that reasonable adjustments are made to meet the needs (including physical access) of anyone with a disability. Many buildings have steps to the interior and doors are often not large enough to allow wheelchairs inside. For many, it proves stressful and reinforces disabled people's sense of difference and isolation.