Bead Bar Systems Development Plan Essay Sample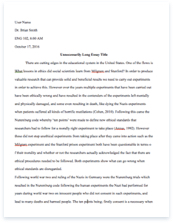 The whole doc is available only for registered users
OPEN DOC
Pages:
Word count: 662
Category: bar
Get Full Essay
Get access to this section to get all help you need with your essay and educational issues.
Get Access
Bead Bar Systems Development Plan Essay Sample
The Bead Bar is a business that allows its customers to produce their own jewelry using beads and string. Currently Bead Bar is divided into three different branches; studios, franchises, and Bead Bar on Board. The main office oversees the six studios with locations in Long Island, Boston, Washington D.C., New Canaan, CT, and 2 locations in New York City. They are also responsible for the distribution of supplies to the franchises currently located in Los Angeles, Kansas City, Chicago, Seattle, Miami, and any other new franchises, as well as Bead Bar on Board, a movable bead bar intended for use on cruise ships. There are currently fifteen full-time employees and twenty part-time employees.
In the beginning a paper system was adequate for all of Bead Bar's needs but as the company has expanded the need for a computer based system has arisen. Since there are locations throughout the United States a powerful networking system is needed to link all of Bead Bar's studios, franchises, and Bead Bar on Board as well as allow additions of new studios and franchises.
Orders are constantly being processed from studios and franchises, using a paper based system, and have led to errors due to the lack of organized structure and amount of human interaction. The abundance of orders is causing them to be delayed because a person can only go so fast. Bead Bar needs to implement a database and purchase networking components.
The network topology that should be used is a star topology. All offices would be connected to the main headquarters and would allow all offices to effectively communicate with each other. It was expressed that data would need to be transferred quickly over the network and this topology would allow for this. All studios will be wireless to keep the clean look of the studio. Miriam has expressed the necessity for all studios and franchises to be connected together so ideas and sales trends could be tracked.
The database functions that Bead Bar needs are manage data storage, transform data into information, provide security, allow multi-user access, and to allow programming and query language ability. Data management will allow for the storage of the data. The ability to transform data into information will help identify trends and to track and manage inventory. Security is a necessity because of financial information being entered into the database as well as employee records. Allowing multi-user access will allow all franchises to utilize the database at the same time. The ability to allow programming and query language ability will allow the database to be customized. The type of database Bead Bar should use is a distributed enterprise database. A distributed database system will allow VPs the ability to limit the amount of access the franchises have so they are not seeing restricted information such as financial data. An enterprise database is a little more difficult to use but with all the locations and users a desktop database might be underpowered.
Network security is a must due to the fact that all the information from the studios and franchises will be transmitted over the internet through a VPN. Employees also present a risk to security and all employees will be required to attend training. They would also be required to sign a form stating that they have received the training and the consequences of violating the training.
The new system will allow all studios and franchises to be linked together to share ideas faster and provide customers with a broader range of ideas. The website will allow customers to order supplies to host their own parties at their house. Human resources information will be distributed easier. Financial trends will be able to be tracked. The order process will be sped up because of the automation and orders will be sent faster than by conventional mail or phone.
Resources
Malaga, Ross A. (2005) Information Systems Technology. Prentice Hall