Beauty pageants Essay Sample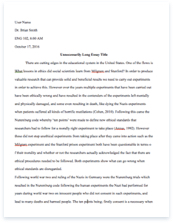 The whole doc is available only for registered users
OPEN DOC
Pages:
Word count: 667
Category: beauty
Download Essay
A limited time offer!
Get a custom sample essay written according to your requirements urgent 3h delivery guaranteed
Order Now
Beauty pageants Essay Sample
Every year, across the world, the beauty pageant business is at work: local competitions feed into regional competitions, leading to national, world and even the Miss Universe pageant, which presumes to crown a woman the most perfect example of the sex in the galaxy.
The media tends to publicize only the negative aspects of the pageant process, including recent embarrassing actions by current Miss USA, Tara Conner, and the former Miss Nevada. Although many regard beauty pageants as evidence of sexist attitudes, thousands of women keep the business thriving because pageants offer an outlet for creativity, award scholarships for further education, and ultimately appeal to the human desire to define, categorize, evaluate and publicly label others in order to improve self-esteem.
Many people argue that women and girls should not be objectified as "representative" of a region, because they are unique and individual people. People compete to earn a title that carries a certain measure of cultural currency; that is, it is seen as valuable to be called "Miss California" to the extent that the woman's real name is almost unknown. Miss California, once named so, is endowed with expectations of being ideally blonde, tanned and toned as befits the image of a "California girl."
Most pageants, however, have multiple components to the ranking process, offering contestants an opportunity to demonstrate specific skills and social awareness through particular causes, thus identifying them as individuals. Competitors are asked to take a position on a current issue negatively affecting people, such as illiteracy or AIDS awareness, and be prepared to speak eloquently on the subject. Pageant winners are not posing bodies, as they frequently spend their year making public addresses to elevate the profile of worthy social causes.
Critics are quick to say that beauty pageant contestants come away from the process with little more than a crown and a title, if that at all. The women are given little material rewards, paraded around as symbols of physical perfection, and promptly discarded once a new person is crowned. Few winners are ever remembered after their "reign," and their contribution to society is minimal because they are simply window-dressing for the sponsor organization.
People who argue that pageants are without reward ignore the positive aspects that many women experience. Pageants often offer scholarship awards to several ranking contestants, inspiring applicants to devote more attention to their public-speaking abilities and their overall knowledge of current events. Scholarships and moneymaking opportunities offer winners a chance to pursue their educational goals, which may not lead them into the path of fame, but may enable them to be productive members of society. The most universal positive gained by contestants is probably an increased confidence in public speaking and an ability to carry oneself with poise, which will aid pageant contestants succeed in future careers.
Regardless of any possible benefits, cultural leaders argue that people (in this case, women) shouldn't be ranked according to something as trivial as beauty. Physical looks are superficial, fleeting, and ultimately arbitrary. Also, focusing on beauty reinforces negative expectations for young girls everywhere, who feel continual pressure to appear "perfect," i.e., thin.
It is unfair, however, to hold beauty pageants accountable for a perceived evil when this sort of attitude pervades many aspects of society. People naturally create lists and rank almost everything, from scholastic performance to most philanthropic organizations. It is a human reaction to try to make order out of natural chaos, and beauty pageants simply reflect one attempt at this.
Beauty pageants appeal to people because they are opportunities to perform, they can help students raise money for education, and they reflect the natural desire to categorize and rank things and people. Critics often fail to recognize that there is are positive aspects to the competitions, including increasing a person's confidence in public speaking. Pageants seem to only to be growing stronger, which supports the conclusion that the majority of people still find them interesting and valuable.