Behavior Modifaction Essay Sample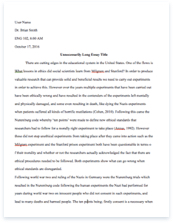 The whole doc is available only for registered users
OPEN DOC
Get Full Essay
Get access to this section to get all help you need with your essay and educational issues.
Get Access
Behavior Modifaction Essay Sample
Behavior modification is a popular approach to behavior change. While research has shown definite benefits of using behavior modification, there are potential disadvantages and dangers as well to the use of behavioral techniques. More specifically, behavior modification can create risk factors and have potential harmful effects on individuals when aversive stimuli such as punishment and brainwashing are used. Also, there is significant concern about untrained staff improperly using behavioral techniques, as well as, the lack of governmental regulation in this area. Behavior modification programs form the core therapeutic intervention strategy of many treatment facilities. They are based on the principles of operant conditioning that replaces undesirable behaviors with more desirable ones through positive or negative reinforcement. Positive reinforcement encourages certain behaviors through a system of rewards such as praise and compliments, while in negative reinforcement a response or behavior is strengthened by stopping, removing, or avoiding a negative outcome or aversive stimulus. Aversive stimuli tend to involve discomfort, either physical or psychological.
More specifically, behavior modification programs are designed to correct the behavior of individuals who have been displaying significant behavioral problems. However, who is to say that behavior modification can fix the issues presented by these people? While behavior modification is widely seen as an accepted and effective approach to altering behaviors, the potential for its misuse and abuse arise from a lack of governmental regulations, along with unqualified individuals attempting to apply the behavior modification techniques. It should be noted, that there are several characteristics to behavior modification with the most important being: defining problems in terms of behavior, techniques need to be Running Head: BEHAVIOR MODIFICATION based on principles of learning, strong demonstration that a particular technique causes certain behavior change and extreme importance on accountability for everyone who implements the behavior modification program. While doing research in this area, I would promptly take note of articles that really helped me to gain a better understanding of the topic as well as support my argument.
After reviewing ten articles, I was able find three that I wanted to utilize further. I sorted the articles by their overall content and based on how I would use each article as support for my argument. Over the years the concept of punishment as a behavior modification technique has drawn more focus from the critiques of behavior modification. Within behavior modification circles, punishment is referred to as positive punishment such as using a spray bottle filled with water as an aversive event. According to research studies, the use of punishment to change behavior is only of a temporary nature, lasting at most up to several months. Additionally, there are significant ethical considerations. For example, using fear as a means of modifying behavior is more similar to coercion than techniques intended for the benefit of the individual in question. Concomitantly, using punishment to alter behavior ignores an individual's right to make decisions regarding their own well-being.
It is always better to use positive techniques whenever possible as they are more ethical since they're experienced as encouraging by the individual and tend to result in longer lasting change. Even though the use of positive punishment should only be done by board- certified behavior analysts, there is no governmental laws preventing unqualified individuals from using punishments in psychologically and physically harmful ways. An article, Drug treatment Center Embroiled in Controversy Critics call tough love techniques abusive, details the inappropriate Running Head: BEHAVIOR MODIFICATION and abusive treatment techniques used by employees within behavior modification programs. "A psychiatrist contends one teen now suffers post-traumatic stress syndrome. A judge now refuses to order children to be treated there." This statement is just one example of many that the article provides regarding malpractice within these programs. Many techniques are not proven to work whatsoever.
Another article discussed how there is little evidence that the techniques used by behavior modification programs will in fact help the individuals they attempt to change. "They are pinned to the floors when they are out of line." " They are watched while using the toilet." In another article, The Cult that spawned the tough love teen industry highlights using punishment with the intent of "breaking you down to build you back up". Other articles found brainwashing techniques used in behavior modification programs that parallel to techniques used in North Korea. In still another article, behavior modification programs and brainwashing are both formally defined and linked together. The article also demonstrates how few options are available to participants in these behavior modification programs, emphasizing the strong link between brainwashing techniques and behavior modification programs. The consequence of using punishment and brainwashing as a behavioral modification technique manifests itself in development of emotional symptoms in the individual such as depression, anxiety, low self-esteem, post-traumatic stress disorder, and potentially other longer lasting psychological symptoms.
Meyer and Evans (1989) argue that the use of punishment cannot be justified. Surveys show that procedures involving punishment are much less acceptable in the profession than are behavior modification procedures that use reinforcement. Instead, we must seek to build trusting relationships, and focus on the integrity and uniqueness of the individual and not just the behavior. The focus needs to be on bonding and respect, Running Head: BEHAVIOR MODIFICATION instead of coercion and control. An additional article, places emphasis on how programs frequently exist without any standard definitions and are not regulated by any federal authority. There are many that do not operate with state regulations either. The article also gives insight into how the large majority of employees within one center do not have training for the job they were doing. To date, the Health Care Financing Administration (HCFA), which promulgates and enforces the regulations addressing the rights of individuals with mental health issues in relation to restraint and seclusion practices has taken a less prescriptive approach to the regulation of punishment and aversive behavior modification approaches with individuals.
There are no uniform, national standards, or guidelines governing the use of behavior modification. Several bills have recently been introduced in the house and senate are attempting to correct this situation. professions to ensure compliance with acceptable behavior modification techniques. Overall, it was particularly encouraging to see articles detailing and supporting the main points I presented in my arguments. I believe that I have found a substantial amount of support for demonstrating the potential harmful effects of behavior modification, as well as, highlighting the need for better training and more governmental regulations in this area. Professional organizations tend to rely on the standards and ethics of their When a an individual is secluded from any communication with the outside world and even more so, the inability to speak with their parents, the potential for abuse and neglect is much higher do to the use of seclusion. Individuals are sent to these programs to get help but it seems in many cases new issues surface as a result of what they endured while in the program. Clients in the program have to conform in order to move but going through the motions out of fear is meaningless. Support and caring is needed in order for one to feel comfortable talking Running Head: BEHAVIOR MODIFICATION about their struggles and asking for help.
References
Sally Deneen. (March 26, 1990). Drug-treatment Center Embroiled In Controversy Critics Call Tough Techniques Abusive. In SunSentinel. Retrieved 9/6/12, from http://articles.sun- sentinel.com/1990-03-26/news/9001310526_1_teens-controversial-drug-treatment- program-drug-treatment-centers-first Chelsea. (November 7, 2011). Behavior Modification and Brainwashing. In WWASP Diaries. Retrieved 9/6/12, from http://wwaspdiaries.com/2011/11/07/453/. Maia Szalawitz. (September/October 2007). The Cult That Spawned the Tough-Love Teen Industry. In MotherJones. Retrieved 9/6/12, from http://www.motherjones.com/politics/ 2007/08/cult-spawned-tough-love-teen-industry. Marshall, M (May 1998)). Empower—Rather Than Overpower [Electronic Version]. Teacher Magazine, 17(37), 32-36. Running Head: BEHAVIOR MODIFICATION Ethical Issues Related to Using Punishment to Change Behavior … (n.d.). Retrieved from http:// suite101.com/article/ethical-issues-related-to-using-punishment-to-change Seclusion and Restraint Practice Standards: A Review and Analysis. (n.d.). Retrieved from http:/ /ncstac.org/index.php?option=com_content&view=article&id=94%3Aseclusion-an Behavior Modification – #2fishygirl on Scribd | Scribd. (n.d.). Retrieved from http:// www.scribd.com/doc/80572733/Behavior-Modification