Beneficiaries of US Welfare Programs Essay Sample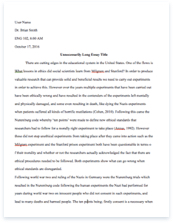 The whole doc is available only for registered users
OPEN DOC
Pages:
Word count: 665
Category: welfare
Download Essay
A limited time offer!
Get a custom sample essay written according to your requirements urgent 3h delivery guaranteed
Order Now
Beneficiaries of US Welfare Programs Essay Sample
Welfare is the assistance to citizens paid or given by their governments in terms of cash (social security insurance and benefits) or services (education and healthcare).  Social Security is one of the largest welfare programs in the United States that refers to a compulsory pension plan for retirees which they paid for during their productive working years as deductions in their salary.  While social security was paid by its beneficiaries, people who are critical about it contend that there exist huge disparities between what was paid and the benefits received which may become economically oppressive and unmanageable in the future considering that the population of retirees continuously increases.
A welfare program that was a major issue in the last presidential race is healthcare.  Health insurance welfare is designed to keep citizens ready for any medical attention or emergency regardless of their ability to pay.  The two important government insurance programs that the US currently has for private citizens are Medicare and Medicaid.  The former is an insurance program designed for senior citizens specifically those who are 65 and above as well as those with certain disabilities.  The latter is a government insurance program provided by the state designed for the impoverished low-income people. (Matthews, J. and Berman, D., 2007, p419)  Other popular welfare programs include the Housing and Urban Development (HUD) which provides assistance for home owning, buying, renting and financing shelters, and the Head Start and Work Study for educational assistance, among others.
Welfare was basically designed by government for people who are unable to provide for their own needs because of low income or no income at all.  These include people such as the aged, the disabled and the unemployed among others.  As a welfare state in contrast to a socialist state, the US government's concept of welfare is temporary assistance and not permanent provision.  Thus, welfare requires eligibility in order to qualify for the program whose benefits are limited. The concept of welfare stressed the reality that people are still primarily responsible for their own needs and the objective of the welfare is to help people break out from the cycle of dependency on welfare. Hence, the end goal of welfare is actually to end welfare.
It is difficult to quantify whether the welfare programs of the US are adequate or not considering the emphasis on the individual role of the citizens to manage and provide their own needs and finances. Beneficiaries would definitely claim that welfare is insufficient while tax payers will complain they are too much.  This is where balancing the reciprocal responsibilities of both individual and the government comes in.  Overgenerous welfare can build a poverty trap that generates an ambiance in which beneficiaries are deterred or discourage to become responsible on work, sex and family life.  (Massaro, 2007, p86)
However, considering that the funding of government's military campaigns is pursued at the expense of cutting down on social welfare programs reflects an off beam approach to policy making.  If welfare is focused on breaking the culture of dependency, government should embark on improving or creating the opportunities for its welfare beneficiaries to help themselves.  Instead of concentrating efforts on engaging on expensive wars, government should redirect funds and efforts on public works, education and similar activities that have a direct impact on job creation and economic progress.  Government should also focus on intervention programs and policies that create mechanisms to control costs so that people can afford purchasing their needed services i.e. education, health and home. Programs and policies that will create better financial alternatives to welfare beneficiaries should go hand in hand so that welfare beneficiaries become independent, self sufficient and productive US citizens instead of liabilities to the country.
References
Massaro, T.  (2007). United States welfare policy: a Catholic response.
Georgetown University Press, (pp86-87)
Matthews, J. and Berman, D. (2007), Social Security, Medicare & Government Pensions:
Get the Most. Nolo Publications, (pp 410-422)