Benefits of Agriculture in Malaysia Essay Sample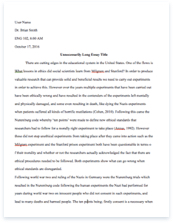 The whole doc is available only for registered users
OPEN DOC
Download Essay
A limited time offer!
Get a custom sample essay written according to your requirements urgent 3h delivery guaranteed
Order Now
Benefits of Agriculture in Malaysia Essay Sample
Among the main benefits that agriculture industry provides to the society can be viewed from social aspect, economic aspect and environmental aspect. Body Paragraph 1
A Firstly the main benefits that can be generated from agriculture industry is based on social view. 1) Agriculture industry can help society to create jobs, educate them and let them manage their food. a) Can help combat hunger
i) Creates better living environment
ii) A healthy life – when eat the nutrient food
iii) No more disease –kwashiorkor, thyroid, constipation b) Educate people
iv) Research on how to develop agriculture industry in Malaysia v) Inventing machine / food from research that had been done vi) Helps brings out families and community to work together towards development vii) People be more independent and empowered
c) Creates jobs for the society
viii) Youths should grab the opportunities and not too choosy in seeking jobs ( Mutalib Ismail, 2013) Body Paragraph II
A Secondly, the vital benefits that can be get from agriculture industry can be viewed from the economy aspect is create a better economy situation in Malaysia. 1) Malaysians do not rely on food from country outside anymore a) Malaysians do not need to pay for the high rate tax every year 2) Malaysians can make their extra income
b) The citizens from the outskirt of town, they can invent agriculture based food. i) Farmers can learn how to innovate within market-led agriculture. Besides , the government also can support and facilitate innovation( Nieuwenhuis F.M Loek, 2002) ii) can export the food to all over world
c) Malaysians can produce compost from the leftover food and soil
iii) leftover food can be used to make compost, instead of just throw it away just like that
Body Paragraph III
A Lastly, the main benefits that can be generated from agriculture industry can be viewed from environmental aspect is can make earth is a safe place to live and green up the earth 1) Agriculture can helps to greenish the earth
i) By planting the plants , can greenish the environment ii) Planting plants helps to increase concentration of oxygen in air (Long, 2006) iii) Helps to clean the air
iv) Planting the fruits tree along the road – can pick up the fruits while driving v) Reusing the wastewater from agriculture
vi) Reusing the agriculture drainage water and reclaimed become the trend (Abu-Zeid Khaled M , 1998) 2) Planting at the prone area to erosion
i) Plants can helps from land erosion cause by wind too (Lee, 1996)
Conclusion
Agriculture industry can generate benefits that are can creates jobs, educate them and let the society made their own food. Besides, the agriculture industry also can create the better economy condition in Malaysia in it very own way. Last but not least, the agriculture industry in Malaysia also helps to contribute a safe place, greenish and harmony environment to earth and future generation.