Beyond the Prison Bubble Essay Sample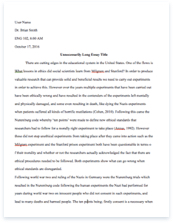 The whole doc is available only for registered users
OPEN DOC
Download Essay
A limited time offer!
Get a custom sample essay written according to your requirements urgent 3h delivery guaranteed
Order Now
Beyond the Prison Bubble Essay Sample
Joan Petersilia in Wilson Quarterly publishes the article "Beyond the Prison Bubble," in the Winter 2011. Petersilia explains several alternative solutions to the U.S's overcrowded imprisonment systems. She talks about how research has come to prove that crime rates and recidivism can be decreased. Furthermore, Petersilia's article outlines the evolution of accepting this fact, as well as developing, funding, and refining various intensive rehabilitation programs. The first section of the article (para. 1-7) talks about the increasing problem that the US has faced for a long time. This all could be avoided for not the attitude that a potential solution for crime in the US has been ignored. The U.S has the highest imprisonment rate of any free nation. The problem here, however, is that this is very costly and has not solved the crime problem. Something obviously needs to change. As well the to talks about a decrease in prison population that took place in 2009 and the possible end to the "mass incarceration" problem. The article worries that the imprisonment and crime rates will never be able to go down. "Get tough" laws were passed in an attempt to avoid this, which ends up meaning increase the chances of doing time and more of prison time.
The second section of the article (para. 8-16) shows how ineffective our incarceration systems have been. Increase in spending to build prisons and maintain their populations began to exceed needed funds for vital public services. This resulted in state budgets being pushed to the point of crisis. Crime was reduced to a degree, but with massive the costs spend on new prisons it was really not worth it. The offenders that are leaving prison now are more likely to have fairly long criminal records and lengthy histories of alcohol and drug abuse, significant periods of unemployment. As well, many don't need to stay very long in prison and could be let out after a year or two to make room for extremely dangerous criminals. The current incarceration system in the United States is not effectively fulfilling its purpose as an institution to take criminals out of society and return them as lawful, productive citizens. The third section of the article (para. 16-25) shows the state funding a range of programs involving education, drug treatment, and subsidized housing to help former inmates reintegrate.
Although this came with the economic crisis and cutbacks, avoiding and throwing away much of the progress we have made in reducing crime, it is more important to help once convicted criminals get a new go at a second chance. After decades of false starts, researchers have finally some things that can make a difference in at least some cases. But because the Congress has faced too much budget crises may be reluctant to continue funding this program. The first step to developing a better system is to decrease the amount of money spent on criminals through training them to work jobs that would provide them with applicable skills once they return to society. By training inmates to be effective workers, the incarceration system is able to actually sustain a profit from the work done. With the United States having the highest rate of incarceration of any country in the world, the significance of this focus is understandable. And with such a large prison system and budget, there are seemingly endless options when it comes to the overall operations put in place.
People go to prison for a reason, there is very little that anyone can do to change the choices they will make in the future, but if there is any chance to help the it would be wrong not to help those who want to change. We are clearly putting too many people in prison. Drug possession shouldn't be a reason to send some to jail. SOMETHING LIKE, TAX RELATED ISSUES ARE ANOTHER REASON NOT TO SEND SOMEONE PRISON. Simple theft or shoplifting should not be send to jail. The jury should have them pay for what they stole or give them a fine, which would be a reasonable punishment. The prisoners should be able to get help, education and rehabilitation. On the other hand, using weapons or guns to harm someone, rapping molesting children or women and public officials who steal or take bribes should get more time than they are.