Biography of Mark Mathabane Essay Sample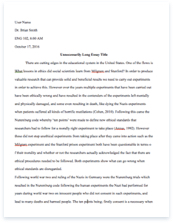 The whole doc is available only for registered users
OPEN DOC
Download Essay
Get Full Essay
Get access to this section to get all the help you need with your essay and educational goals.
Get Access
Biography of Mark Mathabane Essay Sample
Mark Mathabane (born Johannes Mathabane, 18 October 1960) is a South African author, lecturer, and a former collegiate tennis player and college professor. Personal Information: Surname pronounced "Mot-ta- bon- ee"; born Johannes Mathabane in 1960 in Alexandra, South Africa; changed name to Mark, 1976; immigrated to the United States, 1978; son of Jackson (a laborer) and Magdelene (a washerwoman; maiden name, Mabaso) Mathabane; married Gail Ernsberger (a writer), 1987; children: Bianca, Nathan. Education: Attended Limestone College, 1978, St. Louis University, 1979, and Quincy College, 1981; Dowling College, B.A., 1983; graduate studies at Columbia University, 1984. Career: Writer and lecturer, 1985–. Contributor to the Washington Post, the Los Angeles Times, and other newspapers and magazines.
Mark Mathabane touched the hearts of millions with his sensational autobiography, Kaffir Boy. Telling the true story of his coming of age under apartheid in South Africa, the book won a prestigious Christopher Award, rose to No. 3 on The New York Times bestsellers list and to No. 1 on the Washington Post bestsellers list, and was translated into several languages. Today, the book is used in classrooms across the U.S. and is on the American Library Association's List of "Outstanding Books for the College-Bound." Mark Mathabane escaped a life of poverty and terror in South Africa and, recalling that life in print, has become a bestselling author in the United States. Mathabane's 1986 memoir, Kaffir Boy, "catapulted him to celebrity and respect as a voice for oppressed blacks," according to Lisa Anderson in the Chicago Tribune. InKaffir Boy, the author recounts his childhood in the squalid black township of Alexandra and his determination not to accept the boundaries set for him by the white minority government of South Africa. In subsequent books, Kaffir Boy in America and Love in Black and White, Mathabane offers his perspective on race relations–personal and social–in modern America. Los Angeles Times correspondent Itabari Njeri called Mathabane a writer with "an intellect constantly refining itself; a man turning himself into a more astute receptor and generator of ideas."
Kaffir Boy
Mark Mathabane
Characters:
-Mama- is a fighter. No matter how hard life beats her down, she keeps working hard to give her children a better life. -Papa- is the polar opposite of Mark, and in many ways these two characters can be considered foils of each other. Papa is committed to tradition and tribal ways of life -Granny- is a source of constant comfort and encouragement for Mark. When things get bad at home, her house is a refuge. She believes Mark has what it takes to succeed in the world, and her belief in him keeps him going. -Scaramouche- is a mixed-race tennis player who becomes Mark's first tennis mentor and encourages him through the trials and tribulations of a secondary school tennis career. -Wilfred Horn- is a German expatriate living in South Africa. He runs the Barretts Tennis Ranch. He welcomes Mark at the ranch and encourages Mark in his dreams of being a tennis star. -Andre- is a white South African who went to college in the United States on a tennis scholarship and now runs a sports shop in South Africa. -Stan Smith- is an American tennis player who helps Mark receive a tennis scholarship to a college in the U.S. Setting Of The Story:
Kaffir Boy takes place in the country of South Africa, primarily in Alexandra, a black ghetto just outside the city of Johannesburg. A shantytown containing shacks made mostly of flimsy wood and cardboard, the one-square-mile ghetto housed a population of over one hundred thousand non-whites. Potholes often rendered its twenty-three dirt streets impassable. There were no sewers, no indoor plumbing, and no electricity in most of the shacks. Everyone shared the community outhouses and water source. Indians, "the cream of Alexandra's quarantined… Conflict Part of The Story:
Mark has to work against the odds to get his education and play tennis. The family never has enough money to pay for Mark's school fees, uniforms, and books, so he is constantly punished at school. But he persists and ends up in the top 1% of his class. His grandmother gets a job with a white family (the Smiths) that sends books and tennis rackets to Mark. Both help him. The books help Mark with his English ,and the tennis racket opens worlds he never imagined before. Mark finds an unofficial coach, joins the tennis team in secondary school, moves on to the elite Barretts Tennis Ranch, and finally meets a professional tennis player (Stan Smith) who mentors. Smith encourages Mark him to keep trying and agrees to look into the matter of tennis scholarships at American universities. Main Characters:
-Arthur Ashe – an American tennis player who wins the Wimbledon tournament. His game play encourages Mathabane to become a tennis player. -Mark Mathabane – The author and narrator of the book
-The Smiths – The white family who introduce Mathabane to books and tennis. -Wilfred Horn – Owner of exclusive Tennis Ranch and unofficial sponsor of Mathabane. -Stan Smith – Renowned tennis player who relocates Mathabane to the United States by finding a college who is willing to give the author a tennis scholarship.
The Story Ended:
Mathabane joins the high school tennis team and begins to play in tournaments, unofficially sponsored by Wilfred Horn, owner of the Tennis Ranch. It is technically illegal for Mark to play there, but the law is ignored and he becomes comfortable with whites. Eventually renowned tennis player Stan Smith takes Mathabane under his wing when the two meet at a tournament. Stan pays for Mathabane to compete in tournaments and talks to his coach at the University of Southern California about Mathabane attending college in the states. The coach writes to colleges on his behalf and Mathabane earns a tennis scholarship to Limestone College and leaves for the U.S. in 1978.[1] Lesson:
The Lesson That I Learned Is , Even If Your in a Poor Situation In your Life Or in your Whole Childhood Life and you suffer hunger and etc,, Don't Give up And Push Hard So You can be Popular Like Mark Mathabane Did.