Biology Lab Design Glucose Concentration Essay Sample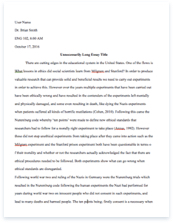 The whole doc is available only for registered users
OPEN DOC
Download Essay
Get Full Essay
Get access to this section to get all the help you need with your essay and educational goals.
Get Access
Biology Lab Design Glucose Concentration Essay Sample
Carbohydrates can be divided into two major groups; sugars and non sugars. These two groups can further be broken down into monosaccharides and disaccharides. Reducing sugars are all monosaccharides. Monosaccharides contain carbon, hydrogen, and oxygen. The general formula is (CH2O2). Reducing sugars possess a free aldehyde group and include the sugars glucose, galacose, fructose and lactose. Benedict's reagent will be used to test the filtered juice extracts of different fruits for the presence of reducing sugar. In order to facilitate the experiment and to avoid doing serial dilutions, a colorimeter will be used to compare the colours obtained. It must be taken into account that ripe fruits will usually have a higher amount of reducing sugar. Apples have a free glucose content of approximately 2.4 g/100g, pineapples have a free glucose content of 1.7g/100g; which is lower than in apples.
Teacher's Aim
To find the concentration of reducing sugar in fruits
General Aim
To compare the amount of glucose concentration (reducing sugar) present in five different fruits.
Hypothesis
I predict that the amount of reducing sugar will be different in all 5 fruits as they all come from different varieties.
Variables
Variables
Units
Range
Independent
Fruit used
Dependent
Percentage of absorbance
%
1-100
Controlled variables are maintained at a constant
Controlled Variables
Units
Possible effect(s) on results
Method of Control
Volume of benedict's solution added & Volume of the fruit juices
ml
This is done to ensure the full reaction between the benedict's solution and the sample of fruit juice.
4.5 ml of benedict's solution and fruit juice will be added to the boiling tube using a syringe.
Water bath temperature
C
The temperature has to be the same to ensure a fair test as the rate of reaction could be different if the temperatures are different. Moreover, the test for reducing sugar is an enzymatic reaction. If the samples are heated at too high a temperature, the enzymes present would become denatured. If the temperature of the water is not high enough, then there will not be a proper colour change.
The water bath in which the test tubes containing the different fruit juices was at a temperature of 60�C. It was kept constant by using an electric water bath as well as a thermometer in order to monitor the temperature.
Apparatus
1 x 1 fruits (tomato, orange, apple, pear, grape)
5 x 1 test tubes
1 x 1 10cm3 graduated cylinder
1 x 2 syringe
1x 5 filter paper
1×1 funnel
1 x 1 Scalpel
1 x 1 Forcep
5 x 1 cuvette
1 x 1 colorimeter (COLOURWAVE CO7500 COLORIMETER)
1 x 1 test tube holder
1 x 1 electric water bath
1 x 1 beaker
12 cm3 benedict's solution
Method
1. five test tubes were labelled(S1, S2, S3, S4, S5)
2. The Apples were crushed using a blender
3. The juice obtained was filtered using filtering paper in order to obtain a clear liquid
4. 4.5 ml of fruit juice was added in test tube S1 using a graduated syringe
5. 4.5 ml of Benedict's solution was added in test tube S1 using a syringe
6. the mixture was heated carefully using an electric water bath at 45�C for 5 minutes
7. A standard was obtained from the colorimeter using water
8. The contents of test tube S1 was poured into a cuvette and placed in the colorimeter
9. The reading was taken [depending on whether the colorimeter has an analog or digital meter, the output may be shown as transmittance (a linear scale from 0-100%) or as absorbance (a logarithmic scale from zero to infinity)]
10. The procedure was repeated with the remaining four fruits.
11. Results obtained were tabulated and a graph was drawn to compare the amount of glucose found in different fruits
Order in which fruits were crushed: Apple, pineapple, passion fruit, orange, tomato
The blender was washed before being used on other fruits.
Protocol diagram
CUVETTE
JUICE &
BENEDICT'S SOLN
DISPLAY SCREEN
SAMPLE
COLORIMETER
Protocol diagram showing colorimeter and cuvettes
Photograph of experiment
Table showing raw data (data collected was in absolute value)
Fruit
Reading 1
(ABS)
Reading 2
(ABS)
Reading3
(ABS)
Reading4
(ABS)
Reading 5
(ABS)
Reading 6
(ABS)
Reading 7
(ABS)
Apple
2.00
2.00
2.00
2.00
2.00
2.00
2.00
Pineapple
1.26
1.64
2.00
2.00
2.00
2.00
2.00
Passion Fruit
0.18
0.20
0.38
0.20
2.00
0.23
0.20
Orange
2.00
2.00
2.00
2.00
2.00
2.00
2.00
Tomato
1.48
1.77
2.00
2.00
2.00
2.00
2.00
Processed data (showing percentage)
Fruit
Reading 1
(%)
Reading 2
(%)
Reading 3
(%)
Reading 4
(%)
Reading 5
(%)
Reading 6
(%)
Reading 7
(%)
Apple
Conclusion
In conclusion it was seen that not all fruits have a different concentration of reducing sugar. My hypothesis needs to be refuted. Both the apple and orange have the same amount of glucose present, which is 1%. However, pineapple, passion fruit and tomato all have different concentrations of glucose; 5%, 56%, and 3% respectively. The high amount of glucose found in passion fruits can be due the fact that when we blended the passion fruit we included the seeds. It was shown that one seed contains 1.64% of sucrose, glucose and fructose combined. There was an anomaly in the readings for the passion fruit concentration as there was a decrease of concentration from 63% to 1% and then back up to 28%. While the test tubes containing the benedict's solution and the fruits juices samples were placed in the water bath, a colour change from blue to different shades of green was observed.
Evaluation
My investigation aimed at showing the concentration of reducing sugar (glucose) present in the different fruit juices. Several readings on the mixture after the reducing sugar test was done were taken every 2 minutes. This allowed us to obtain a wider range of results. It was a good and rather simple experiment due to the fact that a clear conclusion could be drawn out of it.
It is important to take into consideration that each fruit contains seeds which may have high glucose content. In this case, passion fruit seed was seen to have 1.64% of glucose, fructose and sucrose sugars combined. This may have biased the final results.
Replicate observations and multiple samples of fruit should have been tested. This would have given us a broader understanding of how glucose concentration in fruits could vary depending on their nature.
When testing for reducing sugar, the fruit samples containing benedict's solution should have been placed in a boiling water bath at a temperature of 80C for 5 minutes whereas in the experiment the water bath was only set to a temperature of 45C. This may have caused a problem as the colour change from blue to a red precipitate could not have fully taken place at a temperature of 45C.
Two benedict's tests for each fruit juice should be done in order to obtain a more accurate average, as anomalies and discrepancies could be present in the results. We need to take into account the fact that different fruits come from different species; and discrepancies in the glucose concentrations may be present due to genetic variations. The species of one fruit containing the highest and the lowest amount of glucose should have been tested, and an average obtained.
Overall, I believe that the experiment was very interesting yet more results from a wider range of fruits from different species of plant could have been used.
Bibliography
http://www.hort.purdue.edu/newcrop/morton/passionfruit.html
http://www.sciencedirect.com/science?_ob=ArticleURL&_udi=B6T6R-4B0P9G2-4&_user=10&_coverDate=04%2F30%2F2004&_rdoc=1&_fmt=high&_orig=search&_sort=d&_docanchor=&view=c&_searchStrId=1267096585&_rerunOrigin=google&_acct=C000050221&_version=1&_urlVersion=0&_userid=10&md5=d082215469dd786527d63b4c16919532
http://www.springerlink.com/content/t33544428512n471/