The Blues – socio-political context & influence on culture Essay Sample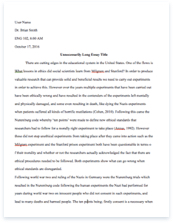 The whole doc is available only for registered users
OPEN DOC
Get Full Essay
Get access to this section to get all help you need with your essay and educational issues.
Get Access
The Blues – socio-political context & influence on culture Essay Sample
'The Blues' have been a foremost influence on the development of rock music, from Negro spirituals and work songs of the black slaves, through to the R 'n' B, and the British Blues boom of the 1960's and beyond. In this essay, I am exploring the influence of several artists on the blues / rock genre as we know it today, from its cultural socio / political roots to mass popularity. The first slaves had been captured in Africa during the 16th century and shipped to North America as a source of cheap labour.
Beaten, chained and transported below deck, with poor food and water, in overcrowded filthy, disease-ridden conditions, only around one third of the estimated 40million imported during the 300 years of legal slavery survived the journey. In a strange and hostile country, the frightened survivors retained what they were able of their culture by gathering to sing African songs and dance together. The tribes and families would be split up deliberately to prevent further interaction.
Many of the slaves were skilled at making music, playing the fiddle, banjo or tribal drums. The Black Codes of Mississippi banned the beating of drums for fear it would cause the slaves to devise a revolt. Very often though, musical skill would add to a slave's purchase price. Singing the traditional African work chants gave them courage and brotherhood, and hope. Black slave labour was used to build the railways, houses, bridges and roads, farm cotton and sugar cane, and poor white men who had to compete for the same jobs resented the slaves.
This led to violence, fear and murder. Slavery was declared illegal in 1807, at the time of the American War of Independence, but in the South the practice continued illegally, with slaves being sold for even higher prices. It was not until the Civil War of 1861-1865 that slavery was truly wiped out. President Lincoln's Emancipation Proclamation in 1863 put an end slavery, though the black people were still to suffer for their independence for many years to come.
'Goin' South where the Southern cross the dog.. ' W. C. Handy remembered 1903, the first time he saw a poor black man wearing ragged clothes sitting playing the guitar by Mississippi Station, using a pocket knife as a slide. He had never heard anything like it before. W. C. Handy had been a cornet player in a brass band and had led a vocal quartet and worked with minstrel shows. He collected folk music, and among his collection were many examples of early blues, which he adapted for his own performance, later moving into music publishing. He became known as the 'Father of the Blues'.
Fred Hagar of Okeh records had been threatened by pressure groups that recording coloured girls would lead to Okeh phonograph machines being boycotted. Perry Bradford, band leader and composer persuaded him to record music that would appeal to America's fourteen million Negroes. Mamie Smith was the first black blues singer to make a record. 'That Thing Called Love' and 'You Can't Keep a Good Man Down' was cut on February 14 1920. White session musicians featured on the song, and it was more in line with the mainstream.
Her next song 'Crazy Blues' was the first real blues record, and was recorded with all black musicians. Okeh records was never boycotted. This record opened the door to further black singers recording for the 'race market', which eventually came to be appreciated by white audiences as well. Lead Belly Lead Belly was born on Jeder Plantation, Mooringsport, Louisiana, USA on the 20th January 1889. He had a unique, inimitable personality and guitar style. His real name was Huddie William Ledbetter.
As Lead Belly he became a true blues legend, internationally renowned, and perhaps the first country blues singer to be appreciated by the white world. Huddie's father, Wes and mother Sally had worked for a white owner until he had enough money to buy his own meagre plot of land to farm, just over the Louisiana border in the state of Texas, which they had to clear themselves. There were no white people for 20 miles around, and communities were scattered – the nearest big town was 40 miles away. His mother was half – Cherokee, and would often be beaten by her husband.
Lead Belly was brought up with family violence and isolation. He was taught accordian and guitar by his uncle Terrel Ledbetter. As a youth, Huddie played for 'sukey jumps' (country dances), and made a living picking cotton. He absorbed many different musical styles, folk, spirituals, country songs, country reels, work songs, jigs, field hollers, children's game songs and cowboy songs. He was notorious for carrying a gun that his father gave him, and was both hero-worshiped and feared, for his reputation as a drinker, a fighter and a womaniser.
Eventually he was run out of town in his late teens, by the community for getting his girlfriend pregnant for the second time and not marrying her. He headed for Fannin Street in Shreveport, a town of shoddy wooden buildings, warehouses, brothels and barrelhouses, drunkards, transients and whores. The aggressiveness of the society demanded heavy, loud, aggressive music. Huddie's guitar style was influenced by the barrelhouse piano players, and featured bass heavy strums, he played with power and aggression, and sang in a hollering, unmelodious voice.
He taught himself to play piano, and as he added to his repertoire, he learned accordion and harmonica as well. He made a living in and around Louisiana and Texas as a farmer and levee worker, but still carried on making and learning music wherever he went, and working as an entertainer when he could. He married his first wife Leith and settled down to life as a sharecropper in around 1912, but was tempted back to his former life, partying and playing in the barrelhouses and dancehalls.
Somewhere in Dallas he picked up with Blind Lemon Jefferson, a blind blues singer and guitarist who was to influence his musical style dramatically. From Blind Lemon, Huddie learned to play guitar with a knife as a slide and to sing with more delicacy, and melody. Blind Lemon eventually became one of the most commercially successful black male blues singers of the 1920's, but Huddie's bad temper led to his imprisonment for crimes of violence and assault at Texas Penitentiary. His parents sold their land to pay for his defence, but he was sentenced to short term hard labour.
After escaping prison, he returned to his parents' home briefly, before running away to the Arkansas border where he assumed the name Walter Boyd. After his cousin Will Stafford suffered a fatal gunshot in the head during a fight, which 'Boyd' always denied being guilty of, he was tried, convicted of murder and sentenced to hard labour again at Shaw State Farm reaping sugar cane. Under sentence of hard labour, Lead Belly spent many years working on chain gangs. A chain gang could have as many as 300 prisoners in it, all shackled together, sometimes even women and children as well.
They would work 16 hours a day, seven days a week, smashing rocks in quarries, draining swamps, digging ditches and building roads and railways. They were literally worked to death, overseen by cruel guards on horseback who would threaten them with shotguns, and whip them to make them work even harder. At night, they were chained to their bunks, in damp, dilapidated dormitories. It was in prison that he was given the name Lead Belly, on account of his physical toughness and self-confidence, though he was popular with both fellow prisoners and guards.
Wes Ledbetter campaigned for his son's release, but died while Huddie was still in prison. After a failed escape and a suicide attempt, Lead Belly was granted a pardon from the prison governor Pat Neff and released in 1925. He returned to Louisiana and worked as a truck driver. During this time he received a horrific scar on his neck which he bore for the rest of his life – he was attacked in a club by a man who tried to slit his throat, he retaliated and nearly beat his attacker to death.
He was banned from playing that club ever again! Before long he got in trouble again and was arrested for attacking a white Salvation army officer with a knife, who has told him not to dance at a band concert. During his time in Louisiana Penitentiary, Lead Belly was discovered by John A and Alan Lomax, in July 1933, when they were working for the library of congress, collecting and recording a 'musical treasury' of folk songs from a dying culture for the archives.
They were astounded by Lead Belly's commanding personality, intense vocal style and knowledge of so many, in excess of, 500 songs. Lomax bought state of the art equipment especially to record Lead Belly's songs, a bulky recorder which cut aluminium discs, and occupied most of his car boot. Lead Belly seized the chance to rework his pardon song, addressing it to the Louisiana prison Governor OK Allen, while performing (what would become) his trademark song Goodnight Irene, at the same time.
Lead Belly was soon released, and the legend has always had it that Allen pardoned him because he was so moved by the pardon song, a repeat of the Pat Neff legend. But the records indicate that Lead Belly was not pardoned, but more exactly released under "double good time" measures adopted to save costs, and there is no evidence that the song played any part in his release, or gained him any particular favour from the governer. So he claimed, such was his talent, that twice he had received official pardons for singing for the prison governor.
The Lomaxs' recorded and published his vast repository of songs, and from this, Lead Belly carved himself a new career travelling concert halls and folk clubs, travelling to New York in 1934 where he caused a sensation, and much publicity was made from newspaper reports of his past history. He played at elite universities to musicologists where his performances of archaic slave songs, his scars, and convict past made him an object of fear and admiration. He was encouraged to dress as an typical black Negro slave worker, barefoot in dungarees so the image would be complete, and played a twelve string guitar.
The Lomaxs' rented him a house in Connecticut , and he sent for an old girl friend from Louisiana, Martha Promise, who he married. He had become such a star by than, that his wedding made the newsreels. White audiences considered him the archetypal black blues singer, though he was not very popular with black audiences, to whom to was a reminder of a past they wanted to forget. Maybe his time in prison had caused him to be out of touch with the liberated blacks of the 30's, but the records he issued for the 'race market' during the decade sank without trace.
He was encouraged to record blues records for the white market, but before long disagreements led to a split between John Lomax and Lead Belly, so he returned again home to Louisiana, and engaged a lawyer in a royalty battle with Lomax over the book on black folk music he was due to publish. Returning to New York, soon attracted the attention of Mary Barnicle of New York University, who sponsored him, and introduced him to the folk music set including the Golden Gate Quartet. He began writing protest songs about segregation and black issues.
He was arrested again in 1939 for an attack on a black man with a knife – reportedly stabbing him sixteen times – and was tried and imprisoned on Riker's Island where he served eight months. During the trial he made thirteen commercial recordings for Music Craft, and received an advance on the royalties. After his release, he went back to the New York folk circuit and worked with Woody Guthrie (who lived with him), Pete Seegar, and Burl Ives among others, who would have regular jam sessions and slots on local radio.
He made some recordings for RCA and Folkways records, before leaving New York for Hollywood. He did not get any film roles, but did well playing the California club circuit, and gained an interest in Dixieland jazz. Restless, he skipped between New York and California for the rest of his career, working jazz clubs to try to lose his convict image. Eventually, he toured in France, which had a popular jazz scene, but was taken ill in Paris with Lous Gehrig's disease – amyotrophic lateral sclerosis.
About six months later, in New York on the 6th December 1949 he died of the disorder. Lead Belly is one of the Blues' true legends because of the role he played in preserving part of the culture that would have otherwise been long forgotten. He was a man very much representative of his time. The bulk of his material was recorded for historical archive purposes rather than commercial release, but his most popular songs were released posthumously in compilations on Folkways records in the 1950's, and influenced and inspired a generation.
Many of his songs, including Goodnight Irene, which was taught to him by his uncle Bob (and became a number one hit for the Weavers in 1950) The Midnight Special, Cottonfields, (the Beach Boys had a major hit with a cover version) The Rock Island Line (a hit for white skiffle / folk artist Lonnie Donegan), and Take this Hammer, are considered blues classics, and have been covered by a lot of different blues singers.