BMW Marketing Process and Segmentation Essay Sample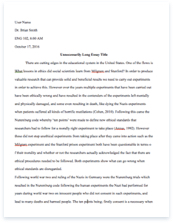 The whole doc is available only for registered users
OPEN DOC
Pages:
Word count: 2076
Category: BMW
Download Essay
A limited time offer!
Get a custom sample essay written according to your requirements urgent 3h delivery guaranteed
Order Now
BMW Marketing Process and Segmentation Essay Sample
At the first part of my assignment I am going to introduce a company which I will be talking about. The company is the BMW automotive manufacturer and one of the leading designers of luxury and luxury sport vehicles.
This company has been founded in 1916. As a result of the war, the small company enjoyed rapid growth. In these days the company already has large plan for expansion. Just about two months before the end of the First World War- Bayersche Motoren Werke GmbH was converted into a stock corporation with a share capital of 12 million Reichsmarks. Just after the war, the company turned its attention to rail vehicle brakes and built-in engines, following the production ban on aircraft engines. During Second World War BMW was co-operating with different countries and was supplying car parts. The designs for the first post-war BMW motorcycle were ready by summer 1947.
Later on in 1970s BMW developed from a national company of European significance into an international brand of global standing. During years BMW has opened many car and motorcycle plants over whole world, emphasising its status as a global player. In 1994 in order to expand rapidly and gain a presence in market segments in which it had not previously been involved, BMW purchased the British-based Rover Group, with the active brands Rover, Land Lover, MINI and MG. In addition to modernising the plant, the task for the next few years was to rejuvenate the product lines. The brands BMW, MINI and Rolls-Royce Motor Cars, the BMW Group has been focusing systematically on selected premium segments in the international car market since 2000. Over the subsequent years, the model range in the premium segment of the lower midsize class has been extended by the BMW 6 series. [ (BMW, 2005) ]
"The company aims to generate profitable growth and above-average returns by focusing on the premium segments of the international automobile markets. With this in mind, a wide-ranging product and market offensive was initiated in 2001, which has resulted in the BMW Group expanding its product range considerably and strengthening its worldwide market position. The company's brand is extremely strong and is associated with high performance, engineering excellence and innovation. Indeed, the BMW brand is often cited as one of the 'best' in the world, and the company continues to launch a stream of innovative products as part of its battle with German peer Mercedes to be the world's largest luxury car maker." [ (Jones & Clements, 2007/8) ]
In my report I am aiming to show the BMW market, especially concentrating about market segmentation and targeting. I'll start with the definition;
"Target marketing is directing a company's marketing effort towards servicing one or more groups of customers sharing common needs or characteristics." [ (Kotler, Armstrong, Wong, & Saunders, 2008) ]
Every organisation realise that they cannot appeal to all buyers in the marketplace at least not to all of the in the same way. Buyers can differ in one or many ways, such as: wants, resources, locations, buying attitudes and buying prices. By market segmentation organisations divide large markets into small specifies segments which can be reached more effectively with products and services to match their unique needs. The BMW knows about this very well, they have specified their market segment and produce goods and services to meet this particular market segment needs and expectations.
There is many ways to segment the market, such as:
* Geographic segmentation: region, country size, city size, density, climate * Demographic segmentation: age, gender, family size, family life cycle, income, occupation, education, religion, race, nationality * Psychographic: social class, lifestyle, personality
* Behaviour segmentation :purchase occasion, benefits sought, user status, usage rate, loyalty status, readiness state, attitude towards product
The BMW segmentation would look like that:
Geographic| All world|
Demographic| Age between 30- 65+; gender male and female; family size 3-4; family life cycle singles, married with and without children; income £ 30000+; occupation professionals and technical, managers; education university, postgraduate, professionals; religion n/a; race n/a; nationality n/a| Psychographic| Social class: middle class, upper middles, lower uppers; lifestyle achievers, strivers; personality ambitious, successful.| Behavioural| Purchase occasion regular occasion; benefits sought prestige, comfort, quality, reputation; user status regular user; loyalty status strong|
The BMW is targeting a market of upper class people working on high positions or owning their own business with high income. Also it doesn't matter if it is female or male, they are about 30 years old and over, on the successful position at work. This segment of people is more likely to buy a car worth £95000 or a motorcycle for £20000. So in this case income and social status is very important.
Targeting definition: "Target market is a set of buyers sharing common needs or characteristics that the company decides to serve." [ (Kotler, Armstrong, Wong, & Saunders, 2008) ]
The BMW targeting is differentiated marketing strategy. Using this type of marketing a firm decides to target several market segments and designs separate each of them. For example BMW is offering a wide range of cars and motorcycles which meet all different needs and expectations. Part of the buyers would like to buy a nice big safe car for family for everyday use in reasonable price however other buyer would like a fast, luxurious and high quality car for speed rides with friends. Also motorcycles are separated in different categories such as: tourist one for exploring world or sport ones for very racing and hobby. Also it is all about life style. If riding a motorcycle is your hobby you are able to spend lots of money and time on it. Each of these types of vehicles is at different price, quality, look and abilities. The graph shows how it looks in theory. Product Version1 or type is meeting expectations from market segment 1, etc. Differentiated marketing strategy is where the firm decides to target several segments and develops distinct products/services with separate marketing mix strategies aimed at the varying groups.
The BMW is offering for sell expensive, well known luxury and luxury sport cars and motorcycles. While exploring the BMW website I can easily find and chose a car which I would like to buy. The customers can choose cars by selecting from options listed to fit everyone's criteria. The price range is: from £15000 to £ 50000+. However I went to BMW showroom in Northampton called Wollaston and done some research on my own. The company representative Steve Wong said that the most expensive car is worth about £95 000. The next option in searching a car on the website is body style: sports hatch, saloon, touring, coupe, convertible, roadster and sports activity vehicle. Also we can chose by fuel type. [ (Wong, 2011) ]
However when we look at BMW Motorcycles then the company offers also different types of motorcycles: endure, sport, tour, urban and high performance. The company representative said that motorcycles prices are between £5500 and £20000. The buyers of motorcycles are male and female, age 18+ who has motorcycle licence for driving. The BMW is also selling specialist clothing required for riding a motorcycle such as: high quality leather jackets, trousers and safe helmets. This specialist equipment is also expensive, only helmet costs £600 and clothing about £1000.
The next stage is positioning. It is how the form decides it wants to position itself within that chosen segment. It takes into account customers thoughts and perceptions, about a product relative to others. It is especially important when developing a product. The definition of positioning by Kotler is:
"Product's position is the way the product is defined by consumers on important attributes- the place the product occupies in consumers' minds relative to competing products" [ (Kotler, Armstrong, Wong, & Saunders, 2008) ] The BMW company is positioning its products as high performance, where other car manufacturers are: Toyota- reliability and environment concern, Mercedes – luxury, Porsche also performance as BMW, Volvo- safety, Audi- German technology & engineering. By the way how BMW is presenting and advertising and targeting customers the conclusion is very easy made, this company is very high quality, performance, manufacturer of cars or motorbikes. 'Products are created in the factory, but brands are created in the mind'. This means the way customers see the product and way how the company is run they will have their own opinion about both. The BMW Group is clearly saying about them "Outstanding brands with an unmistakable profile. Automobiles and motorcycles which fascinate people all over the world and which win legions of new admirers every day. And a degree of success which sees the BMW Group go from strength to strength." [ (BMW, 2005) ]
The BMW's strategy positions themselves away from their competitors. They have concentrated on motorbikes section in the automobile market. The plan is to improve and expand this area of products. Recently they have introduced S 1000 RP BMW's first superbike, producing an exceptional 193 horsepower and yet tipping the scales at just 183 kg (dry weight). [ (Motorrad, 2009) ]
The Marketing Mix
When the marketing objectives have been approved, marketing plans must be developed to accomplish goals. The marketing mix provides an excellent framework for developing marketing plans. The marketing mix is made up of seven parts (the 7Ps), namely: product, price, promotion, place, people, process and physical evidence. [ (David Dooley;Rob Dransfield; John Goymer; Philip Guy; Catherine Richards, 2007) ]
BMW 7Ps:
Product| Wide range of cars: sport and everyday / motorbikes: tour and sport. Also specialist equipment and clothing for motorbikes.| Price| Cars: £25 000 – £95 000 ; Motorbikes: £ 5500 – £25000, Clothing about £1000| Promotion| Adverts in TV, internet, special events, free testing rides, promoting motorbike life style, brochures, special offers, sales,| Place| Showrooms around the world, also available on internet and telephone. Online dealer finder.| People| Well qualified, ideal manner and friendly staff. Very posh customer service.| Process| Professionally organised quick & easy customer service, help line and faulty department| Physical evidence| Fashionably designed offices, showrooms, high standard of quality, staff wearing uniforms, high level of health & safety issues|
Advertising
The BMW Group is advertising their products on TV, internet, specialist magazines, and events and at their showrooms. For example showroom in Northampton is open 7 day a week where everyone can pop in at any time to have a look at cars or motorbikes. There is also nice Cafe where all drinks and snacks are served for free to everyone. Comfortable well designed place with relaxing music and sport news on big screen. The aim of all of that is to encourage people to meet their friends there, to talk about shared hobby and relax. The company is trying to create friendly big family where everyone knows each other and shares each other opinions, also in this way their brand loyalty is increasing. When customers have opportunity to touch, or try a free test ride of motorbike then the chances for buying a product are bigger. The BMW representative said that very often customers want only to have a cup of tea and just look around and in a minute they are buying a new motorbike. The BMW Group is advertising a high standard full of comfort and fun lifestyle in which the biggest part is motorcycling or driving fast BMW sport car. Also the BMW Group is cooperating with the BMW Rider Training Company. If the customer is willing to buy a motorbike buy hasn't got a licence then a BMW representative is organising all training for him. I have attached BMW Group Motorbikes brochures from showroom in Northampton BMW Dealer.
Bibliography
BMW. (2005, October 17). BMW Group. Retrieved 02 16, 2011, from www.bmwgroup.com: http://www.bmwgroup.com/e/nav/index.html?../0_0_www_bmwgroup_com/home/home.html&source=overview David Dooley;Rob Dransfield; John Goymer; Philip Guy; Catherine Richards. (2007). Business Book 1 2nd ed. Oxford: Heinemann. Jones, C., & Clements, J. (2007/8). Innovation Leaders. Retrieved 02 16, 2011, from http://www.innovationleaders.net/index.html. Kotler, P., Armstrong, G., Wong, V., & Saunders, J. (2008). Principles of Marketing.
London: Pearson Education Limited 2008. Motorrad, B. (2009, April). S 1000 RP/ online brochure.
Wong, S. (2011, 02 15). BMW Market targeting. (P. Dziubinska, Interviewer)
——————————————–
[ 1 ]. White.(2010/2011)Lecture notes: targeting and positioning.[ MKT1004 , 9th November] [ 2 ]. White.(2010/2011)Lecture notes: targeting and positioning.[ MKT1004 , 9th November]