Body Scarification Essay Sample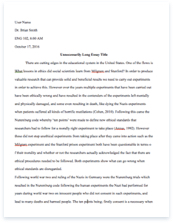 The whole doc is available only for registered users
OPEN DOC
Pages:
Word count: 352
Category: body
Download Essay
A limited time offer!
Get a custom sample essay written according to your requirements urgent 3h delivery guaranteed
Order Now
Body Scarification Essay Sample
Scarification is one of the most common rituals in tribes around the world Scarification involves cutting, marking, scratching, words, symbols or designs permanently as body alteration. In body scarification, you're cutting or branding your skin. Scarification is most frequently used on darker skinned persons because it shows up better than it would on a lighter pigmented person. There are also Religious, Social, and Aesthetic reasons for scarification.
In Papua, New Guinea, males must go through the crocodile scarification. The crocodile scarification , also known as the "Mark Of The Crocodile", is a ritual males aging from 11 to nearly 30 must go through to become a man. The initiate's uncles hold them down while tribal cutters use razors to cut their skin in short slashes. The slashes are made through their back and chest, leaving hundreds of open sores. The cutting process takes about a day and when done they are laid to rest in an infirmary type room, where feathers are used to rub tree oils and clay to help soothe their wounds. For the next two weeks the initiate's wash their wounds with cold water every morning. The cold water raises the wounds leaving them like then skin of a crocodile. If you didn't wash the wounds with the water they would just become open sores and you wouldn't get the outcome that you want.
There are many different types of branding scarification types like : * Strike branding: Using a metal that is heated and pressed onto the skin to brand. * Cautery branding: Less common and something like a cautery iron is used. * Laser Branding: Modern way to brand using a laser.
* Cold Branding: Not common, like strike branding but instead of the metal being heated up , the metal is being cooled to extreme temperatures. There are also many other types of cutting and abrasion ways. Scarification is very dangerous. Infection is very likely, some people die in the scarification process. If not cleaned well wounds from scarification can leave nasty infected spots around the wounds and inside the wounds.