Book Case Study: Enrique's Journey Essay Sample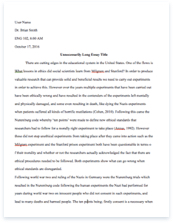 The whole doc is available only for registered users
OPEN DOC
Download Essay
A limited time offer!
Get a custom sample essay written according to your requirements urgent 3h delivery guaranteed
Order Now
Book Case Study: Enrique's Journey Essay Sample
Abstract
In the book Enrique's Journey written by Sonia Nazario, a projects reporter for the Los Angeles Times, Nazario discusses the true story of a man named Enrique born in Honduras who was abandoned at 5 years old by his mother Lourdes. Lourdes chose to leave Enrique and his sister Belky to travel to the United States as an immigrant for better financial opportunities to provide for her children back home. After 11 years of depression and substance abuse, Enrique becomes determined to go the U.S in search of the mother who abandoned him and his sister. Family is the central theme of Enrique's Journey. By basing her investigation around Enrique's story, Nazario explores the ways that immigration affects an individual's family, community, belief system, and ultimately the Hispanic society as a whole.
The characters in this book must make many difficult decisions in order to deal with their debilitating poverty and oppression. While growing up in Honduras, Lourdes glimpsed at images of the U.S. on television as young children in other Countries tend to see, starting at a young age she decided she wanted a piece of the so-called "American Dream" for herself. Lourdes was enthralled by what she saw, like seeing a real life fairytale this in her mind created an image of prosperity and real life opportunity that is not offered in her Country. It was at this tender age that a small seed was planted and just sat inside of her waiting to slowly go into the sunshine to grow. Lourdes has two children later naming them Enrique and Belky she struggles to keep a roof over their heads, food in their bodies, and later on school supplies for their education, but all she can refer back to in her mind are the images she saw on the TV screens as a child. She then begins to wonder if there is more she can do for herself and her children.
As a result, she ironically decides that she must abandon them to take care of them, and sees no other option at this point. Lourdes decides to leave for the United States in order to give her children the life that she never had, unfortunately the "American Dream" is not as easy to acquire as it is sold out to be and she soon learns this the hard way. Lourdes has been working menial jobs trying to send money back home to Honduras for Enrique and Belky when she accidentally gets pregnant by her alcoholic boyfriend. This causes Lourdes to stop sending as much money if any money at all back home, and thus creating a longer time span between being able to either have enough money to go back home and set up her shop or bring her children over to be with her in the U.S. The greatest hardship that Lourdes's is facing is not her accidental pregnancy or menial jobs, it the simple fact that the U.S comes with its own set of challenges. Lourdes is unable to rely on any kind of steady income with her alcoholic boyfriend and odd jobs.
The copious amount of racism and her own illegal status greatly affects the limit of her earning potential. Though she can send money home, her own pregnancy limits her ability to do so. Though Lourdes is able to prosper somewhat in the U.S., it requires significantly more sacrifice than "The American Dream" led her to expect, and also requires her to accept a certain sense of shame. The country is less open to immigrants than she had once believed. Lourdes is using her children as her means of strength to survive, she wants to be strong for them so they never feel the pain that she felt growing up in an impoverished Country. What Lourdes's is slowly recognizing is that she is facing the same complications in America as she did back home, the community that she is in is not helping strengthen her situation and is in fact doing the complete opposite making it worse with the unbearable separation and guilt she is feeling. The only thing that is keeping Lourdes from giving up is the fantasy of being whole, happy, and well off with all of her children by her side.
This fantasy will soon shatter when Lourdes and Enrique are finally united, and she can see how the decision she made to leave many years ago to find prosperity has played out in reality. Overall, the family unit itself was broken, and this is one of Nazario's overall points. Enrique continues to enable his broken family when he asks Maria Isabel to join him, risking starting the same cycle of abandonment with his own daughter, suggesting that these decisions are not easily criticized, but rather must be considered as one of many factors at risk in the immigration debate. Nazario explains, "How some children grow into restless adults, who are never able to forgive their parent(s) for leaving them. Others, like Enrique, try to overlook the past and move toward a brighter future; however, their lives are often marked by addiction or other coping methods." (Nazario,2013). "The true irony is the fact that the mothers originally left their country and children to help keep their family intact." (Nazario, 2013).
At the time little did they realize the future ramification of that decision. One of Nazario's purposes is to remind us all of this less palpable risk that migrant parents run. How can the United States as a society begin to help immigrants trying to escape Central America and Mexico? The U.S has recently started the Mérida Initiative for Mexico and Central America. "These are funds and policies aimed at drug and violence control in these Hispanic Countries." (Seelke, Beittel, 2009). If America spent less money on building walls, borders, and patrol officers, and more money in these countries themselves taking away incentives for immigrants then there would be far less illegal immigration problems in the U.S. This would create a job market and in time a better economy in these areas which would reduce the number of drugs, gangs, and violence leaving the local residents to stay and build up their communities. For once these people would be empowered instead of oppressed, they would feel pride, and they would remain loving families instead of beaten and broken ones.
References
Nazario, S. (2013). The Heartache of an Immigrant Family – NYTimes.com Retrieved: April 11,2015
Seelke, C. R., & Beittel, J. S. (2009, August). Mérida initiative for Mexico and Central America: Funding and policy issues. Congressional Research Service, Library of Congress.