Book Review – Goodbye to Shy: 85 Shybusters That Work! Essay Sample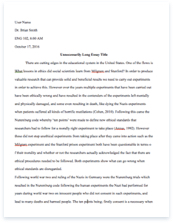 The whole doc is available only for registered users
OPEN DOC
Download Essay
A limited time offer!
Get a custom sample essay written according to your requirements urgent 3h delivery guaranteed
Order Now
Book Review – Goodbye to Shy: 85 Shybusters That Work! Essay Sample
            Leil Lowndes was able to produce a magnificent book that can counter shyness and workout confidence among people. The book Goodbye to Shy: 85 Shybusters That Work helps readers in facing everyday lives with full confidence and brighter perspectives. It determines the source of shyness, the effects of being shy and introduces possible remedies to achieve a shy free life.
            The first part of the book tackles proper way of dealing with people nowadays even with the presence of shyness in one's personality. The goal of attaining a shy free life is never easy. It will take time to gain complete confidence and tell other people that you are shy (Lowndes 3). In most situations, shy people try to hide their condition to avoid being humiliated. People with just laugh at an individual who is admitting that he/she is shy and may say things like "Oh, not you! You've got to be kidding" (Lowndes 3).
According to the book shy people are classified in 3 different types: born shy, situational shy and traumatic experience shy. The first type of shy people is naturally shy from the time that they were given birth. The sensitivity of born shy people is extremely high and tries to avoid socialization as much as possible. The second type of shy people is usually affected by certain events that expose them to others. One great example of situational shyness is during class discussions. Lastly, traumatic experiences make someone shy because of too much humiliation or failure. This can also be viewed as people who are usually well taken care of from since their childhood days. It produces traumatic shyness because they will keep on depending and talking to close family members rather than exposing themselves to people that they barely know.
Once the person is already aware of the type of shyness he/she possess, it is the time for him/her to get out of the situation they can't face (Lowndes 7). There are discussions made in the book about battling with blushing, sweating and other signs of shyness (Lowndes 10). The author of the book also encourages shy people to talk about their condition (Lowndes 12). This will make them face the tough situation they are into and step by step settle the problem within their personality (Lowndes 15). The book is indeed helpful for shy people because they will be aware of the things that they need to do to counter shyness. It is one way of showing readers how life is more meaningful with the right confidence and sociable personality.
Another good part of the book is the second chapter which discusses different point of views of people who look upon the shy person. Regardless if the shy person confesses that he/she is shy, other people can notice it without even telling them (Lowndes 21). The author also based her findings on studies that prove how shy people view themselves worse than what they are. The "mud colored glasses" hinders people from growing up and showing off their proud personality (Lowndes 25). Shy readers will find themselves whispering "Yes that's me!" upon encountering several discussions in the book that are really similar to their life experiences. This is a good way of making people aware of their weaknesses so that they can work it out and transform it into strengths.
Reading the book serves as a self discovery for shy people. Once they already gathered pertinent information about their condition, the author then leads them to more juicy chapters that will make them graduate with confidence. There are shy busters' techniques identified by the author which can be easily applied in the lives of shy people. There is a three-step game plan given by the author so that shy people will unhook themselves from the terrible condition (Lowndes 43). It includes chapters about hooking hide and seek, shaving off the years of suffering from shyness and how to warm up one's wacky confidence (Lowndes 45-58).
For beginners, there are shy buster techniques that will improve shyness little by little. From simple eye to eye contact to giving out that perfect smile and eliminating snob mannerism were discussed in the chapter of "The seven best beginner's shy busters" (Lowndes 61). Rare shy busters were also given by the author that will allow shy people contemplate on things that made them shy. It will also encourage them that the only people who can help them from recovering are their own selves. Big time sufferers were also tackled in the book but eventually there is still a hope for them to recover. Crowd behaviors were also cited in the book and how shyness is available on almost every place like parties and other places. Shy people often treat crowded people as hell but the book will make them change this kind of thinking.
The book is very amazing because it manifests the author's willingness to help out and change the lifestyle of shy people. Fearless conversation will be made available for shy people after reading this book. Family and sexual relationship problem which are affected by shyness will also be resolved through several shy busters given in the book. Getting to know one's self is the best way to get out of a shy life. Loving yourself is the main message of this book because it assures shy people that life is a priceless gift especially for those who extends themselves to others.
Each shy buster introduced by the author allows shy people to practice and apply it in their lives. Every accomplished shy buster technique leads them closer to graduation day. By the end of the book, shy people will find themselves successful and free from painful shyness experiences. It will give shy people the chance to look attractive and feel more comfortable whenever there are other people around them. It is a life changing book that will reinvent the lives of shy people.
Works Cited:
Lowndes, Leil. Goodbye to Shy: 85 Shybusters That Work. New York: McGraw-Hill. 2006.