Both 'Great Expectations' and 'To Kill A Mocking Bird' Are About Growing Up Essay Sample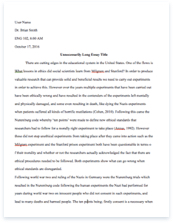 The whole doc is available only for registered users
OPEN DOC
Pages:
Word count: 1037
Category: novel
Get Full Essay
Get access to this section to get all help you need with your essay and educational issues.
Get Access
Both 'Great Expectations' and 'To Kill A Mocking Bird' Are About Growing Up Essay Sample
Pip's role in 'Great Expectations' is developed through the positive and negative influences of Joe, Abel Magwitch and Miss Havisham.
Firstly there is Joe, who Pip, in chapter two, describes as a "dear fellow". He shows through out the entire book that he is a "dear fellow". He also always shows complete honesty which helps Pip become a trustworthy person from an early age.
Joe also gives Pip's early life a lot of stability which he can always rely on. This gives Pip some security from the other early life experiences he comes in contact with. Pip is able to have some confidence because he knows that Joe will give him support because of his unconditional love.
Joe's massive forgiving nature allows Pip to relax and grow better knowing that he won't always have to hide what he's doing. Joes none stop hard working attitude shows Pip that life isn't easy and you have to work hard. The only bad influence Joe has on Pip is that Joe represents the lower class which for Pip becomes a source of embarrassment.
Abel Magwitch, the convict, influences Pip's early life in a number of ways. He forces Pip to realise what is really important in his early life when they first meet on the marshes in chapter one. When the pair meet up here Pip is terrified this is shown when Dickens describes Pip as a "small bundle of shivers". Abel then helps Pip by giving him the financial backing so that he can become a gentleman.
The convict is in a way just like Joe because he gives Pip unconditional love and support.
The downside of Pip meeting Magwitch is that Magwitch tries to mould Pip into a gentlemen of the upper-class like Magwitch wanted to be when he was young, although now Abel Magwitch represents the lower class, again like Joe, but also shows Pip the illegal going-ons in life.
Although he does give Pip the financial backing this eventually ends up leading to his downfall.
Finally Miss Havisham, describe as being a "shroud", "corpse-like" woman, influences Pip's early life by letting him see that wealth does not always bring happiness.
A young Pip is desperate to receive help from Miss Havisham but she tells him in no uncertain terms that he is not going to get any when she says "I hope you want nothing? You'll get nothing".
She also shows him that it is possible to manipulate people so that they do what you want them to do.
Miss Havisham is also the person whom moulds Estella who eventually hurts Pip as told to do so by Miss Havisham when she said "break his heart". As well as all that it is her that really makes Pip unhappy about his life in the lower-class.
Pip, because of Miss Havisham and Estella, becomes ashamed of his upbringing and starts to disown his family. This means that Pip is starting to show prejudice towards the lower class.
Joe Gargery, Abel Magwitch and Miss Havisham are the three major characters in dickens' novel 'Great Expectations' that have influenced and developed the role of a young Pip.
The role of Scout in 'To Kill a Mocking Bird' is developed through the positive and negative influences of Atticus, Jem and Calpurnia.
Atticus is very courageous and skilful, he shows this when he shoots the mad dog, Tim Johnson, this is shown in chapter ten when it says 'The rifle cracked. Time Johnson leaped, flopped over and crumpled on the sidewalk'. This helps Scout by showing that he does not just have to agree with the majority.
He is also very honest with Scout even though she is just a child and this is in the mid 1930's in Southern U.S.A. this helps Scout to mature into a decent citizen.
Atticus also teaches her that it is better to use her head than to use her fists, or even worse guns, to sort out a problem. He shows Scout that although most things can follow majority rule your conscience can't.
Jem helps Scout mature, this is because Jem is getting older, he is thirteen by the end of the book, and Scout doesn't want to be left behind. He also shows Scout that there is a time and place for fun and games and that as you get older you should stop to play games.
He teaches Scout about the new things that she didn't know about, what to do and say in school for example. He then shows, by knocking the tops of Mrs Dubose's camellias, that getting frustrated and angry leads nowhere.
Calpurnia, although she is stern with Scout which leads the girl to resent her, gives the child a mother figure. She shows the girl that there is no need for racism as both races are alike.
She also shows that some people act differently in a different habitat this is shown when Calpurnia takes the children to her Negro church.
She teaches Scout that you cant force people to believe in what you believe you have to let them make up their own minds about everything, see says this when telling the children why she spoke differently at her church.
Both Pip and Scout have three main influences in their early lives that help to develop their early lives.
They also have similar upbringings. They both have a kind, generous and honest father figures in Joe and Atticus. The also have stern mother figures in Mrs Joe and Calpurnia, although Calpurnia is a lot fairer towards Scout than Mrs Joe is towards Pip. Finally they both have an older more mature brother or sister in Mrs Joe for Pip and Jem for Scout.
Both upbringings also involve a legal element with Abel Magwitch, the convict, for Pip and Scout's father Atticus, a solicitor, for her.
Overall, even though the two of them, Pip and Scout, have had their young lives developed in different times and places, and by two completely different authors, they have had similar upbringings and influences.