Brechtian Performance – Evaluation Essay Sample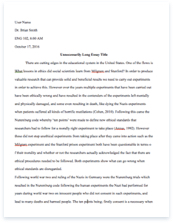 The whole doc is available only for registered users
OPEN DOC
Pages:
Word count: 691
Category: play
Get Full Essay
Get access to this section to get all help you need with your essay and educational issues.
Get Access
Brechtian Performance – Evaluation Essay Sample
1. What Brechtian techniques did you use in your group
In our play, which was a rendition of the popular children's tale 'The Three Muskateers', we decided our social improvement topic was going to be homosexuality and homosexual marriage, and on that note we decided to cleverly rename it 'The Three MuskaQueers'. Humour was the main theme of the play, and we furthered this by using obvious tehcniques, such as cross dressing and "cocks in frocks". Georgia, Charlotte and I played the main roles of the gay characters, whereas James played the extremely feminine character, Rhonda, who was the epitome of a girly girl.We also applied our knowledge of montage, and used different types of scenes, ranging from naturalistic, to a slow motion scene. We also introduced a god, who was 'God of the Gays'.
2. How well did you think you used them (Popular audince reaction/engagement/understanding. Critical; opinions of other practitioners & Self; personal targets you may have set yourself)
Our group used these techniques to our greatest ability. With montage, we had a slow motion scence in which we were chasing the robber, but we broke it to re-introduce the obvious humour, and used that as a transistion back into naturalistic. Hamzah, who played the God of the Gays, made sure that the god was as far from gay as possible, which made the contrast quite funny, because had he overreacted and exaggerated the character as we had done, the play would've been too overdramatic, so his presence took it down a notch, which was neccessary.We tried to break the fourth wall in the last scene, when Hamzah was communicating with the audience, telling them about gay marriages and rights.
3. How well did you 'synthesis' your content (what you were saying) with the form (how you were saying it) What did you think was effective and why
In all honesty, I don't believe we managed to communicate our message effectively, as we did not really have a clear understanding of how to interpret it into our play. I do believe, however, we were able to deliver the general message of homosexuality in our piece, and we conveyed our thoughts about gay marriage. We proved this effective by using an array of eclectic costumes, used convincing accents and used popular social aspects such as the song YMCA, using the phrase "in the village" as taken from Little Britain, and also furthered the gay lifestyle by acting out yoga stretches that posed as possible sexual innuendo. People understood where we were coming from, as we were obviously exaggerating everything, therefore it made it that much more comical.
4. If you were not happy with aspects of your work then what alternative approaches might you have pursued Mention at least 2 aspects of your peers work that you thought was effective and why, as you consider alternatives.We could've used techniques such as using stage directions, as Rebekka did in her piece about Adam & Eve. While she said her lines, she also injected lines such as "and now I will exit stage left" etc. As well as that, she introduced the play not actually telling the story, but saying what she would've said had she been telling the story, which made it more interesting. Later on the play, Stephanie and Ryan acted out a sex scene in a way which was comical and very unsexy, which added to the humour. They went behind the curtains and began throwing loads and loads of clothes out, suggesting they were taking them off, but it got a point, where there were far too many clothes to have been possible, which made the whole scene ridiculous and brilliant.Another effective technique was the cross cutting that was used in Chloe and Tanisha's scene. While Chloe was explaining the danger sof obeasity, and how all the patients were striving to become fit and healthy, you could obviously see Tanisha in the background, as the obease character, gorging on a bag of Doritos. This tehcnique was cleverly done, and I would deifinitely like to incorporate it into any future plays.