Brenton Butler Murder Case Essay Sample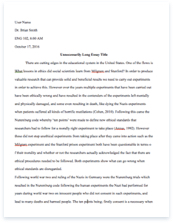 The whole doc is available only for registered users
OPEN DOC
Pages:
Word count: 326
Category: murder
Get Full Essay
Get access to this section to get all help you need with your essay and educational issues.
Get Access
Brenton Butler Murder Case Essay Sample
In May 2000, two tourists from Georgia were outside the Ramada Inn. The wife was shot in the head in front of her husband and the killer fled. During this painstaking investigation, police picked up a 15-year-old student (Brenton Butler), who was on his way to submit a job application to a local Blockbuster Video. Butler was brought to the victim's husband, who identified him as the killer. Police brought Butler in for questioning, and he confessed to the murder, both orally and in writing, in front of at least two detectives. State Attorney Harry Shorstein decided to prosecute the case. During the trial, Butler testified that two detectives involved in the investigation, including Michael Glover, son of the then current Sheriff Nat Glover, had intimidated and physically abused him into confessing. Butler was represented by Patrick McGuinness and Ann Finnell, two attorneys from the Public defender's office. They supplied a photograph of Butler with bruises on his face, which they claimed was the result of the interrogation.
The jury deliberated for less than an hour before acquitting Butler. This was a case that was all over the media and from the start had people thinking he had done it. While watching the video in class, it had me really thinking. I simply did not believe anything the prosecutors were saying. Nothing was making sense to me, the confession, and the eye witness. I just did not think that Brenton Butler had killed 65 year old Mary Ann Stephens. This case was a lot different than the Fritzhugh video case, we had seen the week before. I believed that her husband had murdered her from the very start. It did not make any sense why he had to bring people to check on his wife, and the bloody clothes in the car. Like I said, the Brenton Butler case had no real evidence to me, where the fritzhugh case, was too much evidence.