How a Buddhist might put these teachings into practise in his or her daily life Essay Sample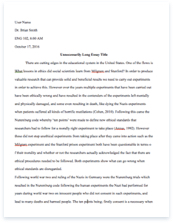 The whole doc is available only for registered users
OPEN DOC
Get Full Essay
Get access to this section to get all help you need with your essay and educational issues.
Get Access
How a Buddhist might put these teachings into practise in his or her daily life Essay Sample
There are many teachings in Buddhism that Buddhists may try to follow in daily life. For example a Buddhist in the five precepts it states that we should not harm any living beings. For instance, it is believed in Buddhism to be wrong to harm animals and the environment. The Buddha said:
"Life is dear to all beings. They have the right to live the same as we do."
We should respect all life and not kill anything. Killing ants and mosquitoes is also breaking this precept. We should have an attitude of love and kindness towards all beings, wishing them to be happy and free from harm. Taking care of the earth, its rivers and air is included. There are many ways Buddhists might try to carry out this precept in daily life, for example they may become a vegetarian to refrain from eating meat.
This precept also limits the amount of careers available to a Buddhist, as they can not have a livelihood such as a butcher. They might consider a job like a gardener, but could not work in an animal testing laboratory or become a vet.
Buddhists might also try to wear appropriate clothing, for example they might not wear leather as a cow had been harmed making it. They may also not feel comfortable wearing woollen clothing as it has come from a sheep. Buddhists will try and wear clothes that are best for the environment and have harmed animals the least. Types of clothes a Buddhist might wear would be made out of cotton, linen or silk.
Buddhists might also try and use medicines that have not been tested on animals as they believe in not harming any living beings and if they used the medicine that had been tested on animals they would be using a medicine that had harmed a living being. Buddhists feel strongly against using medicines that they are certain have not damaged any living thing whilst it was being made. This also applies to make up. Buddhist women might try not to use any make up that had been tested on animals as this will have harmed the animal.
As Buddhists are so keen on keeping the environment clean and free from pollution, they might refrain from using a car as this gives off a lot of pollution and try and use more public transport as if they got a bus the amount of pollution that is being given off by that one bus would be nothing compared to if everyone in the bus was driving there own car. Also Buddhists might be interested into looking into electric cars as these are completely healthy towards the environment.
When a Buddhist is shopping they might try not to buy any cleaning agents or aerosols that when sprayed will damage the earth. They might try to purchase aerosols that do not contain black carbon as aerosols that contain black carbon both absorb and reflect incoming sunlight; these particles can exert a regional cooling influence on Earth's surface that is about 3 times greater than the warming effect of greenhouse gases. Buddhists try to look after the earth, not damage it.
Everyone has to pay taxes including Buddhists, Buddhists might not agree with where some of there taxes are going, for example they would prefer to be putting there money towards to NHS so that they are helping people, whereas they might not agree with giving money to the military as they will be able to afford better weapons and then feel more confident about starting a war.
In conclusion I think that Buddhists do try and put a lot of effort into putting the teachings about the environment and animals into their daily lives, however sometimes it might not be possible to do this, for example it is not possible to choose what the money they pay for taxes goes towards, but they still feel strongly about it.