Budgeting for Unseen Changes Essay Sample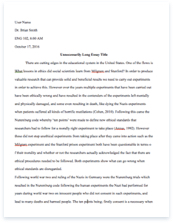 The whole doc is available only for registered users
OPEN DOC
Download Essay
Get Full Essay
Get access to this section to get all the help you need with your essay and educational goals.
Get Access
Budgeting for Unseen Changes Essay Sample
Financial managers must account for a portion of their budget to be designated for information technology changes and improvements. If a health care organization is planning for a large change to a new computer software system or making upgrades to their current system the financial manager must have figured this movement into the budget to help minimize surprise costs. Financial managers can also plan to acquire lending to help with the large costs incurred with information technology advancements. Planning must begin with making sure the new technology or the upgrade to the current system will be sustainable for the health care system as a whole and when this decision is made then moving forward with budget planning can begin. Budget planning by the financial manager must always have the health care organization's best interests in mind. Businessdictionary.com defines capital outlay as "Money spent to acquire, maintain, repair, or upgrade capital assets" ("Capital Outlay," 2013, p. 1).
Making sure that spending the money in the budget is in the best interest of improvement of the information technology is imperative. There is no need to spend money on unnecessary improvements because the money is in the budget. A good financial manager will have the money in the budget because the need is there and panning for the large capital outlay has been built into the budget. In the event of an unforeseen information technology issue with the need for large capital outlays the financial manager may need to seek funding outside of the planned budget. Loans are an option to help with unforeseen capital outlays. Although the funding will take time to be approved and processed it is an option to the financial manager. Adjusting the current budget to find the necessary amount of cash is also an option.
Although this may create other issues for other departments if there is other unforeseen problems. The financial manager will also need to take into account the need for increased staffing and training for the information technology system. In addition, the financial manager needs to prepare for additional costs while making the changes needed to the information system. Outages, downtimes, tweaking of minor programming issues, and possibly on-site training for physicians and office staff need to be accounted for in the funding of information technology changes.
References
Capital Outlay. (2013). Retrieved from http://www.businessdictionary.com/definition/capital-outlay.html