Building Shared Services at PR Communications Vice President Essay Sample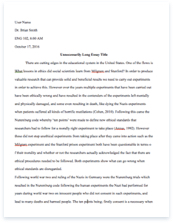 The whole doc is available only for registered users
OPEN DOC
Download Essay
A limited time offer!
Get a custom sample essay written according to your requirements urgent 3h delivery guaranteed
Order Now
Building Shared Services at PR Communications Vice President Essay Sample
In the mini-case Building Shared Services at PR Communications Vice President of IT, Vince Patton, is faced with the task of creating a single customer service center for the company. The case starts off with Vince firing the four divisional CIO's, stating that "We don't need any of you anymore. I'm creating one enterprise IT organization, and there's no room for any of you." (McKeen, p 127). Ross Roman, founder of PR Communications, then gives Vince the opportunity to completely turn around the IT department and has given full support to any of Vinces projects. This puts a lot of pressure and responsibility on Vince to complete this difficult task. The IT department was comprised of four separate divisions, Internet, mobile, landline, and Cable TV service. The goal was to consolidate all four divisions into one centralized IT division. This would be a difficult task because each business unit had its own hardware and software.
This upset the DIO's who didn't want to integrate all their systems together. The first step to integration was redesigning the company's internal computer infrastructure and using one set of technologies. This would cause serious problems with suppliers and centralized procurement, but was essential to the consolidation of the divisions. Once this was achieved Vince would promote a single vision throughout all divisions. This vision will focus on the better good of the company as a whole instead of different visions for each division. The problem Vince is faced with is getting all the DIO's to accept the change and work alongside each other rather than running their own division. The case ends with Vince's decision to let go the four DIO's and his next steps in implementing a single customer service center for all divisions. Vince understands that this is going to be an extremely difficult task but knows that he needs to fire the existing DIO's in order to achieve his vision.
Consolidating all the separate divisional IT services centers at PR Communications into one single customer service center will allow for more accurate and relevant data all in one place. First, by having all the data in one place PR Communications will be able to cut costs from external auditors. By consolidating all the data in one place auditors will be able to cut time by only testing information in that one system instead of four separate systems. Since auditors charge per hour PR will be able to dramatically cut audit costs. Consolidating all the data into one place will allow PR Communications to readily locate data more efficiently. When searching for certain data the employee will only have to search one database rather than four. This will dramatically cut time wasted on searching through all four separate databases. By having one single customer service center Vince can better integrate a general vision for the entire business rather than individual divisions. By having everyone on the same vision using the same data will allow for better business decisions as a whole. It would be difficult to promote one vision for four separate divisions without butting heads with others. By consolidating all the data Vince can get everyone on the same page and will be a major step for the company to implement new products and services. Improving customer service is essential to retain and attract new customers.
With the new single customer service center customers will only need to make one call the service center rather than worrying about what division to call. Having a user friendly system will help improve customer satisfaction and bring back existing customers. Customers have faced the problem of receiving multiple bills for each of their products, with the new system this will be eliminated. By consolidating all the divisions into one, each customer will only have to worry about one bill each month with each of the services they are provided. Keeping customers happy is essential to business operations and this consolidation will provide future benefits to their customers.
The divisional presidents had no support for the shared customer service center. Vince let it get to the point where he could do nothing else but let them go. We obviously don't know every detail in the case but it's assumed that the presidents did not want to help with the integration. If anything they were working against the grain doing spiteful things that slowed down Vince's movement. Its unknown what type of relationship Vince had with the division presidents from the beginning, but it appears as if the divisional presidents felt as if they had not reason to know him or have a relationship with him. With constant tension between the presidents and Vince he could not get them on board to fix the business. Vince was told to do whatever it takes by Roman the founder and he did so. Vince gave everyone plenty of opportunities, and plenty of time until he saw the presidents as a liability rather then an asset. The main problem on why Vince could not get the divisional president on board was because personally they had no reason. Their pay was not based on company performance, and the integration would just make more work for them. Vince should have devised an incentive program.
Although they may not have deserved it, or they needed any more money, it would have been worth it to Vince. He would not have to have gone through as much trouble, and he would not have had to do everything on his own, or rely only on himself. If he awarded a bonus in incremental order to encourage competition things would have moved along and moved quicker. Competition is the best way to encourage employees to get things done fast. There were four divisions, so if he had four bonuses all different amounts and whoever finished first got the most, it would encourage competition amongst them. This would allow the divisions to compete to get their division integrated fastest to get the better deal, and to get the presidents to cooperate. This would then lead to the organization sharing common goals along with their customer service center. In every enterprise around the world there consist of an IT department, which most of the times is one of the most important departments that has a direct influence on the entire company's operations. It almost seems impossible for an enterprise to achieve a company-wide vision and focus when it has as a collapsing structure with decentralized IT functions.
Rather than the enterprise focusing its attention on concerns that affect the whole company, it will be the smaller departmental branches that will be stealing the spotlight on having their concerns being resolved. When a company is running its operations in a decentralized structure, too much attention is focused on all the smaller departments needs within IT. With a decentralized IT function, a company has to deal with all sorts of smaller concerns and needs coming from the individual departments rather than focusing their attention on bigger and more directly influenced concerns pertaining to the entire company. In order for an enterprise to grow and attain strong customer satisfaction, there needs to be a centralized IT function where everything runs through one cohesive system that is available to all departments within the entire enterprise. Communication amongst employees will become much smoother and consistent that will allow for a more efficient and effective business operations to be completed. Also with a decentralized IT structure, the internal insights will not be consistent since the company is running on a system where all departments are only focused on their individual concerns instead of the concerns of the entire company.
There are many businesses and IT problems that can be caused by a lack of having common information and an enterprise IM strategy. From what was read in the case, RR's reputation is in jeopardy due to the fact that the company is currently running on a disorganized and divided business structure by having multiple bills for associated IT departments. Due to the company not having a centralized system for collecting, distributing and processing orders made by customers, these customers have become dissatisfied with the service that RR provides and will eventually lead to loyal customers leaving and then spreading negative opinions through interactive communication. The ability for a company to be high levels of responsiveness and flexibility is a crucial ingredient to keeping customers happy as well as keep pace with all of its competitors and not fall too far behind the rest of the field. As of now signs are pointing in the wrong direction for RR as they haven't been able to get everyone on the same page of being a more unified and effective enterprise. Costs continue to increase for each individual department and operations as a whole are running at low efficiency level that needs major improvement if the company doesn't want to start tanking. Ideally, RR has a strong desire to create a strong and integrated system that has all of its small departments working with the same mindset and company vision.
By working on the structure that they are presently on, communication and information sharing are almost nonexistent in instances where projects are presented that could be beneficial for the company as a whole, solely because each department is only concerned with their individual needs and not the whole company. Other problems that can arise are data files can be found to contain redundant and useless information. Keeping information like that on file can cause a huge ordeal for employees as they won't be able to differentiate what is considered important for business operations and what is not. Finally, one of the biggest problems needing to be dealt with accordingly is turning around the company into having a central and main vision and mission, and put aside all specific departmental focuses so that the company has the ability to grow and obtain valuable opportunities. The qualities of the governance that needs to be put in place will be an alignment of IT with business units, transparency of activities and metrics, joint responsibility of IT and the business, and a shared enterprise vision of the systems. It should include all departments involved, with a strong focus on risk mitigation, regulatory issues, and business opportunities. There should be something similar to the steering committee to supervise the placement and continued strategic operations. Having a central data repository will also increase reaction options.
Examples of this would be when technological forces change, the company can have quicker implementation due to the standardization initiatives. These changes serve to reduce complexity within the organization by producing a common framework to base decisions on. With data consolidation at the enterprise level, data can be mined to generate new opportunities. Security practices can be monitored by one entity and reduce the divisions specific IT needs. This translates into cost savings within the division by reduction of overhead. Risk mitigation for the divisions can be moved to the central authority which will have common security architecture and policies that will be reviewed and kept current.
New systems will cost less to test and can be developed with compliance as a key metric. Having common security protocol and procedures should reduce the risk of data breaches as well. Removing redundancy from the organizations file systems will make document retention more efficient and reduce enterprise costs. An environment of continuous improvement and customer service focus should be used in the metric formation. It will not be an easy process to install these features, so putting in metrics that tie directly to the objectives is a must. Specific metrics should revolve around getting divisional data into an enterprise structure and focus on speed and validity of the data. Some examples of metrics can be end-user response times, security compliance indicators, problem resolution times and project execution (quality, timeliness, and cost).