Building Shared Services at RR Communications Essay Sample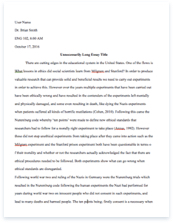 The whole doc is available only for registered users
OPEN DOC
Download Essay
A limited time offer!
Get a custom sample essay written according to your requirements urgent 3h delivery guaranteed
Order Now
Building Shared Services at RR Communications Essay Sample
Key Issues
1. There is a lot of competition in the telecommunication field. The competition will focus results and pressures on the revenue stream. 2. The four key lines of business are Internet, Mobile, Cable TV, and Landline. Each line of business had a divisional CIO. Each entity division has bought its own software, hardware and has there own customer service centers. 3. The new VP has put the company on track for easy entrants of new products. This is polar opposite of the previous term that had a "we cant do that" attitude. 4. Centralization has been negatively viewed within the organization but the new VP has been able to alleviate some of the hostility by centralizing purchasing of equipment and software. 5. Putting enterprise architecture in place was a struggle so a steering committee was founded for project approval. 6. Accounts managers were placed throughout the chain of command. Their job was to find opportunities and act as a bridge between IT and business units. 7. Outsourcing options were a topic of discussion but would require more centralization. 8. Data within divisions is disorganized. To alleviate this the data must become centralized but hostility towards this is expected.
Recommendations
1. Eliminate the spate customer service centers and centralize the process. This will eliminate future duplication, eliminate existing redundancy, expedite the credit approval and collection process, and deliver more value for less cost. This centralized customer service center will also ensure a singular service quality, accuracy and consistency. With the central location will allow information sharing in a uniform format. Once its uniform the analytical power will greatly increase. Some other positives from this will be maintaining customer satisfaction and increasing retention rates, while being able to relocate excess resources and capabilities.
2. Create a uniform implementation strategy which would consist of a. Addressing the current situation
b. Focusing on each divisions needs and expectations
c. Measure possible outcomes and ROI
d. Determine most logical project
e. Use parallel adoption until all bugs are worked out
f. Phase out old system
To monitor how well the unified service center is performing you can use these 7 metrics. First call resolution, is the problem resolved in one phone call. Service level and response time. ability to adhere to a standardized schedule, forecasting accuracy, Self service accessibility, Contact quality, and customer satisfaction.
3. Information management policy needs to be implemented. The problem with this organization is that the information is spread among 4 divisions. With each having its own standards and formats. There needs to be a singular consolidated system for all to access. Not all data is equally valuable to each unit but it to achieve efficiency they must allow access to these data forms as to no inundate the other divisions with extraneous details. A serious challenge to the consolidation of data at RR Communication will be consolidating all of the different information from around the firm into a single enterprise data warehouse. It is very likely that there will be duplicate information, conflicting records, incompatible data formats, and other inconsistencies that will not make integration easy. However, the reduction in duplicate and conflicting information will be vital to the success of RR Communication. Duplicate data means an increase in work for those in other departments trying to use the data
Discussion Questions:
List the advantages of a single customer service center for RR Communications. 1. Each department will have a stake in the client administration focus and any new activities will have to go through the proper documentation and preparing process. This will help ease the IT and business relationship 2. The data will be organized and unified in formats and regulations. 3. The unified customer service center will help the principle of administrative consistency, budgets, capabilities, and regulations. 4. Data will be monitored by the organization as a whole instead of each division. This will allow them to betters suite customer needs and be able to determine what the customer wants more rapidly.
2. Devise an implantation strategy that would guarantee the support of the divisional presidents for the shared customer service center.
I would use the strategy formulation implementation strategy. This will align the business across all divisions. They first need to decide what direction the organization wants to go in. once they decide the direction they need to develop a consolidation process. So that once the data and organization is aligned they can pursue their goals. This strategy is not a long term plan but rather consists of organizations attempt to reach some future state by adapting is competitive position as circumstances change. In organizations that lack strategic direction there is tendency to look inwards at time of strain, management to cut costs and shedding unprofitable division. This means that focus is on efficiency rather than effectiveness.
3.Is it possible to achieve an enterprise vision with a decentralized IT function?
When IT functions are separated through the organization the vision and focus will also be separated. The problems will continue to be at the department level rather than organization. It is nearly impossible to achieve an enterprise vision with decentralized It functions because of the disconnect between the departments. An enterprise vision will never be capable when each department acts as its own entity with its own goals and strategies.
4.What business and IT problems can be caused by lack of common information and an enterprise IM strategy?
There are many issues that affect the organization when divisions do not share information and processes. The company's standing with their customers is being tainted by having separate bills for related lines of business. Problems like this tend to drive customers away rather than retain and add to the customer base. When a customer is unhappy they usually tell heir friends so that the same problems don't happen to them. This causes a bad reputation among the potential customers, which will hinder business and affect revenues negatively. In such a competitive marketplace like this a good reputation and provision of services is key to growing the business. Projects that could impact all divisions in a positive way will tend to get relegated to a lesser role because the communication and information pathways are not shared. Data files and storage will contain redundancy and bad data. The largest problem is the lack of vision and common goals; if the organization has divisional focus then growth opportunities become greatly reduced.
5. What governance mechanisms need to be put in place to ensure common customer data and a shared customer service center? What metric might be useful? The governance needs to be in an alignment of IT with business units, transparency and, joint responsibility of IT and the business. It should include all departments involved, with a strong focus on risk, business opportunities, and congruent formatting of data. A steering committee should be appropriate to handle and manage the process of implanting the governance. The objective of this project should be continuous improvement and excellent customer service.