Bullying Essay Sample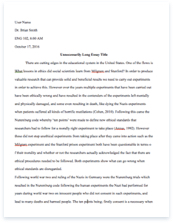 The whole doc is available only for registered users
OPEN DOC
Download Essay
Get Full Essay
Get access to this section to get all the help you need with your essay and educational goals.
Get Access
Bullying Essay Sample
Bullying
Bullying is a big issue in the world these days. It is our job as teachers to address this issue in our classroom and teach children that bullying is not ok.
Antonio's "looking glass self" is related to his answerability because he knows that he will be held accountable for the decisions. The role this has on his desire to change his behavior is because he realizes what he was doing is wrong.
As a teacher I would plan an activity for the whole class to participate in to teach the effects of bullying. I think a good activity that I could plan for my students would be to let them create a play that discusses bullying. First we would talk about what bullying means, how the person being bullied feels, and how the bully might feel that causes them to bully others. I would ask each student to participate in writing the play. We would find and make props for the play. After a few weeks of practicing the play we would record the play. After we recorded the play I would ask A few students to talk at the end of the play about bullying. One person would talk about what bullying means, another would talk about how the person being bullied feels, and lastly someone would talk about how the bully feels that causes them to act like a bully. When we were done with our video I would make enough copies of it to send home with each student.
One way the class can support Antonio is to forgive him. Forgiveness is huge and should show Antonio that no matter how he treated his classmates they were willing to give him another chance and start fresh. The class can make him a card that says we forgive you and everyone can sign it and present it to him when he gets to school one day.
Also, if the class is willing to forgive Antonio they should also make sure the other students in the school give him a second chance. Sometimes it is hard for kids to get past the fact that a bully doesn't want to be a bully anymore, so if other kids are playing with him then there is a better chance of the other kids forgiving him to. It only takes one child.
A strategy that should help Antonio remember that he is trying to change to positive reinforcement. His teacher as well as the other teachers and administration of the building should be there and show Antonio that they are supporting his change. Every time the school sees him making an effort they should point it out. And if he slips back and starts to bully again they should give him gentle reminders.
A few good ways for parents to help their child stop being a bully are to spend time at school with them, listen to them when they are talking, create healthy anti-bullying habits from the beginning, create rules at home about bullying, help build empathy, see if there are problems at school, or at home that you are unaware of, and ultimately be a good example for your child.
If your child is being a bully at school you need to listen to them when they are talking (education.com 2009). More than likely they are going to be giving some kind of clues to what is going on in their life outside of school. If they aren't talking to you about school that is even more reason to be concerned.
Next, create healthy anti-bullying habits from the beginning. If your child knows that bullying is not going to be accepted from the beginning it is likely that they will be less apt to become a bully around other kids. Along with creating anti-bullying habits is setting rules about bullying at your house. If your child is being a bully make sure your child knows there will be consequences for their actions.
Another idea is to help your child learn empathy. Talk to your child about how it feels to be bullied (National Crime Prevention Center, 2001). If they learn how it feels to be bullied they will begin to understand what the other kids feel like when they are being bullied.
Check with your child's school and make sure there is nothing going on at school that might be affecting how their behavior is towards other kids. If they are having problems making friends there is a possibility that they are
reacting by bullying other kids. Also, check a home, and make sure there is nothing going on at home that you are not aware of that could be affecting their behavior. A sibling, parent or other family member could be bullying them, which in turn they bully others.
Lastly, be a good example. If your child is seeing you be a bully to others they are likely to repeat the behavior they are seeing. If you show your child how to respect others and be kind then they are likely to mimic your actions when it comes to their relationships with other kids.
Bullying is a huge issue in the USA these days. It is very important for teachers, parents, and administration to be on top of the issue in their schools. A parent needs to be proactive and if their child is being bullied they need to stand up and say something. Also, if a teacher or administrator notices someone being bullied they need to step up and make sure that the student knows it is not ok for other students to pick on them. Also, make sure the bully knows that their behavior is not accepted in school, and show them ways to change.
References
Education.com (February 11, 2009) How can parents help to prevent bullying at their child's school? Retrieved from http://www.education.com/reference/article/help-prevent-bullying-at-school/ National Crime Prevention Center (2001) What Parents Can Do. Retreived from http://www.ncpc.org/topics/bullying/what-parents-can-do