Business Communication Skills Essay Sample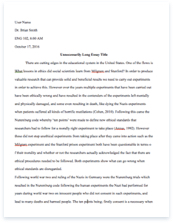 Pages: 4
Word count: 1,040
Rewriting Possibility: 99%

(excellent)

Category: communication
Get Full Essay
Get access to this section to get all help you need with your essay and educational issues.
Get Access
Introduction of TOPIC
Effective business communication determines overall success of projects and company's performance. For managers and supervisors, employees and team members, it is crucial to take into account requirements and differences between individual and team presentations. Effective business communication is important because it is used as the means whereby people in an organization exchange information regarding the operations of a company.
Business communication can be defined as interchange of ideas and facts by two or more persons by the use of words, letters and symbols. Every aspect of management requires good business communication. It is widely considered that the organizing element of management should concern itself with the system and environment within which communication functions. Management of the communications process requires not only attention to the media of communications, but to the personal interrelationships of people in the organization.
The presentation plan that is at the heart of the presentation strategy is typically divided into six stages: approach, presentation, demonstration, negotiation. Individual and team presentations have similar goals and objectives. The main goal is to inform the other party about current problem and events which are important for the organization.
For both individual and team presentations, effective business communication occupies a central place because the human interaction between employees in organizations is almost entirely determined by communication techniques. In this situation, business communication can be regarded as the foundation upon which organization and administration must be built (Adair, Thomas, 2003).
The main difference in requirements between individual and team presentation is strategic approach followed by the sides. Team presentations are more complex gathering and absorbing ideas of several employees. Team presentation becomes a group-based activity based on different views and ideas. Team presentation and the influence they exert over their membership is an essential fea­ture of human behavior and of organizational performance. The most crucial element of this step is to completely understand the decision-making process and the roles of each participant, such as decision maker, influencer, ally, or blocker (Croft, 1992).
In contrast, individual presentations are based on ideas of one person only. It is important to note that a speaker can present different views and facts, but he/she will express h
er thoughts on the problem under discussion. It is possible to say that individual presentations are
limited by subjective views of the speaker. For this reason, the main requirement is to present opposite ideas in a speech or report in order to ensure objective evaluation of the problem.
On the other hand, team presentations are more effective because they incorporate ideas of different experts increasing objectivity and impartiality in business communication. Both individuals and team members should give attention to objectives in all key areas of presentations: structure, focus on the problem and objectivity. The combination of objectives and resultant strategies will influence presentations and understanding of the information delivered.
The main area of concern for team presentations is fair treatment of ideas and thoughts proposed by different team members. The main requirement for team presentation is to "utilize" and present ideas of all members of the team avoiding discrimination and negligence. Usually, team presentations have more formalized structures. This may cause difficulties in communication and rivalries with the need for effective co-ordination (Dickson, Hargie, 2003). On the other hand, each member of the team should stand alone as an independent observer.
In this situation, team needs to very quickly develop an identity and common ground on which they can move forward. The team members do not have to like each other but they certainly have to respect each other and recognize the contribution that each makes to the success of the presentation. The team also needs to have the appropriate mix of skills and access to the knowledge and information required for them to fulfill their role as a communicator (Reed, 2001).
An individual plan for presentation should ensure that the presentation will be maximally responsive to the topic. Doing so requires a general under­standing of all concepts and views on the problem. An individual must collect and analyze as much information as possible about the needs of each prospect (Adair, Thomas, 2003). In the presentation step, the style and message of the presentation must be carefully thought out.
During the presentation, the prospect may express concerns or objections about the issue under discussion (Ramsey, 2005). When objections are suc­cessfully overcome, serious negotiations can begin. During this stage, the main requirement is to achieve mutual understanding and openness in relations. Following Croft, both team and individual presentation should "a masterpiece, … probably the best one you'd ever written" (Croft, 1992, p. 25).
In sum, team and individual presentations require special attention to be made by employees in order to ensure objective and professional business communication. Lack of effective communication or poor structure of presentation can prevent listeners from understanding of the main concepts and ideas of the project. Following requirements, the speaker or team leader can direct human behavior towards a future goal, so if the team members or individual speaker are unable to determine these goals and develop an action plan they can fail. Effective business communication methods can help to minimize conflicts and prevent misunderstandings.
References
Adair, J.E. , Thomas, N. 2003. The Concise Adair on Communication and Presentation Skills. Thorogood,
Croft, A.C. 1992. Ten Ways to Ruin a Good New Business Presentation. Public Relations Quarterly, 37, p. 25.
Dickson, D., Hargie, O. Skilled Interpersonal Communication: Research, Theory, and Practice. Routledge.
Ramsey, R. 2005. '9 ways to improve communications'. Supervision. 66. Available from http://www.allbusiness.com/periodicals/article/561056-1.html  [accessed 12 September 2006]
Reed A. Innovation in Human Resource Management. Chartered Institute of Personnel and Development, 2001.