Business Ethics Essay Sample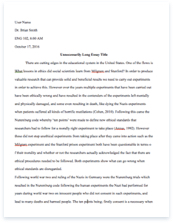 Pages: 18
Word count: 4,818
Rewriting Possibility: 99%

(excellent)

Category: business
Get Full Essay
Get access to this section to get all help you need with your essay and educational issues.
Get Access
Introduction of TOPIC
30 years ago, Milton Friedman, Nobel price winner for economics, argued that "there is only one social responsibility of business, which is to use its resources and engage in activities designed to increase its profits"
Last 20 years have been marked by the increased globalisation of markets, and intensification of competition2. The collapse of the communism and the rise of pacific economies have enlarged the international trade. The development of new information and communication technologies has resulted not only in an international relocation of the production, but also changed supply chains for products and services. The consumers all around the world became more sensitive and aware of different products. These changes have forced companies to increase their effectiveness, by maximising the quality of their products. On the other hand, on local, regional, or global levels, different unions and organisations have become more influent in order to facilitate and regulate the international trade. Some of these organisations are European Union, Nafta, Oecd, Wto, etc. These changes have driven today's business to become more open and accountable. This situation requires re-examination of business attitudes and approaches, not just financial, but also in social and environmental issues. Companies now are not only improving their poor practices, also they are implementing a global ethical thinking.
This assignment is going to discuss ethics in business. By giving definitions and different approaches of business ethics, we will try to understand, in the first part of this study, why companies tend to act more ethical these days. In the second part, whistle blowing, as a practice of business ethics, will be defined in depth. We will then analyse two different case studies for a better understanding of whistle blowing, before reaching to a conclusion about the morality of this ethical behaviour.
1) Business Ethics
Ethical thinking is not a new concept driven by the globalisation. All along the human history, different philosophers and thought schools have studied the concepts like judgement and ethics. First of all, there are teleology theories which define ethics with happiness. Plato and Aristotle describe ideal human guided by its nature. Or Augustine tells that human is guided by God or his representative on earth, and that he won't act unethical or wrong. Utilitarianism is also considered in this category. John Mill looks for the greatest happiness for greatest number of people. Another thought school, called contractualism, analyse commitments to explain ethical acting. Hobbes defines his social contract theory as social conventions, promises and punishments which maintain the order. J. Rawls and J.J. Rousseau defend this social contractualism, affirm that everyone should enjoy the maximum liberty without limiting others liberty. A final group of authors, called deontologists, explains the ethical judgement by the respect of others. Kant criticise universal law theories, because they can lead us to act immorally in the search of happiness. Regarding to Kant, the ends never justify the means. So everyone should respect others and act consciously.
Ethical thinking has always been a major subject of discussion in groups, organisations or nations in the history. Big empires have exploited the resources of weak countries in the colonisation age to become richer than ever, where these people rebelled in order to defend their rights. Or during the Industrial Revolution, people have suffered from unethical practices in Europe. Children were not going to school but working in the mines, men and women were working non-stop just to be able to survive. The French Revolution and the Universal Declaration of Human Rights were two important facts which introduced human rights and ethical thinking in all domains of activity, from politics to business.
Especially after the end of the Cold War, and with the development of technology and expansion of capitalism, ethics and responsibility became more important in developed countries. The new information and communication technologies have forced business to become more transparent and accountable, therefore more responsible and ethical in their activities and to their customers, inside or outside the company. The social responsibility of business is not limited to the workforce, but extends to consumers and to the society at large.
The business ethics implies that a business decision maker is obliged to take actions that also protect society's interests. If a manager uses his power out of the formal boundaries of his authority and of the framework of organisational policies, job description, procedures and goals, it is a political power and does involve ethical issues3. This may be a bribery or corruption, lying to employees or customers, polluting the environment, or in general "ends justify the means" mentality. This is also called white collar crime. Managers confront ethical dilemmas in their jobs because they frequently use power and politics to accomplish their goals. Each manager therefore has an ethical responsibility.
a) Motives of Business Ethics
Today's companies are more aware of business ethics and try to prevent any problems related to this area. They are implementing responsibility departments into their organisational charts or developing different strategies to satisfy their intern and extern interlocutors. In fact, in today's wild capitalist order, companies do not care really about ethics or responsibility, but they try to adapt their organisation to popular concepts and to convert the advantages of ethical thinking in maximising their performance. And there are more different motives for companies to concern about ethics4. First of all, they want to avoid bad publicity and damage to the reputation, and in long term decrease of shares.
If a problem rises about ethical issues, this means expensive court cases, change in strategies, bad advertising of the company, etc. On the other hand, companies use business ethics to motivate their employees. People are happier working for firms that they regard as ethical, and people are a firm's most valuable assets in today's business. They are implementing strategies like code of ethics and conduct, trainings, free and open atmosphere, feedback mechanisms in order to create an ethical corporate culture. This helps also to boost the brand value of the firm. Customers will choose ethical engaged products and brands among a large diversity of products. For example, in the marketplace, corporate ethical reputations have a clear impact on the purchasing and investment decisions of Americans, but ethical lapses in the workplace put those reputations at risk, according to independent research released today by LRN, a premier provider of legal, compliance, ethics management and corporate governance solutions5.
There are also some legislations and pressure groups that businesses have to adapt their selves. In order to protect the consumers and the environment, governments introduce new legislations and control private companies in their ethical practises. For example, in the United Kingdom, there is a public interest disclosure act, signed in 1999, which assures full protection of all employees from victimisation. Or on regional level, European Union adopts directives on corporate social responsibility, which force companies to spend some funds into socially responsible investments. Also 2005 was declared European year of corporate social responsibility by EU. And Kofi Annan, secretary general of the United Nations, has launched the Global Compact, at the 2000 World Economic Forum in Davos, which challenges companies to be more socially responsible6. On the other side, the companies are faced to Non Governmental Organisations and different pressure groups all over the world. The important NGOs are Greenpeace which defends environmental protection, Amnesty International for Human Rights, or anti-capitalism protestations all around the world.
b) Business Ethics Criteria
As we have explained before, ethical practices are related with use of power and decision making. That's why managers often confront ethical dilemmas in their jobs because they frequently use power and politics to accomplish their goals. Managers' behaviour must satisfy certain criteria to be considered ethical7. The first criterion is the utilitarian outcomes. Managers in a company must optimise the satisfaction of internal and external customers of the organisation.
They are not only responsible of the workforce, but the shareholders, consumers, society, media, government, etc… In other words, an ethical manager is to think the greatest good for the greatest number of people. The second one is the criterion of individual rights. The manager must respect the rights of free consent, free speech, and freedom of conscience, privacy of his people inside or outside of the firm. The final one is the criterion of distributive justice. The manager's behaviour respects the rules of justice. It does not treat the people arbitrarily but rather equitably and fairly. These three criteria are also studied by Fritzsche, who made a model of ethical decision making. In his model, Fritzsche questions first the utilitarian principle to make a decision. If the act is considered ethical, then he passes two the second level to analyse regarding to the rights principle. If this criterion is also approved, he finally studies the justice principle. If all the criteria are approved, this means that we can accept the decision as ethical. But if anywhere in this analyse, the principle is denied, the decision is considered unethical.
c) Approaches of Implementing Business Ethics
Companies all around the world are implementing responsibility and ethics programmes into their organisation. There are two different approaches of business ethics8. These approaches are compliance approaches and value-led approaches. Compliance programmes are based on a company's belief in its right to assert its institutional authority. These programmes have similar principles in different companies, trying to command behaviour of the employees, or to standardise it. This method informs employees about the law in the company and tries to prevent violations. These are contractual approaches, where employees choose acting ethical conform to the rules, or otherwise there are punishments. Code of conduct or ethics is the most common example of this approach. Such programmes do not attempt to develop employees' ethical responsibility, but to maintain the order in the company. On the other hand, value-led programmes have their foundations in the individual's right to ethical autonomy. They focus on the company's values and principles and how they apply to situations where no rules apply. Employees are encouraged to act ethical, but not by the fear of punishment, to ask questions or to raise personal concerns. Team working, consensual decision making, whistle blowing, leadership are examples of value-led techniques.
These approaches are not alternatives, they both are essential to encourage ethical behaviour in an organisation. It is also important to take actions in addition to the creation of such ethics systems in the company. To do this successfully, business must have a vision, which is shared by everyone in the company9. Training of the employees and establishment of right communication channels for feedback are important factors of encouraging ethical thinking. Also rewarding systems are more efficient than punishment on the motivation of people.
2) Whistle Blowing
Whistle blowing is a
disclosure by an employee or professional of confidential information which relates to some danger,
fraud or other illegal or unethical conduct connected with the work place, be it of the employer or his fellow employees10.
Organisations tend to introduce whistle blowing policies for three reasons11. First of all, they want to comply with the law. There are different legislations on national, regional or global levels. In the United Kingdom, the public interest disclosure act, which came into force in 1999, says "for so skilfully achieving the essential but delicate balance between the public interest and the interest of employees"12. It extends far beyond employment rights protection and provides almost every individual in the work place with full protection from victimisation. Another reason is to become an accountable management.
By doing so, the company wants to improve the motivation and performance of its employees. This will also create an ethical corporate culture, where everyone shares the same values. Final reason is to defend the company against disclosures of damaging information. Whistle blowing system sets several internal methods to the whistle blower to raise his/her concern to upper management levels. This will reduce the risk that employees will consider going outside the organisation as the only alternative to silence. It minimises the risk of wider disclosures, the damages on the notoriety and on the image of the firm. Especially in the 90's, after the collapse of some big companies, businesses have adopted whistle blowing policies in order to reduce the chance of becoming the next malpractice scandal.
Whistle blowing is not only an useful addition to the conventional mechanisms of risk management systems, it is also seen as supplementing the corporate communication tools already in use. In corporate cultures which encourage two way communications between staff and manager, whistle blowing takes place easily and effectively. According to a survey over 281 Human Resources department and personal specialists in UK, 52% of the selected British companies have whistle blowing policy. Among the 47% that don't have it, 25% says they consider introducing one13.
a) Methods of Whistle Blowing
There are different ways to blow the whistle in the firm. We can describe them in two categories. The first one is authorised whistle blowing methods. Companies introduce the whistle blowing policy in their organisation and set the communication channels to raise the concerns. The second one is unauthorised whistle blowing, where employees are blocked or have tried all possible communication channels, they diffuse the information to the public.
Companies try to implement the first strategy, where whistle blowing is authorised to the employees according to a policy, which the firm can control. The policy is as important as its aim. It must be clear and easy to understand. That means that everyone in the company must know his/her rights ad penalties. Also it must define well the barriers between good faith allegations and malicious ones. It is important to always take an action when a complaint is raised and to give feedback to the employees. By doing this, the policy can be introduced into the firm's culture, and doesn't remain a simple code of conduct.
In fact, once the whistle blowing policy is created, employees can use every possible internal communication methods to blow the whistle. This can be dialogue with the manager, meetings, mailing, etc. In addition to these channels of communication, setting up a committee that reports directly to the board can be another way of enabling people to make disclosures outside the management structure14. It can remove the fear of victimisation and allow disclosures go further than middle line managers. In some cases, people may want to contact the company in confidence outside the usual channels of communication. Some companies also use outsourced telephone hotlines. The confidentiality of the whistle blower is another important subject. Employees won't blow the whistle if they fell threaten or like a complainer. To assure the confidentiality of the whistle blower, some companies turn to an external person like an ombudsman, a councillor or a special consultancy company.
Whistle blowing can be equated with causing trouble and disloyalty to the company, if it is not managed correctly. According to the same survey, 62% of companies have penalties for making false or malicious allegations. These penalties can be losing the job or all chances of advancement, financial and emotional hardship, social exclusion, etc. Companies with ethical responsibility recognize the whistle blower as a witness, not a complainant. They prevent the company from bigger problems. For that reason, companies must encourage the employees to keep their eyes open. And as we said earlier, in whistle blowing practices, rewarding systems can be more efficient than punishment.
b) Case Studies
In this section, we will illustrate whistle blowing practices with case studies. The first one is about Nordstrom Company, from United States15. This case is not directly related to business ethics, but concern corporate culture and a good application of whistle blowing in order to increase the performance. This is an example where whistle blower is not considered like disloyal to the company, but as a witness of malfunctioning. The second case is also from USA, about Enron's bankrupt16. In this case we will see an attempt to blow the whistle which is blocked-up by top management.
Nordstrom is a public company in USA in retail market. They have a strong corporate culture for several reasons. First of all, employees share a strong commitment to superior customer service and they enforce a high standard of performance themselves. Another reason is that management try to hire and keep good people, which can easily adapt to this culture. Also we must add that the founder of Nordstrom is from Finland, from a Northern European culture, whose culture has become company's culture. Because in Northern Europe, people appreciate teamwork, they are less formal in vertical communication and anyone can raise a concern or a new idea to the top management.
Nordstrom employees feel so committed to superior customer service and high standards of performance. When customer walks into a Nordstrom store, he/she enjoy a pleasurable experience at the hands of competent, responsive sales people. Nordstrom people vigilantly police their standards. If a new employee doesn't suit Nordstrom's culture, other employees, not managers, blow the whistle. And the management doesn't waste time to get rid of people who won't or can't adapt. This corporate culture is transmitted to further generations.
We see here an example of internal whistle blowing. Employees are blowing the whistle to maintain the high level of customer satisfaction, and the management responds by firing those who can not adapt to this culture. The morality of this kind of whistle blowing resides in that the company or its employees are looking for the best quality of service for the greatest number of clients.
The collapse of energy giant Enron is the largest bankruptcy and one of the most shocking failures in business world. In 15 years, Enron had grown into one of the US's largest companies, operating in the energy market. But the company's success was based on artificially inflated profits, dubious accounting practices, and fraud17. It is believed that Enron began to use sophisticated accounting techniques to keep its share price high, and to maintain the impression of a highly successful company. Enron legally removed losses from its books by passing these "assets" to an independent partnership. Enron's 2000 annual report reported global revenues of $100bn. Income had risen by 40% in three years. In reality, real revenue would have been far lower. This case was a big scandal and had impact on modern businesses.
Sherron Watkins was a corporate-development executive at Enron Company. She had found some anomalies in the financial tables and then she discovered some off-the-books structures, known as Raptors, which were stealing hundreds of millions of dollars from the company. She realised that this structures were running in the partnership of Chief Financial Officer Andrew Fastow, who was her boss. She feared that these structures would harm the company and she warned her upper managers that the company was ready to fall because of financial problems.
Without losing time and without any hesitation, Watkins has blown the whistle. She knew that any Enron employees could bring any problems directly to the chairman. She was also encouraged by her colleagues' critics about the company. She has met with the chairman Kenneth Lay and told him everything she knew. Lay first seemed surprised about the off-the books structures, but later threatened Walkins for speaking up. All the top management was involved in this fraud, and they were trying to keep it secret.
Watkins gained public admiration for her whistle-blowing after speaking on the court against the Raptors. She has left Enron in November 2002, and found another job as a consultant for corporate governance issues. She has chosen to talk to public, in the court, what was happening in Enron and how they were lying to whole market and society. From this point of view, the whistle blow of Walkins is socially moral and professionally ethic. Also a book telling the story of Enron and Walkins has published. She is receiving loyalties from this book, in return of that ethical action she has taken. As we described in previous sections, awarding is more effective than punishment in the motivation of people, especially when it is related to morality and ethics. On the other hand, Chairman Kenneth Lay and Chief Executive Officer Jeffrey Skilling are accused of conspiracy and fraud, facing 28 years for Skilling and 6 years for Lay. The trial of white collar crime is still running.
Conclusion
We see in these two cases that ethical behaviour is directly related to a company's performance. In the first one, Nordstrom employees used whistle blowing in order to protect their level of customer satisfaction and the company's effectiveness. In the second case, we see Watkins blowing the whistle for protecting the company from bigger troubles, even if Enron doesn't exist anymore. This demonstrates that ethical acting is morally acceptable, because first of all, it is related to personal and professional ethical satisfaction, then it contributes to improve social dysfunctions and malpractices.
Ethical behaviour has become a major factor of business competition. Companies are learning to collaborate on labour and environmental standards, hoping to minimise the risk to their reputations outside and to increase their performance inside. But to do so, they have to create a suitable culture where everyone learns to act ethically rather than creating policies which are required by national/international laws. The morality and ethical behaviour are the characteristics that all the companies and their managers must have prior to the employees of these companies.
Whistle blowing is a good opportunity for businesses to manage the risk and the crisis. Big companies are paying consultants lots of money in order to find the malfunctions in their organisations. Whistle blowing is a free of charge control system that alerts the top management when there is a problem. When companies believe in effectiveness of whistle blowing, moral questions about the whistle blower will disappear. They will no longer be treated as disloyal, complainant and harmful, threatened to lose their job or to be socially excluded.
REFERENCES
1 Moon C. and Bonny C., 2001, Business Ethics, The Economist Books, London, pg 1
2 Gowler D., Legge K., Clegg C. (ed.), 1993, Case Studies in Organizational Behaviour and Human Resource Management, Paul Chapman Publishing, London, pg 10
3 Ivancevich, J.M., 2002, Organisational Behaviour and Management (6th ed.), Mcgraw-Hill Irwin, pg 408
4 Moon C. and Bonny C., 2001, Business Ethics, The Economist Books, London, pg 1
5 Brennan K., New Research Reveals Business Impact of Ethics, Signals Importance of Ethical Corporate Cultures, PR Newswire Europe (inc. UK Disclose) 30 January, 2006
6 UN Global Compact Official Website, http://www.unglobalcompact.org/AboutTheGC/index.html, accessed on 03/04/06
7 Ivancevich, J.M., 2002, Organisational Behaviour and Management (6th ed.), Mcgraw-Hill Irwin, pg 408
8 Moon C. and Bonny C., 2001, Business Ethics, The Economist Books, London, pg 38
9 Moon C. and Bonny C., 2001, Business Ethics, The Economist Books, London, pg 2
10 Bingham C. (ed.), 2002, Whistle Blowing, Managing Best Practise, no 93, pg 3
11 Bingham C. (ed.), 2002, Whistle Blowing, Managing Best Practise, no 93, pg 2
12 Bingham C. (ed.), 2002, Whistle Blowing, Managing Best Practise, no 93, pg 3
13 Bingham C. (ed.), 2002, Whistle Blowing, Managing Best Practise, no 93, pg 2
14 Bingham C. (ed.), 2002, Whistle Blowing, Managing Best Practise, no 93, pg 4
15 Hickman C. and Silva M., 1985, Creating Excellence – Managing Corporate Culture, Strategy And Change In The New Age, George Allen & Unwin, London, pg 70
16 Graczyk M. (ed.), 16 March, 2006, A Question of Accounting: Enron Whistle Blower Says Job Came Into Question, Sun News, TSN, Sec. D, pg 10
17 BBC News Official Website, The Enron Affair, http://news.bbc.co.uk/2/hi/in_depth/business/2002/enron//default.stm, accessed on 07/04/2006
BIBLIOGRAPHY
BOOKS
* Bingham C. (ed.), 2002, Whistle Blowing, Managing Best Practise, no 93
* Gowler D., Legge K., Clegg C. (ed.), 1993, Case Studies in Organizational Behaviour and Human Resource Management, Paul Chapman Publishing, London
* Hickman C. and Silva M., 1985, Creating Excellence – Managing Corporate Culture, Strategy And Change In The New Age, George Allen & Unwin, London
* Ivancevich, J.M., 2002, Organisational Behaviour and Management (6th ed.), Mcgraw-Hill Irwin
* Jones G.R. and George J.M., 2003, Contemporary Management (3rd Ed.), McGraw-Hill, New York
* Luthans, F., 1992, Organisational Behaviour, Mcgraw-Hill International Editions, Singapore
* Moon C. and Bonny C., 2001, Business Ethics, The Economist Books, London
ARTICLES
* Graczyk M. (ed.), 16 March, 2006, A Question of Accounting: Enron whistle-blower says job came into question, Sun News, TSN, Sec. D, p 10
* Hepler L. P., Instilling a code of conduct: elevating compliance from an exercise of the legal commonplace to a code of ethical conduct requires a culture anchored in integrity and principle, Risk & Insurance, Vol. 17, Issue. 2, p 74 01 February, 2006
* Brennan K., New Research Reveals Business Impact of Ethics, Signals Importance of Ethical Corporate Cultures, PR Newswire Europe (inc. UK Disclose) 30 January, 2006
* Lecture Notes of Dr. Eric Sandelands, Business Ethics
INTERNET
* UN Global Compact Official Website, http://www.unglobalcompact.org/AboutTheGC/index.html, accessed on 03/04/06
* BBC News Official Website, The Enron Affair, http://news.bbc.co.uk/2/hi/in_depth/business/2002/enron//default.stm, accessed on 07/04/2006
1 Moon C. and Bonny C., 2001, Business Ethics, The Economist Books, London, pg 1
2 Gowler D., Legge K., Clegg C. (ed.), 1993, Case Studies in Organizational Behaviour and Human Resource Management, Paul Chapman Publishing, London, pg 10
3 Ivancevich, J.M., 2002, Organisational Behaviour and Management (6th ed.), Mcgraw-Hill Irwin, pg 408
4 Moon C. and Bonny C., 2001, Business Ethics, The Economist Books, London, pg 1
5 Brennan K., New Research Reveals Business Impact of Ethics, Signals Importance of Ethical Corporate Cultures, PR Newswire Europe (inc. UK Disclose) 30 January, 2006
6 UN Global Compact Official Website, http://www.unglobalcompact.org/AboutTheGC/index.html, accessed on 03/04/06
7 Ivancevich, J.M., 2002, Organisational Behaviour and Management (6th ed.), Mcgraw-Hill Irwin, pg 408
8 Moon C. and Bonny C., 2001, Business Ethics, The Economist Books, London, pg 38
9 Moon C. and Bonny C., 2001, Business Ethics, The Economist Books, London, pg 2
10 Bingham C. (ed.), 2002, Whistle Blowing, Managing Best Practise, no 93, pg 3
11 Bingham C. (ed.), 2002, Whistle Blowing, Managing Best Practise, no 93, pg 2
12 Bingham C. (ed.), 2002, Whistle Blowing, Managing Best Practise, no 93, pg 3
13 Bingham C. (ed.), 2002, Whistle Blowing, Managing Best Practise, no 93, pg 2
14 Bingham C. (ed.), 2002, Whistle Blowing, Managing Best Practise, no 93, pg 4
15 Hickman C. and Silva M., 1985, Creating Excellence – Managing Corporate Culture, Strategy And Change In The New Age, George Allen & Unwin, London, pg 70
16 Graczyk M. (ed.), 16 March, 2006, A Question of Accounting: Enron Whistle Blower Says Job Came Into Question, Sun News, TSN, Sec. D, pg 10
17 BBC News Official Website, The Enron Affair, http://news.bbc.co.uk/2/hi/in_depth/business/2002/enron//default.stm, accessed on 07/04/2006