Business Internal Assessment (HL) Essay Sample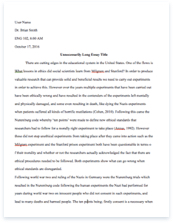 The whole doc is available only for registered users
OPEN DOC
Pages:
Word count: 1216
Category: business
Download Essay
Get Full Essay
Get access to this section to get all the help you need with your essay and educational goals.
Get Access
Business Internal Assessment (HL) Essay Sample
Acknowledgements:
I have done my internal assessment project on Palladium shopping center, which is located in Atasehir, Istanbul in Turkey. It is a 205.000 meter squared shopping center that is developed by Tahincioglu Gayrimenkul and Genc and Nora Holdings. The shopping center opened its doors to the customers in 25th of September 2008. With its 180 brands, cinema, free parking area, vale parking system, children and baby playing areas, banks, ATM's, car wash center, taxi stands, residences, customer busses, restaurants and of course the giant glass sphere makes this shopping centre unique and special. I have to thank to the Tahincioglu family, especially Can Tahincioglu, Sevilay Kaya, Palladium Shopping Center director, because of introducing me the shopping center and answering my questions about the place. They have treated me in special care and attention.
Executive Summary:
My Business Internal Assessment project was on Palladium shopping center. I have done the research on the advertisement techniques that can be used by the managers of the Palladium Shopping Center during this crisis time in order to create brand recognition as a new launched company that has connections with many different world brands in its business and management. In order to find answers to this question I have visited palladium shopping center for several times, visited the website and had interviews with the owner and the director of the shopping center. With the research that I have done, I saw that Palladium shopping center has special care on the details of the building since they believe that the view of the building affects people's ideas. Since they are aiming to create a shopping area in which their customer both can have fun and tranquility, they tried to create areas that their customers can find both. By this special interest they have created an area that people can shop peacefully and this have created a commitment to the shopping center. The shopping center's slogan and what it aims with that slogan is one of the ways that the place creates the brand recognition and commitment is only one example of the research made on the techniques that create brand recognition to Palladium.
I have done my internal assessment project on a new developed shopping center called Palladium. Palladium is a shopping center aims to create a shopping and socializing area to its customers in a calm, tranquil and fun atmosphere. My research question focuses on "Since the world is effected from the economic crisis, which advertisement techniques can be used by the managers of the Palladium Shopping Center in order to create brand recognition as a new launched company that has connections with many different world brands in its business and management?" I have visited the shopping center for several times in order to find out reasons why the customers should choose this mall rather than choosing others. Also I visited the website of Palladium and checked if there was any events that would catch my attention. I learned more about the services of the mall and also gained some information about the owners and connected businesses. Besides I have done interviews to find out more about the advertising techniques of the company. Since a shopping mall is not like a single brand, it has to find the right advertising techniques in order to create brand recognition and loyalty.
First of all, they aim to create an atmosphere in which people from all different ages can have good time while shopping, drinking something in a caf, eating in prestigious restaurants and watching the new movies in the comfortable cinema. Also they organize some projects and events in order to help people. For example, they have organized a social service project in which they have worked with Sunay Akin, by sending toys to children from Maka to make them happy. They said that it was a really successful activity, which they received many messages from organizations to thank and congratulate. They generally prefer outdoor activities in which they can catch more attention. Advertisements on billboards, busses, mega boards, especially at Bagdat Street are examples of guerilla marketing. Besides these, they also have a slogan about their building. The mall has a glass sphere at the entrance so they have created a slogan about it saying " Life's discovery sphere". They aim to perform it by its architecture and atmosphere. However, the feedbacks from the customers are positive until now.
Their customers say that they feel like at home while they are peacefully shopping and spending their time. Their goal is to create a shopping mall where people don't feel under pressure, tire of crowd and not safe. So Palladium is a mall that is clean, safe, relax, fun and a place where can find sources to any of their needs. Sevilay Kaya especially mentioned that their priority is to combine all of these features in their management in order to keep the customers satisfied. Can Tahincioglu also added to his interview that during the crisis times, they try to stay calm and think analytically. To make decisions quickly and to perform them as they are planned is really important in a business especially like this one, which includes a big deal of competition. He also added that they are open to both positive and negative feedback so that they can improve themselves in an expected and needed way. I found out that they have put a connection tool on to their websites and also added a button under intuitional information part that expects suggestions and complaints from the visitors. By asking the customer's ideas and suggestions, the business expects to create brand loyalty since they plan and manage their business according to the needs and wants of the customer.
I also saw that they inform their visitors about the upcoming events both on the website and at the mall itself. Besides, during the crisis times, the coordination and organization should be kept at the maximum level and also should be performed in the right time with the enough information and equipment. In order to make its managers ready and settled, they give seminars and make them ready to any kind of expected situation. By this way, Palladium shopping mall and its managers aim to get affected from the economical crisis in minimum. Finally, they have underlined the fact that they really care about architecture of the mall.
While designing it, details were decided one by one. For example, when I visited the shopping center I have noticed that the columns are even planned to change color during the hours of the day. Also the frontal side of the sphere is designed according to a plan in which it won't be affected from the noise of the street and the traffic. To sum up, while creating and building this shopping mall, the owners thought about every detail in order to create a unique, clean, safe and calm area, which addresses to the young people and families who have high income and cultural level. By this organizational plans and objectives, Palladium Shopping Center has already a significant customer profile and has succeeded in their aims and objectives.
Bibliography:
1) http://www.palladium.com.tr/home.html
2) Can Tahincioglu (Owner)
3) Sevilay Kaya ( Manager)