Business Marketing: Understand What Customers Value Essay Sample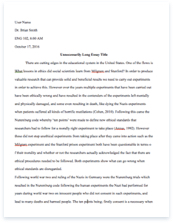 The whole doc is available only for registered users
OPEN DOC
Download Essay
A limited time offer!
Get a custom sample essay written according to your requirements urgent 3h delivery guaranteed
Order Now
Business Marketing: Understand What Customers Value Essay Sample
Unit 301 – Social Media Describe a business and its type, vision, aims, objectives and goals. Type- Boutique Hotel in YaxleyAims Hotel to become "Hotel of choice" Achieve national recognition for their restaurant Objectives Wants to see room occupancy grow 50% in next 24 months To promote to local suppliers Goals Get more visitors from the surrounding area to the restaurant Get involved in Social Media Marketing Describe two brand statements and two value statements of the business The hotel is known for being warm and welcome in the area which is something the brand can be proud of as it brings in customers from recommendations.
The employees value the customers, and believe that they are always right and that no request or anything is too big of a demand. Identify four audience groups of the business Locals Local suppliers Family's Events e. g. weddings Describe how the audience groups identified in question 3 a) are made aware of the brands and values Jane has registered her hotel with review websites which will allow her audience to see what the ratings are and how satisfied past customers have been. It is mentioned that most of her customers come from people recommending the hotel, which shows that people are happy with her business.
Identify how influencers can be made aware of the brand and values Influences for the business would be restaurant critics, reviews and newspaper articles. They would be able to view the reviews online and see the feedback from various customers over time, this would give them a good idea to the kind of business it is. Explain, with examples, three ways the business could use social media as part of their marketing plan Social Media can be used in a marketing plan to find out the whereabouts of your audience You can use the page insights to see how many likes come from what areas/countries
Be able to see which posts are more successful than others Suggest the main four Social Media tools/channels that can be used in the business Facebook, Twitter, Instagram and local adverts (newspaper) would all be good social media platforms for the business to use. Evaluate the four Social Media tools channels chosen in question 6 a) Briefly describe what success will look like when using each of the chosen Social Media tools/channels in question 6 a) for a business People that engage with your posts are more likely share it with their friends.
Likes, shares and comments on a photo will appear on the newsfeed of the friends of the person that commented. The higher the engagement, the higher the potential for increase in website visits and sales. Describe three methods the business can use to measure success of the Social Media tools/channels Jane could use the following three methods: Google analytics Human analytics Social Media Analytics Explain, with three reasons, why the business should have a Social Media Policy and Guidelines Explain, with one reason, why the business should have a Reputation Management Policy
Task B Four reasons why it is important to monitor the competitors use of social media To get a good idea as to what works and what doesn't on social media, gathering information about the type of pictures, hashtags and adverts that get the most positive response. To see what other companies are doing on social media so you can be competitive and keep up to date with the latest trends on social media. So, you can monitor the activity and see how people respond to various posts, what is popular and what works and what doesn't.
One observation about the competitor's website The layout of the website is very clean and bright, making it very easy to navigate around. Review of their use of social icons on their website Down at the bottom of the page all of the business' social media platforms are shown with the various icons, showing customers where you can engage with the business and find more out. All have links so you can click on the icon and it will take you to heirlooms ever after social media pages. Review of their use of each social tool used
Review of conversations for each tool Three suggested improvements to their use of social media Task C Describe four marketing tools available for a business Social networks, websites, newsletters and television all reach different target markets. Explain three benefits to a business of encouraging amplification Social media amplification is when a business shares positive feedback, reviews, likes and comments. This would benefit your business because: When people see that you have positive feedback it will increase customers, earning the business more money.
People will become more aware of your business and will give it a good name. Explain three possible consequences to a business of encouraging amplification The consequences for encouraging amplification are: Something might go wrong as you increase the activity on social media in trying to increase the sharing of positive feedback, errors could be made and this could influence the reputation of the business Explain two possible consequences to a business of encouraging engagement
Increasing your engagement on social media can mean more comments and more people seeing the comments, so if you get some negative ones, more people will see this because you have been encouraging positive comments. Because of this it can become time consuming, firstly replying to the comments but also checking that negative ones are dealt with in a properly, meaning you need to be constantly aware of what is happening online, meaning more of your time needed. Give five factors that should be considered when identifying a Social Media plan for a business
For three of the factors identified in question 6 above, explain how they should be considered when identifying a Social Media plan for a business Describe four different tools/channels for social Media Facebook – allows you to share anything with your audience, pictures, comments and videos. Ideal for promoting businesses as it reaches millions of people and is easy to use. Pop-ups – are a great way in getting peoples attention while they are browsing on websites, directing them to your social media pages and websites.
YouTube – allowing to share videos to the world about anything and everything. Describe one feature and one benefit for each tool/channel Facebook – is great for advertising as you can share your products through pictures and links, showing people what you are advertising and linking it back to your own website. Pop-ups – grabs the audience's attention by showcasing the business in a bright and bold way. This can then have a link to your websites and social media pages as people can click on them, resulting in more customers.
YouTube – creating videos whether it is a vlog, a tutorial or any other type of video, is an interesting way to engage with your audience which is appealing. Identify two potential types of audience for each tool/channel Facebook – I believe Facebook is used by an older audience as you must be 18 to open an account and many people use it to keep in touch with old relatives and friends. Explain two potential issues for each tool/channel Facebook – negative comments could occur on your posts which could potentially ruin the businesses reputation.
Pop-ups – some people find this tool annoying as it gets in the way of the web page they are browsing this could do the opposite of attracting customers and turn them away from your advertisements overall damaging the business' reputation Explain three reasons, why a business should measure the outcomes of the use of Social Media A business should measure the outcomes of their Social Media channels as it shows what is working and what isn't. This is vital because the business wants to see good results and focusing on what is working and what isn't, can allow them to be specific on what they need to improve on.
Define SMARTER targets Specific Measurable Agreed Realistic Time-Bound Ethical Recorded For each of the above, explain why it is important to get SMARTER targets with reference to different Social Media tool/channels Specific – Exactly what is it you want to achieve in your business. Measurable – You must be able to track progress and measure the result of your goal. Agreed – Your goal must be relevant to your line manager, employees and customers. Realistic – Your goal should be realistic and relevant to you and your company. Time-Bound – Goals must have a deadline.
Ethical – Goals must sit comfortably within your moral compass, set goals that meet a high ethical standard. Recorded – Always write down your goal before you start working towards it. Written goals are visible and have a greater chance of success. Describe four components of a Social Media Policy and Guidelines for a business Personal information shouldn't be shared on the business' social media pages and employees must be clear on what is socially appropriate, so for example no racist comments or posts should be linked to the business.
Briefly explain why it is important to have a reputation management policy A business' reputation is huge, it can determine whether you gain customers or lose customers. Maintaining a positive reputation is very important thing as once that reputation is lost it is extremely hard to get back Describe one benefit of managing perception changes in a business's reputation By listening to your customers and their comments you can encourage the positive comments and reviews and focus on these. How people see your business is vital for keeping customers happy and encouraging others to use your business.
Describe four ways of managing perception changes in a business' reputation Addressing the negative comments as quickly as possible, this will save more people seeing the negative comments and will please the customer asking them why they are unhappy and how you can help to change their opinion. Explain two consequences of using Social Media on the budget of each of the following types of business Sole trader – a sole trader is usually ran by one person, this means their budget and time won't be much. This can result in limited time on social media, which will affect the engagement with the customers.
Local volunteer group – Relying on a volunteer group can be risky as they may not have experience with Social Media, the lack of experience and training can affect the business' social media reputation overall. Corporate enterprise – Tend to have a larger budget and larger business, so using a small budget on such a big company could have many downfalls. For example, their social media will need protection against being hacked and getting any virus'. Describe what success could look like when using different Social Media tool/channels for each of the following types of business
Sole trader – increases the engagement as more people will be interacting with you online and giving you reviews, comments and likes. This will make your business more successful online and create a more active social media page. Local volunteer group – Engagement would increase the number of volunteers, this will lead it to to become more well known. Corporate enterprise – https://natalielouisebrown. wordpress. com/2015/03/02/unit-301-principles-of-social-media-for-business/http://socialmediacavanagnesimon. wikispaces. com/Unit+301+Principles+of+Social+Mediahttp://unit301taska. blogspot. co. uk/