Business Value and It at Hefty Hardware Essay Sample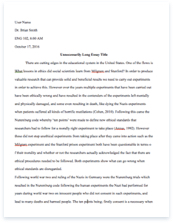 The whole doc is available only for registered users
OPEN DOC
Download Essay
Get Full Essay
Get access to this section to get all the help you need with your essay and educational goals.
Get Access
Business Value and It at Hefty Hardware Essay Sample
1. Abstract
Evolution in technology has necessitated the application of IT to improve business operations. Accessing information about the products of a company is important and this requires improving the customer experience. IT is a tool that has been used to improve the effectiveness with which customers conduct their shopping and purchase a particular company's products. Innovation of service has been driven by ICT, which has provided new and innovative services for many years (Bouwman & Fielt, 2008). Innovation in technology is one of the strategic ways through which businesses improve their operations especially those which operate multiple stores. This paper seeks to analyze how business value has been delivered through the use of IT at Hefty Hardware.
2. Introduction
Hefty hardware's intention to introduce a business strategy known as Savvy store is facing challenges. This has seen conflicting views between the IT professionals and the management of Hefty Hardware's business operations. As a result initiating the project has been a big challenge. This is what the case study to be evaluated entails. The paper looks at the extent to which the partnership between Hefty Hardware's business and IT has been effective. In addition the paper identifies shortcomings of both the business and IT. Finally the paper will create a plan as to how the business and IT can work to deliver successfully the Savvy store program through collaboration.
3. Effectiveness of IT/business partnership
Despite the challenges faced to initiate the said program, partnership between business and IT at Hefty Hardware has been effective in a number of ways. First of all it has shortened the time required to carry out one of the firm's major activity that entails closing of books. Wright who is the CFO echoes his EA's s sentiments that a newly introduced ERP system deserves praise because it has ensured that books can be closed at end of month within 24 hours (Smith & McKeen, 2012). The absence of IT in relation to this function before resulted into a lot of time being taken in the process of closing books. Wright reveals that before introduction of the new ERP system this process took several days (Smith & McKeen, 2012). Closure of books is an important part of coming up with company reports, which can be used as a basis through which business operations can be strategically improved.
Secondly, the partnership has improved management of data. A business needs to ensure that its data is safeguarded to avoid undesirable situations such as inability to update stock records. This is what Hefty Hardware has been able to achieve through its application of IT. According to Cheryl, the IT has prevented viruses and ensured that the systems are kept functioning (Smith & McKeen, 2012). This is an IT role that has given Hefty Hardware advantage over its competitors as far as date management is concerned.
Cheryl reiterates that the business has not at any one point lost data like some of its competitors (Smith & McKeen, 2012). Looking at the sentiments echoed by both Cheryl and Wright, the retail marketing VP and CFO respectively of hefty Hardware, the overall impression created by them is that the partnership has been effective to the extent of improving the effectiveness of closing books and data management of the business. There are greater risks involved if information cannot be stored for longer periods (Reid, Fraserking & Schwaderer, 2007)
4. Shortcomings of the business and IT
Both the business and IT face a number of shortcomings that negatively affect strategic operations of Hefty hardware as far as IT innovation is concerned. A structure that is functional may hamper innovation especially when coordination is required (Daft, Murphy & Willmott, 2010). Both of these two areas have fallen short of knowledge that either of them posses and which is necessary for initiation of projects such as the Savvy store program that is yet to be implemented in the field. In addition, there is lack of coordination that is lacking between the two areas.
4.1 Business shortcomings
The senior people who deal with business operations of the firm seem not to be aware whether IT understands the aims of the business and what it intends to achieve. Cheryl is not aware if IT has ideas in relation to what the business is making efforts to accomplish through the Savvy store program
(Smith & McKeen, 2012). This revelation indicates that retail marketing lacks information based on whether IT has knowledge that would enable business operation's objectives to be met by the IT. This lack of information clearly affects how the business can channel its needs to the IT professionals in the firm on the basis of what IT strategies need to be in place to improve business operations.
In addition, the people who are involved in the business operations of Hefty Hardware do not seem to be open to new innovative ideas. This includes the use of mobile phone application in Hefty Hardware's stores. Cheryl's business group refused to fund the mobile application project raised by Gutierez because the use of mobile in stores by customers is unnecessary because of the presence of in-store kiosks and cash registers, which are perfectly good (Smith & McKeen, 2012). This is a scenario that gives a clear picture about the nature of the business as rigid to new innovation even when it may prove to be the trend in future.
4.2 IT shortcomings
Due to the IT Department's functions being different from the core business functions of Hefty hardware, there seems to be a disconnection between the business and IT. This has seen the knowledge of the IT professionals in terms of the activities and operations of the business being limited to a large extent. In Cheryl's view, IT people are unaware of Hefty Hardware's business functions at the basic level such as operations of warehouses (Smith & McKeen, 2012). As a result, the time required to strategically deploy technology to its intended use has been wasted. According to Cheryl, the time taken to deliver any type of technology to the field is so long and failure to work as intended is ignored by the IT people who demand its addition for the next release (Smith & McKeen, 2012). Cheryl's insight about IT portrays it as a section that is blind to the demands of the business functions of Hefty hardware.
Another shortcoming of IT is the manner in which it isolates itself from the core business functions of Hefty hardware. This is a problem that is evidently affecting the Savvy store program. According to Glen, the technical world in which IT was operating was less related to the business world (Smith & McKeen, 2012). As a result, innovating technology, which is consistent with the business practices of Hefty hardware, has been a problem for the IT department. Technology being initiated is likely to bear very little resemblance and consistency to the core business function undertaken by Hefty hardware.
5. Recommended plan for Savvy store program
The importance of collaboration for various departments of a business is clear from the experience that Hefty hardware has gone through. Past and previous experiences necessitate the need for a plan through which Savvy store program can be implemented successfully. This plan entails creation of interdisciplinary teams from the business and IT sides. Interdisciplinary teams are comprised of people whose disciplines are different and the role of this is to combine their knowledge as they pursue a common goal (Botterill & Harpe, 2010). The plan also involves building relationship that is important for collaboration in an interdisciplinary team that may likely to be formed.
Building relationship involves taking time together, practicing trust, discussing differences in language, building presence, creating communication that is reflexive and creating humor (Pardyjak & Thomson, 2013). Without a good relationship, there is no proper coordination that can exist to facilitate success of the Savvy store project. A discussion of these aspects of building relationship in collaborative teamwork is therefore important. It is evident that the relationship between IT Hefty hardware's business and IT are strained.
Taking time together is important before a project is initiated. According to Pardyjak and Thomson (2013), members of a team who are intent on taking time together are willing and open to learn from one another. Looking at the given case study, the lack of information on the part of IT and the business section of Hefty hardware clearly affect implementation of projects. Trust in another vital aspect of relationship in interdisciplinary. Conversations that relate to trust ensure that a team can communicate in a collective manner (Paryjak & Thomson, 2013). Gutierez's proposed project about mobile application was met with opposition from the business people who were not willing to integrate it in the business.
The language of IT and business are different. This is the reason why there has been lack of a clear definition of what either of the group wants in relation to IT projects. One IDR challenge is difficulty in finding a language that is common due to differences in specializations of discipline and language that corresponds to such disciplines (Paryjak & Thomson, 2013). Cheryl's difficulty in understanding IT terminologies that does not connect to the business operations is evidence to this.
Presence of every team member is an important ingredient for the success of projects. Presence is being able to listen, collaborate and be open shift one's way of thinking (Paryjak & Thomson, 2013). The different professionals seem to want to have their ways without consideration of other different perspectives. Finally, communication that is reflexive and sense of humor improve relationship in collaboration that relates to interdisciplinary teams. Communication is improved through mutual learning while a sense of humor ensures that ideals of the group are supported, ideas can be integrated in ways, which are creative, and common values can be supported (Paryjak & Thomson, 2013). Coordination between the IT and business group at Hefty hardware can be improved if ideas between the two can be integrated in a manner that will satisfy the two groups.
6. Conclusion
In conclusion, it is clear from the case evaluated that the partnership between Hefty hardware's business functions and the IT department has been effective to a lesser extent. However this has been negated by shortcomings that face both the business and IT sections of the firm. The firm's new project known as the Savvy store program is facing challenges due to strained relationship between the two areas. However the plan recommended can go a long way towards improving collaboration so that the new strategy can be successful.
7. Reference
Botterill, M., & Harpe, B. (2010). Working successfully in university interdisciplinary teams: Learning from embedded intergroup relations theory. In M. Davies, M. Devlin, & M. Tight (Eds.), Interdisciplinary higher education: Perspectives and practicalities (pp. 75-97). Bingley: Emerald Group Publishing Limited.
Bouwman, H., & Fielt, E. (2008). Service Innovation and business models. In H. Bouwman, H. Devon, & T. Haaker (Eds.), Mobile service innovation and business models. Berlin: Springer.
Daft, R., Murphy, J., & Willmot, H. (2010). Organising theory and design. Hampshire: South Western Cengage Learning.
Pardyjak, E., & Thompson, J. (2013). Interdisciplinary dynamics in EFD research. In H. Fernando (Ed.), Handbook of environmental fluid dynamics: Overview and fundamentals (pp. 37-43). Boca Raton: Taylor & Fransic Group, LLC.
Reid, R., Fraserking, G., & Schwaderer, D. (2007). Data life cycles: Managing data for strategic advantage. New Jersey: John Wiley & Sons, Inc.
Smith, H. A., & McKeen, J. (2012). Delivering business value with IT at Hefty Hardware. In J. McKeen, & H. A. Smith, Delivering business value with IT (2nd ed.). New Jersey: Pearson Prentice Hall.