Campus Racism 101 Essay Sample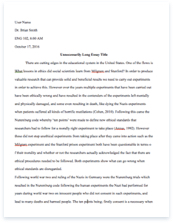 The whole doc is available only for registered users
OPEN DOC
Pages:
Word count: 669
Category: racism
Download Essay
A limited time offer!
Get a custom sample essay written according to your requirements urgent 3h delivery guaranteed
Order Now
Campus Racism 101 Essay Sample
In today's society, it is essential to have an education. To be educated helps us as individuals to gain knowledge and be able to understand and interpret information as it is presented to us. Education not only teaches us how to live our life as good citizens but education also sets the foundation and equips us for the generation to follow in the future. We as people must be able to build confidence in ourselves and have the courage to succeed. Never should you feel downgraded, intimated or unworthy of an education because of someone else's success. Many people have the desire in wanting to finish their goals and ambitions but because of fear in other individual's achievements, they don't have the determination to push forward. Suffice to say; to be successful education is a necessity. However, while education is integral to everyone's success there are some roadblocks, chief among these roadblocks for African Americans is institutional racism. Poet, Activist and Writer Nikki Giovanni discusses the racial turbulence that African Americans encounter while attending predominantly white colleges in Campus Racism 101.
Giovanni briefly expounds and gives a synopsis of her experiences while teaching in a predominately white university and her experiences there and how she dealt with these issues of racism and gives examples of how important education really is. Nikki Giovanni compares and contrasts these issues to certain situations in today's society. For example, she talks about the ignorance of students and how they don't take school seriously. She uses a quote from a student that says, "TOO COOL FOR SCHOOL; YET TOO STUPID FOR THE REAL WORLD" (Giovanni 43) Nikki Giovanni then begins to tell why she loves her job as a black professor in a predominately white college. She starts to explain the reasons of why students shouldn't feel less than enough to be black in a predominately white college. Being an African American in a predominately white college allows you to stand out and get others to see how smart and intelligent you really can be. Nikki Giovanni gives a compare and contrasts on how serious it is about learning and having the best of an education. For example, she gives the differences between being in jail and being college. Nikki Giovanni gives the similar of being in jail and going to college. "There both all the same but you will never experience, freedom or have the opportunities you get in college being incarcerated." (Giovanni 44)
Lastly, Nikki Giovanni reinforces this explanation of the importance of college and education by offering tips of how to succeed in college. For example, meeting with your professors and getting to know them and making sure that you let your instructors know your goals in wanting an A out of the class. Nikki Giovanni also states in her tips that students should go to class regardless of how you feel and that you should have the determination to finish what you started being in college. Furthermore in the passage, "Campus Racism" Nikki Giovanni makes a clear statement about attending a predominately white college when she discusses the issues of having lack of credentials. She implies that regardless of your status of qualifications, you are still worthy of an education like the next person. Nikki Giovanni's purpose for writing this essay was to uplift young African American students that attend predominantly white colleges, to both help young Caucasian students work with African American people in authoritative positions, and for young black students to get the best education regardless of the location of their institution of learning or the attitude and personalities of their professors and fellow peers. Her thesis makes it clear that education is primary for African American students and they shouldn't allow race to be the cause of what kind of education they should have.
Works Cited
Giovanni, Nikki. "Campus Racism 101" Dancing with the Tiger Ed. Coppin State University Michele Baird Maureen. Staudt Michael. Strantz Mason, Ohio 45040 2008 pages 43-47