Can Moral Absolutism Be Justified? Essay Sample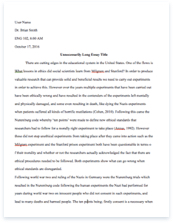 Pages: 4
Word count: 1,036
Rewriting Possibility: 99%

(excellent)

Category: morality
Get Full Essay
Get access to this section to get all help you need with your essay and educational issues.
Get Access
Introduction of TOPIC
There are arguments to suggest that moral absolutism cannot be justified as it is not a reasonable solution to any ethical situation.
The theory of moral relativism upholds that there are no universally valid moral principles, opposing the theory of moral absolutism. Relative morals can change according to the situation, where as absolutism leaves no flexibility for certain situations. Some would put forward the view that examining an ethical situation from a teleological point of view is a greater means of deciding how to act than absolutism. Teleological ethics explain that actions are right or wrong depending on the outcome; the outcome of an action is not taken into account in the principles of moral absolutism therefore this could be seen as a weakness. Problems in disregarding the consequences of a moral action could arise in certain situations, such as the absolutist decision that the intentional taking of a human life is always wrong, even in situations where the taking of one human life is required to save others.
For example, a moral absolutist could argue against the termination of a pregnancy, even if it is necessary to save the mother's life, where as a teleological position on this situation is likely to accept the value of the mother's life over that of the unborn child. Furthermore, some believe the principles of utilitarianism should be applied when making a moral decision, as this takes into account the consequences of an action in order to achieve the greatest amount of happiness possible for all people involved. Achieving happiness could be seen as the ultimate purpose in life therefore by taking a moral absolutist view this purpose is often unable be achieved.
The practise of situation ethics also takes into account the outcome of an action and opposes that of moral absolutism, as making moral conclusions according to situation ethics relies only on the principle of love or agape. To do what is most loving in a situation may be seen as of higher importance that doing something just because it is believed to be intrinsically right. This is prominent in the teachings of Jesus Christ.
Another weakness in the appliance of moral absolutism is the disagreement it could cause amongst different cultures. What is
seen as morally acceptable in one culture may be frowned upon in another, for example it is the norm
in some cultures for a man to take more than one wife, where as in most western cultures this is seen as immoral. Cultural relativism maintains that truth itself is relativist and all beliefs are equally valid. The cultural diversity of our world makes it difficult to establish universal morals which every culture should follow, and if the people of a particular culture are content then we should not impose our own morals on them, as we are each a product of our own culture, narrowing our views of what is right or wrong. The fact that the world is constantly changing also means that morals could be seen as relative according to their historical context, and because of this absolute morals are not likely to survive.
Additionally, the controversy in meta-ethics makes moral absolutism unfeasible, as there is no universally accepted definition of right and wrong. What one person describes as right is always subject to disagreement amongst others, therefore it is impossible to agree on absolute moral principles which everyone should uphold. Although most religions have basic guidelines as to what is right or wrong, it is impossible to know the will of God or the gods in every situation.
Alternatively, there are reasons to dispute that moral absolutism cannot be justified, some believe that having absolute standards sufficient way to judge moral questions. This argument has its strengths, one being that it gives a fixed ethical code to measure actions by, so that it is possible to know what is the right thing to do in most situations. In some circumstances it may be difficult to judge what the consequences of a certain actions will be, so by having moral guidelines it makes it feasible to decide on a morally good action.
Furthermore, some actions are almost unanimously agreed to be right or wrong. An example of this would be rape as most would agree that rape is morally unjustifiable in any situation and therefore wrong. In this case absolutism makes the judgment easier and does not allow for any individual to try and justify the act. It could therefore be suggested that it is in our innate knowledge that rape is wrong, so by using our inherent knowledge and reasoning it is possible to decide whether all actions are right or wrong. This worldwide awareness of right and wrong is exemplified in the United Nations Declaration of Human Rights, in which a set of rules for multiple nations to live by is established.
In response to the idea of cultural relativism one could argue that moral absolutism enables us to effectively judge the actions of another culture, and if all cultures followed this absolute reasoning everyone would have a greater standard of moral living. Cultural relativism could be used as an excuse to act immorally and by having a set of moral absolutes this is made unjustifiable.
Moreover, in many religions a set of moral absolutes is provided by the deity, therefore by obeying these fundamental principles of right or wrong a person is seen as living a morally good life in the eyes of God, and to go against them because of circumstances or consequences is sinful. As God issued the rules by which mankind should follow, they must be perfect since God is perfect.
In conclusion, I agree with the statement that moral absolutism cannot be justified, as moral absolutism is too inflexible in it's principles to allow exceptions in extreme situations, such as where the life of a human being is concerned.