Canadian Identity Essay Sample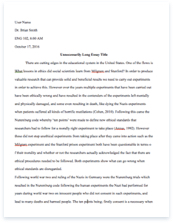 The whole doc is available only for registered users
OPEN DOC
Download Essay
A limited time offer!
Get a custom sample essay written according to your requirements urgent 3h delivery guaranteed
Order Now
Canadian Identity Essay Sample
Canada's identity has continued to evolve since it was founded. At the beginning of the 20th century, for example, more than 55 per cent of Canadians were of British heritage. As a result, the British influence was very strong. But over the course of the 20th century and into the 21st, various forces that promoted change were at work. These forces changed the way Canadians think of themselves and their country. One positive thing related to Canada's identity is nationalism. Canadian nationalism promotes unity, independence and the well-being of Canada and Canadians. Thus, insuring Canadians have freedom of speech, religion, thought, and expression amongst other things. Canada also identifies itself as a peace keeping country, meaning, it does not start wars with other countries and helps to stop war and, as the name implies, keep the peace. Finally, Canada is multi-cultural. Canada has 6.26 million visible minorities which is over fifteen per cent of the population. Multiculturalism is good for Canada because communities benefit from new cultural celebrations and more diverse cultural foods, music and arts at local festivals and schools develop more culturally aware curriculums, which broadens all children's understanding of the world.
One of the preeminent things to exemplify what it means to be Canadian is the flag, the Canadian flag, also known as the maple leaf, is a recognized symbol of Canada; it has also come to symbolize unity, tolerance, and peace. Furthermore, Canada has become known for Tim Hortons. Tim Hortons is a Canadian multinational fast casual restaurant known for its coffee and doughnuts. It has become Canada's largest food company with over four thousand restaurants across Canada. This brand became a part of our national identity. Lastly, Terry Fox, one of Canada's national heroes is a symbol of Canadian identity. Terry Fox made the Marathon of Hope, a cross-Canada run to raise money for cancer research and awareness, because he was diagnosed with cancer and wanted to help people who were in a situation like his. Terry started his journey in St John's, Newfoundland where he dipped his artificial leg into the Atlantic Ocean to begin his odyssey. After 143 days and 5,373 kilometres, Terry stopped running outside of Thunder Bay, Ontario, the cancer had spread to his lungs. Terry Fox died in June of 1981, a month short of his twenty-third birthday.