Care Quality Commissio Essay Sample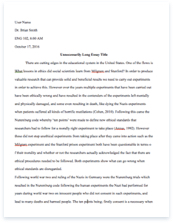 The whole doc is available only for registered users
OPEN DOC
Download Essay
Get Full Essay
Get access to this section to get all the help you need with your essay and educational goals.
Get Access
Care Quality Commissio Essay Sample
Bi. The terms and conditions of my employment are my contracted hours of work which is 28.75 per week. My annual leave is 125 hours per annum from January to December. Employment start date, salary. An agreement made between me and my manager, to follow policies and procedures within my setting. My job description also states I have a duty of care, Statutory Sick Pay, uniform and guidance covering hair and nails. Employer's details, place of work and my job title. At the time of my employment an employee handbook was also handed out which sets out all company policies and procedures.
Bii. On my pay slip the following information needs to be shown Employers name
Tax code
National insurance number
Employee name
Payment date
Gross pay
Net pay
Deductions/ adjustments
Pay rate
Biii. The two changes to personal information which I must report to my employer are Change of address Marital status
Biv. The procedure I need to follow to raise a grievance at work would be to first let the person know I am offended by their behaviour, keep a record of what is happening, if I feel the problem has not been resolved I will raise the matter with my line manager or their line manager and they will then investigate as appropriate and I will be advised of the outcome. In the case of a formal grievance there is an ACAS code of practice which is advisable to follow. ACAS works with both employer and employee to solve workplace grievances. Mediation can also be an option.
Bv. The agreed ways of working with my employer in the following areas are Data protection: never give out personal information about colleagues or service users to unauthorised people or organisations. Never disclose commercial information about company's activities to unauthorised people or organisations. Keep all data secure and use my own log in and not share passwords. Any papers, CD's, portable USB devices should be locked away whenever possible, cabinets and draws that contain sensitive information should be locked away with controlled access to keys. Keep information up-to-date and delete it safely when it is no longer required. Failing to follow the company Data Protection policy may lead to disciplinary action.
Grievance: do not give unwanted physical contact avoid offensive jokes or banter, no offensive pictures, graffiti or emblems. Do not pressure for sexual favours. No isolating or none co-operating with employees. No bullying. Conflict management: there are different types of conflict in the work place. Conflict between manager and employee, conflict between two members of staff or even conflict between service user and staff. These can be managed in different ways such as supervision, mentorship and counselling. In other cases the safeguarding team may need to be informed. Employee Support Team an independent organisation can provide the employee with help and support with conflict at work and all information is treated confidentially. Managers should have adequate training in dealing with conflicts at work and be able to support and guide employees with resolving matters. Anti- discriminatory practice: our aim is that all employees, service users and customers are treated fairly, free from discrimination, harassment or bullying of any description whether based on sex, trans-gender status, marital status, race, colour, disability, age, political or religious beliefs or sexuality.
We ensure an equal chance to contribute and achieve one's own potential. Health and safety: to take reasonable care for the health and safety of myself and others. Familiarise myself with and comply with company's health and safety policy. Make myself aware of the nearest fire exit and what to do/ where to assemble in the event of a fire or emergency. Be aware of any potential hazards within the setting. Confidentiality: for confidentiality I would follow the same procedures as those for the data protection. Whistleblowing: to raise a concern as and when I see it, these concerns are those of malpractice, service user welfare, health and safety and fraud. The policy reassures it is safe and acceptable to speak up and raise any concern.
Bvi. My role contributes to the overall delivery of the service provider because I provide individualised support to ensure that each of my service users can remain as fulfilled, independent and active within the boundaries of their condition. I must encourage and support each service user to do as much as possible for themselves in all aspects of daily living.
Bvii.
A. With my good practice I would influence the quality of service provided by making my service users feel safe, independent, respected and reassured. B. By not carrying out the requirements of my role I will make the service user feel neglected, unhappy, unwanted, insecure and excluded.
Bviii. My work is influenced by a number of governing bodies. These governing bodies are there to ensure that we provide good quality of care to our service users, CQC are the independent regulator of health care and adult social care services in England. They protect the interests of people whose rights are restricted under the mental health act. We follow legislations to ensure our service users are safe, understood, treated with respect and that their dignity is maintained. COSHH (Control Of Substances Hazardous to Health), Mental Act 2007, RIDDOR (Reporting of Injuries, Diseases and Dangerous Occurrences Regulations).
Bix:
A. Care Quality Commission- the independent regulator of health care and adult social care services in England
Health and Safety Executive- the national independent regulator for health and safety in the workplace. This includes private or publicly owned health and social care settings in Great Britain.