Career Paper for Automotive Mechanic Essay Sample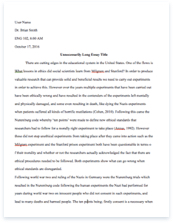 The whole doc is available only for registered users
OPEN DOC
Download Essay
A limited time offer!
Get a custom sample essay written according to your requirements urgent 3h delivery guaranteed
Order Now
Career Paper for Automotive Mechanic Essay Sample
My dream of my life ten years from now has changed many times over these past few weeks. This class has shown me new opportunities and broadened my horizon. Throughout grade and middle school, I pictured myself joining the United States Marin Corp. out of high school and being a hero. As I matured, I looked at my god given talents and decided to go a different way with my life. Then I determined I wanted to go into the field of computers; still not sure, whether to work with software or hardware I stuck with this idea and plan until just recently. The guest speaker for UTI, Universal Technical Institute, sparked my interest in a passion that has been dwelling in me ever since I could remember. I always been interested in automobile mechanics but never thought there was any future in the business. Thanks to the opportunity I received from this class, I am now able to use this as a valuable resource for planning my future.
In ten years from now, I envision myself as a graduate of the Super Street Program at the Universal Technical Institute. I am Mark Spadoni recently married to my long time girlfriend. I now live in southern California, in a comfortable one-bedroom house. I own a small private garage that deals with the personalization and performance enhancement of compact cars.
My career as a compact car mechanic would include a variety of tasks. I would be responsible first, to manage my business. Secondly, I would be responsible for the cars I am working on.
The starting pay for an entry-level mechanic is quite low at an average of $30,780/year, about $14.80 an hour. Although on the bright side, the industry is expected to grow at least 18% in the next five years. This is logical because as the years go by our world is going to become more populated and more people are going to want to own cars, and also in five years, cars will be five years older and repairs and upgrades will be in higher demand.
My specific job duties could range from an economical standpoint to hands on working atmosphere. Since I plan to own my own personalization and performance enhancement business, I would have to manage and plan my expenses and revenue determining how to attain the highest net gain. Which could include hiring/firing employees, public relations, and dealing with my customers. I would also be responsible for the work performed on each car in my garage. It would be required of me to "get my hands dirty" and work on the cars myself in order to reduce the cost of hiring more mechanics to work for me.
The beginning training I would be need is provided for me thanks to the wonderful guest speaker you had talk to us a few days back. I would attend the Super Street program at Universal Technical Institute. Graduating from this educational curriculum, I'd be prepared for the challenges ahead of me in my chosen career. It is stated that if I graduate successfully from this set of course I am able to return to the program later at no additional cost to myself. Simply if I complete this program, I would be opening up a free never-ending educational course for my entire life; an extremely valuable resource.
The name of the college I would be attending is Universal Technical Institute, or UTI. I have a choice of any of their campuses because the program I plan on attending is offered anywhere. My choices are Arizona, California, Texas, Illinois, North Carolina, Pennsylvania, and Florida.
Upon searching UTI's brochure and website was unable to find some key information. They did not provide any statistics concerning, undergraduate enrollment, student body profile, sports, and specific admission requirements. The only admission requirement proposed was a high school diploma and an application submitted to them on their due date with the required registration fees. If I am lucky and become sponsored by an automotive company during my training, they will pay for my tuition.
There are a few tools that are required to be brought to the classes so full class participation can occur. First you are required to bring of purchase your own digital multimeter. Also a pre-established Snap-on® entry-level tool kit. As part of the program, this tool kit is supplied to all accepted students, a $1,000 value. Students taking more than one program may have to purchase additional tools.
Bibliography
"Choices Explorer," www.cxbridges.com
UTI Homepage, www.uticorp.com
Mechanic forum/bulletin board, www.the-mechanic.com