Career Plan Essay Sample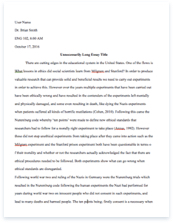 Pages: 3
Word count: 581
Rewriting Possibility: 99%

(excellent)

Category: career
Get Full Essay
Get access to this section to get all help you need with your essay and educational issues.
Get Access
Introduction of TOPIC
Upon completion of my Bachelor of Science degree in Finance, it is my desire to pursue an entry-level position with a financial institution where opportunities for advancement exist. In reviewing my current resume, the shortcomings of my relevant work experience and 3.1 GPA are evident as areas where some improvement would be of benefit. My employment as a Nanny, while providing transferable skills is not enough to assist in the pursuit of my goal to become the manger of a financial institution. The following paragraphs will document potential solutions to the areas of weakness identified in my career plan.
            Most traditional college students who are preparing for graduation are limited in the amount of relevant work experience listed on their resumes. While many students have completed internships in their field of study, this experience is often short term and subsequently only provide a short entry on a resume. In addition, many students often fail to find an experience that directly correlates with their career goals and the internship experience, while valuable, may only have a limited impact in the level of competence a student may feel in their ability to compete for a job.
Such an opportunity p
resented itself to me last summer and as a result I was able to benefit from an internship at Keinig
& Strey GMAC Real Estate. During this internship I was able to learn more about the contract negotiation process involved in residential real estate, buyer prequalification, and the associated legal process. Again, while the experience was valuable I would like to pursue employment this summer, perhaps on a part time basis, where I can build skills specific to financial institutions/management.
I think that an opportunity to work in a bank and mortgage firm or some other type of financial institution would provide me with the most comparable type of work experience. I also plan to research opportunities to obtain relevant experience by volunteering with social service clubs, non-profit organizations, or small businesses where positions like my target position exist. While these organizations may not be able to compensate me financially, they could provide me with an advantage over other new college graduates who have no work experience on their resumes!
            While significant improvement my current GPA is not possible, taking courses during the summer at a community school/college or online would bolster my knowledge of Finance practices and add to my limited computer skills. By enrolling in relevant courses, I could list them on my resume to substitute work experience for "knowledge obtained". By taking additional courses after graduation, I will demonstrate my eagerness to learn, my desire to attain my goals, and a commitment that would be impressive to potential employers.
            Graduation is only the first step in obtaining my career goals. By evaluating my resume, it is clear that there is still a long road ahead, a road which includes taking additional classes, seeking additional opportunities for work experience and perhaps even volunteer work.
Job hunting, resume writing and building my interview skills will also be a crucial part of this summer. Though the road ahead will be somewhat difficult, the end result will undoubtedly bring me closer to accomplishing my dream of a career in financial management…I am excited and ready for the challenge!