Caring for infants Essay Sample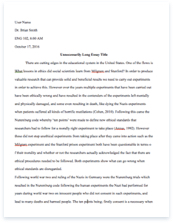 The whole doc is available only for registered users
OPEN DOC
Get Full Essay
Get access to this section to get all help you need with your essay and educational issues.
Get Access
Caring for infants Essay Sample
While caring for infants and toddlers my goal is to provide a safe environment for exploration by following safety policies and procedures. Throughout the day all spaces are checked for hazards and kept free of clutter to avoid problems during an emergency. Their environment should always be inspected for choking hazards. A daily routine is maintained to ensure the indoor and outdoor play areas are free of hazardous exposures. A Daily indoor/outdoor checklist form is completed twice daily to document room conditions.
As a caregiver it's important to provide children with a sense of security through words and actions, which encourage exploration and support developmental growth. A critical factor must be to assure that all infant age groups are supervised by sight and sound to ensure accountability at all times. An adult-infant ratio 1:4 must be maintained and documented on the "We Care Sheet" every 15-30 minutes. All rooms in the center maintain a first aid kit that is checked daily and stocked as needed.
Current medical special needs documents are posted and medication used for allergic reactions are attached to the first aid kit. I've been trained in First Aid, CPR and am also a certified EMT-Emergency Medical Technician. Our room has an evacuation diagram posted at fire exits and all employees are trained on emergency evacuation procedures. Our center works closely with the DLA Fire Department which provides monthly fire drills to ensure established procedures are being followed.
The monthly drills allow the opportunity for infants to become familiar with the process. As a caregiver it's important to provide an environment where infants can feel protected from harm and can grow. Providing a safe environment allows for an "in safe hands" exploration of their environment . Our families depend on us to follow set procedures and prevent injuries. Being a role model for our infant/toddlers will promote safe practices and avoid injuries.