Case study for Tuberculosis Essay Sample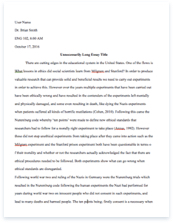 Pages: 4
Word count: 1,060
Rewriting Possibility: 99%

(excellent)

Category: disease
Get Full Essay
Get access to this section to get all help you need with your essay and educational issues.
Get Access
Introduction of TOPIC
Introduction of case/pathology
            Tuberculosis (TB) is a disease caused by bacteria belonging to the Mycobacterium tuberculosis complex. This usually affects the lungs although in up to 1/3 of the cases, other organs are also involved. If properly treated, TB is reversible in virtually all cases. If left untreated, the disease may be fatal within 5 years in more than half of the cases (Rotvigline and O'Bien, 1998). Tuberculosis is transmitted via airborne droplets nuclei that are produced when persons with TB cough, sneeze or sing (Leung, 1999).
            Patient Medical History: J.M., 35 years old, male, chronic smoker (15 pack years) came in for consultation due to cough.
            Patient's medical history started 1 month prior to admission. He had unproductive cough with on and off , low-grade fever especially in the late afternoon and anorexia. This was accompanied with night sweats. No medication was taken nor consultation done. After 3 weeks, he developed productive cough with noted significant weight loss and easy fatigability.
He consulted to a doctor and was advised for work-up. Pertinent physical exam revealed clear breath sounds on both lung fields, (+) cervical lymphadenopathy, (+) slight pale palpebral conjunctivae. Chest x-ray revealed (+) parenchymal patches at the apical segment of bilateral lobes. Tuberculin skin test (Mantoux Test) was positive. He was found positive for AFB smear.
Diagnostic tests:
            Radiography is still best initial screening method of choice. Although most often this is done in conjunction with tuberculin skin testing (Leung, 1999)
Tuberculin skin test. "The tuberculin skin test can show if the person has ever been "infected" by tuberculosis (TB) germs. There are several kinds of thttp://www2.dmi.columbia.edu/resources/tbcpp/abouttb.htmluberculin skin tests. The most reliable test called the Mantoux PPD" ( Angello, Kellner, and Holtzman, 1994).
AFB microscopy and Mycobacterial culture. Main diagnostic procedures in persons with a productive cough. These require isolation and identification of M tuberculosis in a sputum however, sputum smears that fail to demonstrate acid-fast bacilli do not exclude the diagnosis of TB (Leung, 1999).
Drug susceptibilit

y testing. "Drug susceptibility testing should be performed on organisms initially isolated in all
patients with newly diagnosed TB" (Bass JB, Jr, Farer LS, Hopewell PC, et al., 1994).
Specifics of case study/pathology
Initial differential diagnoses:
Pneumonia was considered due to fever and productive cough however, ruled out due to the result of chest x-ray and clear breath sounds. Pneumonia usually has consolidation (Samuel, 2004)
Lung neoplasm was considered due to presence of weight loss however, it was ruled out due to chest x-ray. Lund neoplasm usually presents with solitary nodule (Samuel, 2004).
Focal lymphadenopathy secondary to infection was ruled in due to presence of lymphadenopathy however, it was ruled out due to absence of  local infection in the patient's medical history.
pulmonary tuberculosis was considered in this case due to the patient's medical history of productive cough, low grade fever usually at night, anorexia and significant weight loss. Diagnostic exams also suggest TB.
Presentation of case/pathology
            As described above, chest x-ray, tuberculin skin test and, AFB smear were done. These examinations turned to be positive which indicate the diagnosis of tuberculosis. Chest radiography can suggest whether the disease is present or past, but is never diagnostic. In active primary TB, lower lobe alveolar or interstitial infiltrates are the most common. On the other hand, reactivation TB often presents with upper lobe densities on chest x-ray (Lillington and Louie, 2004).
            In order to obtain a more accurate diagnosis, a good radiographic film should be taken into consideration. It is essential to take note of the technical qualities of film. According to the study of Doyle , Martin  and Gentle (2005), techniques in radiography differ significantly in tube potential selection, for scatter reduction and in the application of manual or automatic exposure control. According to Pust (2004),  the three technical quality indicators are the inspiration of the patient, rotation of the spinous process and penetration of the radiation.
Conclusion
This is a case of Pulmonary tuberculosis. Diagnostic tests include sputum examination, tuberculin test and chest x-ray. Definitive diagnosis is still with specimen culture. Treatment includes isoniazid, rifampicin, pyrazinamide , ethambutol and streptomycin. Treatment duration ranges from 6-12 months. On the other hand, prognosis can still be good for it is curable and there are already available means to control tuberculosis. This depends largely on the compliance of the patient regarding taking medications and follow up with their physician.
Reference
Angello, M.,   Kellner,  P. and Holtzman, M. (1994).Chest Clinics, .Bureau of Tuberculosis Control of the New York City Department of Health. Retrieved June 21, 2006, from http://www2.dmi.columbia.edu/resources/tbcpp/abouttb.html
Ann N. Leung, (1999). Pulmonary Tuberculosis: The Essentials. Radiology. Retrieved June 20, 2006, from  http://radiology.rsnajnls.org/cgi/content/full/210/2/307
Bass JB, Jr, Farer LS, Hopewell PC, et al. Treatment of tuberculosis and tuberculosis infection in adults and children. Am J Respir Crit Care Med 1994; 149:1359-1374
Doyle P, Martin CJ, Gentle D. (2005). Dose-image quality optimization in digital chest radiography. Radiat Prot Dosimetry. ;114(1-3):269-72
Louie, Samuel. (2004).PULMONARY-CRITlCAL CARE PATHOPHYSIOLOGY. Retrieved June 22, 2006, from http://medocs.ucdavis.edu/imd/420c/esyllabus/toc.htm
Pust, R. (2004). Practical Problem-based CHEST RADIOLOGY: Conventional Film. Retrieved June22, 2006, from ttp://www.fcm.arizona.edu/predoc/clerkshipsites/chest_radiology.ppt#256,1,Practical Problem-based CHEST RADIOLOGY: Conventional Film