Case Study – PGD Essay Sample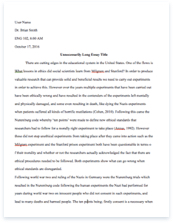 The whole doc is available only for registered users
OPEN DOC
Pages:
Word count: 540
Category: database
Download Essay
Get Full Essay
Get access to this section to get all the help you need with your essay and educational goals.
Get Access
Case Study – PGD Essay Sample
I have chosen to use the database software to solve the problem. There are two different database software packages. These are Microsoft Access and Microsoft Works database. Both packages are available to my access but I have chosen to use Microsoft Access and this would allow me to implement all the user requirements. Access is also a relational database which will make it easier to link all the tables in the database.
Hardware
The hardware required for the system is:
* Monitor- To allow the user to see whatever is happening.
* Mouse- To allow the user to interact with the monitor.
* Keyboard- To allow the user to input any data.
* Printer-To print all reports and forms.
Data Input
The user would have to enter the following once the system has been set up:
* The list of all the members with other necessary information such as member type and address. This would be obtained from the paper-based database. Each member would have a member ID which would uniquely identify them.
* Details of all the activities available. The data would be Class ID, Class description, level, days, location and instructor.
* Bookings by members would also be keyed in once the booking date has been confirmed. This information would be entered into the booking form which would be much easier for the user.
Data such as MemberID, BookingID, ClassID, Date of Birth and Booking dates will all be automatically validated by the computer because they would be set to a preset type which Autonumber or Date.
I would be getting all my data from the paper-based database from the gym. This would be given to be in person. In order to check for any mistakes, I would proof read all the information that has been given to me.
Data Manipulation
The tables which would be required for the system will be Members, Activities and Bookings. The fields in each table would be as follows:
TBL_Members [MemberID, Surname, Forename, Gender, Date of birth, Address line 1 & 2, County, Postcode, telephone number and Member Type]
TBL_Activities [ClassID, Description, Level, Time, Day, Location and Instructor]
TBL_Booking [BookingID, ClassID, MemberID, Date booked and Date of class.]
Two reports would be produced. To produce a report for different member types, a query would be run to access data from the Members table. The user would be able to enter the member type and the query would search for the records in the database. This query would be source for the members report.
Backup Strategy
In order not lose any important data; the computer file containing the completed system must be backed up onto a floppy disk or a flash drive every time it is updated. This copy should be kept on another computer which in a different location which could be my house in case of any problems such floods or theft.
The system should also be protected by a password in order to prevent any unauthorised users to access any data. This protection would not be a problem as there is a password-protect function in Access.