Causes and Effects of Violation Essay Sample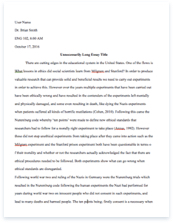 The whole doc is available only for registered users
OPEN DOC
Download Essay
A limited time offer!
Get a custom sample essay written according to your requirements urgent 3h delivery guaranteed
Order Now
Causes and Effects of Violation Essay Sample
Violation is another term for an offence or an infraction. All of these terms generally mean an act of Disobeying a law or a legal order. There are several categories of violation that exist at various levels Of the legal system. Committing violation can result in a variety of consequences dependeing on the type of disobedient behavior
A violation is a wrong doing or some tpye of disobedience. Everyone is generally bound by the laws in the jurisdiction when they are. Where a person is determines what is or is not a violation. There may be laws that exist in one jurisdiction that do not exist in another. When a person acts illegally he violates the law and may be held accountable.
This is often true even if the individual did not know that the law existed when he broke it. In some instances, sincere, mistake, even when illegal, are overlooked or excused. There is a wide range of consequences for violation, however, and which consequences are imposed generally depends on several factors
Another factor considered is the number of previous violations a person has or how many he comitted on a given occasion. When a person commits too many violations. It can appear to authorities that he has blatant disregard for the law. This can result in pa person being subjected to severe consequences he otherwise would not endure
Vioalation is the act or action violating or the quality or state of being violated. It is when a person where did not follow the rules and regulation makes him a violator. Violation is also conducted when a person did not comply to a certain rules that was made to make a person become responsible.
Rules and regulation is a common document in which students,teacher,directors of study, head of department etc. Will find their rights and responsibilities describeb the university and its activities are determined by a general set of regulation where in particular. The higher education act and the higher education ordinance should be mention. The aim of the rules and regulation in this concept is to be more precise and complement the present general regulations.
The rationale behind the rules and regulation that is that they should function as a support in our day to day work. The rules and regulation are bases on the fact that the university has a responsibility towards it's students and staff at the same time.
Laws are not how ever, the only way a person's behavior can be legally dictated. There are some authorities that do not make laws but which have the authority to issue order. For example, a worker at the department of child support enforcement. Can order a non custodial parent to pay a certain amount in child support each month. If this person does not adhere to this order, a violation is comitted and get legal action can be taken
The same is true in instance where people are placed o probation. The terms of one person's probation may differ from those of another inidividual. Each set of orders, however, is legally binding and refusal to follow any one of them is a violation. These types of infractions can often result in consequences similar to violation where laws are broken.
Violation is also one of the negative sign that an specific student has no self discipline. As we all know to become a successful mariner we have to develope our self discipline. Are the student aware that if we want to become globally competitive we have to reach the standard of a qualified mariners and one of the most important is discipline.
There are some study that why student CME from DCLC has the most major violation? Study shows that they came from different colleges thats is not much concern about student attitude and awareness of their own institute. Some student tell us its all about "PAKISAMA" these means that one of the reason is influence from sorroundings and friends.
Violation of CME student in this institution is also a kind of habitual attitude. Because if we are gonna scan and read Office of Student Affair ( OSA ) record book you will find almost the same violation comitted by student.
As a researcher i think it is difficult from DCLC managament to stop this kind of problem. I dont believe in fast and easy solution. I can suggest to our school administration to have a closed monitoring of the student and make an action by doing it step by step. Is this DCLC want? To have a student who is a violator in their own house rules? As a student i will appreciate if the school administration will be more strick when regards with our school dresscode.
This study is not conducted in DCLC because the researcher notice that the majority of violators are the CME student. The case about CME student that most of the student aren't able to comply to the rules and regulation of the school premises. In order to have changes to CME students. This research will help them to be more responsible and more discipline.
This Study shows that this school year 2012-2013 for CME student is the most number of violation and and number is multiplying as this school getting close to finish this school year. We hope that this research will serve as a wake up call to our beloved school administration to start building a CME student which is discipline and most of all high in moral. BEHAVIORAL THEORY
Overview of Behavioral Theories
Behaviorism, along with several newer variations that have names like information processing theory, emphasize the learning of facts and skills that authorities, such as teachers or school boards, have decided are important. While these theories have many different names we will use the term behaviorism here. Names associated with behaviorism include John Watson, an American psychologist who was very influential in the 1920s and 1930s. Another American psychologist who had a tremendous impact on education in the 1950s and 1960s. Behavioral approaches to teaching generally involve the following: 1. Breaking down the skills and information to be learned into small units. 2. Checking student's work regularly and providing feedback as well as encouragement (reinforcement). 3. Teaching "out of context." Behaviorists generally believe that students can be taught best when the focus is directly on the content to be taught. Behavioral instruction often takes the material out of the context in which it will be used. 4. Direct or "teacher centered" instruction. Lectures, tutorials, drills, demonstrations, and other forms of teacher controlled teaching tend to dominate behavioral classrooms. General Implications of Behavioral Theories
Behavioral teaching and learning tends to focus on skills that will be used later. You learn facts about American history, for example, because it is assumed that knowing those facts will make you a better citizen when you are an adult. You learn basic mathematics computational skills because you may need them when you get a job. Behavioral learning does not, however, generally ask you to actually put the skills or knowledge you learn into use in a "real" or "authentic" situation. That will come later when you graduate and get a job. The behavioral emphasis on breaking down complex tasks, such as learning to read, into subskills that are taught separately is very common in American schools today. In the elementary school classroom, for example, students may spend many lessons on phonics skills such as consonant clusters, vowel digraphs, and diphthongs. Other literacy skills such as appropriate uses of the comma may also be taught in separate lessons, often by whole class lectures followed by individual drill activities.
Input
* Profile of the respondent
* The nature of the violation/offense(s)
* The effects of violation on academic performance
* To prevent the violation
Process
Output
Causes of violation among DCLC CME students S.Y. 2012-2013
Statement of the problem
The researchers aim to determine the "Causes and Effects in DCLC violations among CME students". Especially the researchers seek to answer the following question. 1. What is the personal profile of the respondent
* Age
* Gender
* Year level
* Course
* Status
* Occupation
2. What are the Causes of violation/offenses?
Major offenses;
* Cheating
* Vandalism
* Use of Prohibited Drugs
* Joining Fraternity
* Brawls
Minor offenses;
* Shouting in the corridors
* Littering
* Lending ID to another
* Not wearing complete uniform
* Smoking inside of school premises
3. What are the Effects of violation on academic performance of students? * Failure in the subject due to absences
* Low performance rate
* Low self esteem
* Warning
* Suspension
* Expulsion in commission of a major offense(s)
4. Prevention of violation
* Counseling
* Announcing of school policy
* Management system
* Self-discipline
* Parental Guidance
Significance of the study
This study provided brief description on various significances on the following categories For the students, this will help them to become a disciplined marine officer and globally competitive professionals. For the teachers, this will help them to control the individual behaviors of the students. For the school organization, this will help them to adjust the school behavioral policies such as attendance regulations and dress codes. To future researchers, for them to have basis for a more profound research for the sake of the students attitude.
Hypothesis
If the student does not follow those simple rules and regulation of school, then the student must be subjected in disciplinary action or counseling.
Scope and Delimitation of the Study
This study focused on regarding the Causes and Effect of violations in DCLC among CME students. The analysis involved of One-hundred(100) CME students who are currently enrolled during 2nd-semester SY 2012-2013.
Assumption:
1. That the data gather are valid and reliable
2. That the variables and indications utilized in this study are sufficient representatives of the categories of this studies 3. That the findings will be utilized to inform the students of Doctor Carlos Lanting College among College of Maritime Education students 4. That the findings will be utilized to improve the character of College Maritime Education students
Chapter 2
Related Literature and Studies: "Causes of Violation among CME students of DCLC S.Y. 2012-2013"
This chapter presents survey of related literature and writing of recognized experts, both of which have significant bearing or relation to the problem. It involves quotation of the author of the books and reference materials that may serve as the basis for sorting out and solving some problems that may be encountered in the development of the proposed study. LOCAL
According to Commission on Filipino Overseas (2000), school policies, rules and regulations are guidelines related to the internal governance of each of the Philippines school overseas, including their prescribed standards, as defined and approved by their respective governing bodies in accordance with law, and the applicable policies, rules and regulations of DECS and its counterpart in the host country. Collective adherence to school, behavioral policies may increase social control and reduce disorganization, which may in turn contribute to a positive safety culture and reduced violence at school. Interventions to increase adherence to school policies are needed particularly during early adolescent school years. All school officials, teachers and other employees or persons hired by the institution and all student leaders as well are persons in authority who are duty bound to enforce the school's rules and regulations.
Also in adherence to the principle of empowerment, all students are enjoined to take active part in ensuring that school rules and regulations are observed. A Disciplinary Board (DB) is convened to resolve disciplinary cases involving major offenses. The DB is composed of the Coordinator of the Student Affairs, Year Level Head Teacher and the Class Adviser of the student concerned. Sanctions for violations can be oral warning or reprimand, written warning, suspension, community service, academic sanctions, disciplinary probation/serious disciplinary probation (DP and SDP), exclusion or dropping from the rolls and expulsion. Wilma Guez and John Allen (2000) conducted a module entitled "Behavior Modification", prepared in Uganda, and states that school is one of the roots that causes of certain behavior. Beside the family, the school has probably the most important socializing influence on children and young people.
FOREIGN
Elton Report, DES, 1989 states that: "Research evidence suggests that pupils' behavior can be influenced by all the major features and processes of a school. These include the quality of its leadership, classroom management, behavior policy, curriculum, pastoral care, buildings and physical environment, organization and timetable and relationships with parents." The secondary education issue I have chosen to focus on for this presentation is Whole School Behaviour Policies and how such policies can influence the teaching and learning experiences in school through the use of sanctions and rewards. I chose this area to focus on because, as a student teacher on a teaching placement, behaviour in schools is one of my biggest concerns and also because, according to the Elton Report and other literature I have read, it appears that this is a major area of concern throughout secondary schools in the UK. The Elton Report, a national enquiry into discipline in schools, was established by the Secretary of State for Education and Science in March 1989 in response to concern about the problems facing the teaching profession.
Their task was to "recommend action to the government, local authorities, voluntary bodies, governors, headteachers, teachers and parents aimed at improving behaviour in schools for effective teaching and learning to take place". (Elton Report, DES, 1989) The Elton Report has formed the basis of much of the current legislation on school behavioural policies and offers guidance for schools in drawing up their own behaviour policies.
According to another writer Walker . (1995), students with recognized behavioral problems should be taught together with normally behaving children to discourage escalation of a hostile environment among the students; reduce the stigmatization of the students with behavioral problems if there exists so; made known to the other students that intervention skills and efforts are being initialized by the educators should any student need help; assist with monitoring and skill encouragement throughout the day and; maximize generalization. Some trials and research are currently being funded by private institutions in order to address the problem that is becoming rampant among students and further behavioral approaches are continuously being tried to come up with a specific, highly individualized effective methods of treating behavioral problems.
It is deemed necessary for the proper developmental and behavioral growth not only of the learners but also of the future. Some of the most cited approaches used in the United States of America include self-talking, combination of behavior therapy and cognitive meditation [Kendall, 1993] promotes the development of a paradigm of "coping template" for individuals. Problem solving and analysis also serves as a good medium for healthy expression of anger and resentment among students. It is essential that during the period when a child faces harms, the adamant support and understanding of parents is the key to positive transition of a young mind from having problems to finding solutions.
In the Philippines for example, it is pragmatic that in myriad of school problems and environmental discrimination, a strong support system consists of parents, second degree kin and the like are always present which therefore promotes a more positive outlook on school and the studying years. Another set of probably efficient tactic to prevent behavioral development is the strengthening of family functioning. This tactic includes eliminating coercive parenting, rewarding of positive behaviors, also known as positive reinforcement and expression of clear expectations. Needless to say, the community where the children are growing and communicating with should be made safe, supportive and conducive for growing and learning.
The burden of corrective and preventive measures for suppressing behavioral problems in young ones should not only be solved inside the corners of the learning institution. It is a joined effort between the home/ family where a growing child is moving, the community where they are interacting with, and the school where they meet their second parents. Only the conjoined exertion of all the factors mentioned in the earlier sentence will make the goal for the students possible. Another author Kauffman claims that (2002)Due to a number of factors ranging from domestic maladroit dilemmas to environmental stressors and interpersonal adjustments, pressing workload on students and identity establishment, they have to combat and succeed the challenges of everyday at home, inside the walls of their learning institutions or generally in the environment should they wish to thrive and blend in perfectly.
Being a student is both tumultuous and blissful. Having young minds like they possess, it is certain that they are vulnerable to stress and maladjustment patterns develop when they are overwhelmed by stress. Greater than average grades and happiness during their learning years become remote when support from teachers, parents and communication lines are not available. In fact, without adequate behavioral support, these students are at risk for poor overall school adjustment, greater than average rates of school dropout, increased rates of juvenile delinquency and adult criminal activity, and clinical problems [Kauffman, 2001]. Anger, aggression and disruption are among the few very prevalent misdemeanors observed among youth.
Greater rates of school policy violations were associated with greater rates of school crime. The strongest association was between substance use violations and crime (high school: rate ratio [RR], 3.4, 95% confidence limit [CL], 2.6-4.6, middle school: RR, 3.8, CL, 2.6−5.4, elementary schools: RR, 2.4, 95% CL, 1.6−3.6). A one-unit increase in the weekly truancy rate per 1000 students was associated with a six fold increase in the crime rate at the middle school and a 10% increase at the high school but had no apparent association with crime in elementary schools. A one-unit increase in the weekly dress code violation rate was linked to a 20% increase in crime at the high school. They found out that Collective adherence to school behavioral policies may increase social control and reduce disorganization, which may in turn contribute to a positive safety culture and reduced violence at school. Interventions to increase adherence to school policies are needed particularly during early adolescent school years. This is based on the study conducted by Marizen Ramirez, PhD, Rizaldy R. Ferrer, PhD, Gang Cheng, MS, Joseph E. Cavanaugh, PhD, Corinne Peek-Asa, PhD. (published online 26 November 2010)
Chapter 3
Methods of Research
This chapter presents the methods and procedures, which the researcher applied to gather the needed data. It includes the research design, respondent, sampling techniques, instruments with its construction, validation, administration and retrieval, and statistical tool and treatment of data
Research Design
The researcher utilized the descriptive method of research. The descriptive research approach is a basic research method that examines the situation, as it exist in its current state. Descriptive research involves identification of attributes of a particular phenomenon based on an observational basis, or the exploration of correlation between two or more phenomena.(Journal of business & economic research- March 2007). It is concerned with finding out what, when, where, or how much, then it is descriptive research.(Donald R. Cooper, Pamela S. Schindler, 2008).
Respondents
The researchers chose one-hundred (100) CME students enrolled at Dr. Carlos S. Lanting College (DCLC).for the 2nd semester SY 2012-2013. This number is considered reliable enough to gather the needed responses for valid analysis and interpretation.
Instruments and techniques
The researchers used the following tools in gathering the needed data for the study: Questionnaire. It was the primary source of data. It contained questions, which answered the problems stated in chapter 1. The respondents checked the item/s that correspondents to their answer to the question. The responses were given numerical values, which were computed using the needed statistical tool.