Causes of Substance Abuse Essay Sample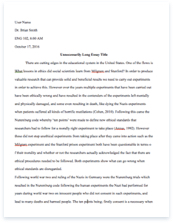 The whole doc is available only for registered users
OPEN DOC
Pages:
Word count: 384
Category: abuse
Download Essay
A limited time offer!
Get a custom sample essay written according to your requirements urgent 3h delivery guaranteed
Order Now
Causes of Substance Abuse Essay Sample
Over the years many young people especially of the age bracket of 12-25 have actually perished or got wasted up due to substance abuse. In order to help reverse this trend I would propose for an Elaborate Educational program on the causes of substance abuse since I believe that to fully solve this problem one should first tackle the underlying root causes of substance abuse.
Drug abuse can be generally described as the act of using a substance or drug excessively or for other purposes that it was not medically intended for. (Zili slobada et.al 2003, p.46)There are numerous causes of Substance abuse among the youth among which include: Biological factors that relates to genetic abnormalities, endocrine imbalance, nutritional deficiencies as well as allergic responses. Socio cultural causes may include peer pressure, the ease by which one can get the substance, social attitudes as well as stressful lifestyle. Psychological cause's factors the burning need to take drugs in order to reduce the symptoms or anxiety of a mental illness, need to improve self esteem as well as to avoid ones responsibility. (Zili Slobada et.al 2003, p.48)
Research shows that more than 37% of the youth of America have a problem with substance and drug abuse. It's against this revelation that a proper educational program on the causes of substance abuse would be quite important and timely. The educational program will thus seek to serve the following goals: Create awareness on the basic causes of substance abuse, educate the youth on how to keep at bay from drugs and substance abuse and also enlighten the target audience(the youth)on the eventual effects of substance abuse on their health .(Zili Slobada et.al 2003,p.48)
In order to achieve the above goals the educational program on the causes of substance abuse will seek to work together with various groups of youth in their very social setting. The instructors will hold talks and deliver speeches on the causes and eventual effects of drug abuse in schools around the country. In order to reach a larger audience brochures and flyers containing useful information about drug abuse will also be availed to the target audience (the youth)
Reference
Zili slobada et.al (2003) Handbook of drug abuse prevention: Theory science and practice, Spinger
Publishers, pp.46-60