Change Management in Schools Essay Sample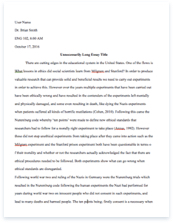 The whole doc is available only for registered users
OPEN DOC
Pages:
Word count: 2652
Category: School
Get Full Essay
Get access to this section to get all help you need with your essay and educational issues.
Get Access
Change Management in Schools Essay Sample
There are many challenging issues facing the School this academic year. Some will prove complex in nature and no doubt difficult to implement, however if we are to continue to provide a high quality service and excellent value for money, while maintaining our current educational status, these changes must be executed smoothly and effectively. The School has recently experienced an upward spiral in both increased pupil numbers and improved exam results, which together with good process management has culminated in an excellent OFSTED inspection in January of this year. As can be expected from such results all staff associated with pupil education are motivated and feel part of a successful team which in turn exudes a feeling of confidence and stability within the local community. The exception to this is the catering department operated by external contractors (within the Local Authority) who provide meals for our pupils and staff. This arrangement results in school having little or no control of the service or food provided.
This study coincides with the process of Job Evaluation presently being implemented by LA, hence it is an opportune time to review and if necessary revise the control and management of the catering department thus aligning it with the standards expected and provided in all other areas of the school.
Reasons for the Change
Due to the directives included in the Every Child Matters and Extended School's agenda there is clear reason to review the quality of provision service within the school. Issues exist with not only the quality of the service but also in the general alignment with the school's strong teamwork ethics and forward thinking, modern approach.
The school experiences difficulties with both communication and any attempt at change of practice with the external provider, however this contrasts with the catering staff who, in general, are eager to assist but inevitably must follow their employer's instruction.
Considering the five organisational cultures suggested by Bush (1995) the school performs within a formal structure nevertheless the underlying current can be political, this reflects in a "them and us" culture adopted by catering staff, which ultimately results in minor conflicts. This misalignment supports the basis for school to re-establish control and manage a service we are providing and being judged upon, however I do not envisage the change being readily accepted by all current catering staff.
The results of a PESTLE analysis – Appendix 1 determine internal and external factors to support the change of provision which have been analysed revealing the following factors:
Internal Factors that Support the Change
➢ The team-working environment is being challenged by a minor factor.
➢ Opportunity to have direct control over food and service provided.
➢ Curriculum topics could be supported by themed food weeks.
➢ Catering staff could provide breakfast for extended services (Breakfast Club) releasing support staff.
➢ Services could be hired out for meetings, occasions and promotions.
➢ Opportunity to improve working relationships and promote the vision and values of the school.
➢ School would have more financial control and opportunity to assess value for money and cost effectiveness.
➢ Opportunity to develop nature area, encourage children to plant and harvest food for their own consumption.
External Factors that Support the Change
➢ Initiatives such as "Every Child Matters" agenda and provision of Extended School services.
➢ Meeting Department of Health targets to halt the increase of childhoodobesity by 2010.
➢ Opportunity to provide services to support Community Cohesion.
➢ Promotion of PHSE&C provisions.
➢ Implementation of Local Authority Job Evaluation provides opportunity for change.
➢ Opportunity for sustainability by growing some of our own provisions.
The first stage in the process of managing this change is to consider its nature and scope in more detail. The strategic change is concerned with moving toward our future state/vision, incorporating internal resources, capabilities, structure and systems, which will require thorough analysis, formulation and planning.
Understanding the Pressures For and Against Change
Having identified the necessary change the next stage was to communicate the intent to those who would be affected and those essential to the implementation process. Hence:-
Meeting 1 -SMT to discuss the proposition, viability and approval to further investigate the proposal.
Meeting 2 -Informal discussion with catering staff to ascertain perceived impact on individuals.
Meeting 3-Meet with current catering provider to discuss any contractual agreements with staff and suppliers, specifically notice periods, funding and hand-over planning.
Meeting 4 -Discussion with Human Resource department to consider exchange in contracts etc
The above process was enhanced by the addition of information collected from parents, pupils and stakeholders regarding their thoughts and expectations of the catering provision. Questionnaire – See Appendix 2.
Using the information gained from the meetings and questionnaire I completed a Force Field analysis (Lewin 1951) to identify the drivers that support the change and, conversely, the barriers that oppose it.
Proposed Change – Change of Catering Provision
Driving ForcesRestraining Forces
+%5 0 -5 |Control of Staff |Staffing – responsibility of others | | 5 | 4.5 | |Improve catering provision |Taking ownership of a speciality field | | 5 | 4 | |Timing inline with LA Job evaluation |Training may be required | | 5 | 3 | |Staff already in place |Negative response from Catering provider | | 4 | 3 | |Resources available |Costly in initiation | | 5 | 3 | |Opportunity for whole school improvement |Lack of understanding for shared responsibilities | | 4 | 4
|
When both driving forces and restraining forces are equal, or the restraining forces are greater, change cannot and should not occur. In this instance the diagram above indicates change is possible, as the driving forces outweigh the restraining forces. However, the restraining forces cannot be dismissed and consideration to reduce their impact must be evaluated, which can be achieved by: • Explaining the necessity.
• Eliminating fear of change.
• Demonstrate to staff that change is necessary to comply with future vision.
• Training staff in new ways of working resulting in more control of their own environment, promoting variety and interest in their roles.
• If revenue was increased, incentives could reflect new productivity.
"The human spirit does not adapt immediately to change" Mikhail Gorbachev
Change often involves learning something new or different therefore many people fear change. As our workforce is our greatest asset we must consider their emotional reaction.
By considering and understanding the Seven Dynamics of Change (Blanchard 1992) we can begin to anticipate the reactions and questions employees may have. The analysis of these pre-empted scenarios will allow the formulation of a considered, diplomatic response. Clearly the success of any new working practice ultimately lies with the ability of the change managers to address both emotional and practical obstacles.
Analysis of Key Changes Necessary
In order to identify the key changes a Gap analysis was completed to determine current and desired future states thus highlighting the route to change. This produced a clear indication of future needs and an opportunity to better understand why the current problems are occurring and how we can minimise potential threats in the future. Appendix 3.
In order for this change to succeed a large amount of preparation is needed in respect of:
o Examining the market, identify how other schools have implemented similar change, source suppliers and discuss new ideas. o Assembling a group of people to motivate collaboration. o Promoting the future state to help direct the change.
o Communication – utilising every medium possible to constantly communicate the new vision and strategies. o Removing obstacles – if necessary changing systems or structures that undermine change. o Planning for visible improvements in the service, then recognising and rewarding those involved. o Restructuring the catering department, hiring if necessary and developing people who can implement the change. o Anchoring new approaches in the culture by articulating the connections between new behaviours and organisational success.
In order to analyse how well the school is positioned to achieve these intended changes, I studied the theory of Handy and Aitken (1998) Seven S framework. The basic premise of the model being that there are seven internal aspects of an organisation, which need to be aligned if it is to be successful. The manner in which the model is presented in Appendix 4 depicts the interdependency of the elements and indicates how a change in one affects all the others. Once this management tool is applied it immediately becomes apparent how it is able to assist in the planning process and ultimately achieving the end goal. Appendix 5.
"Change has a considerable psychological impact on the human mind. To the fearful it is threatening because it means that things may get worse. To the hopeful it is encouraging because things may get better. To the confident it is inspiring because the challenge exists to make things better". Whitney M Young JR
Conclusion
This is a substantial change in a small school, although it has been discussed and proposed previously no one has had the impetus, time or motivation to proceed. The present environment provides both an opportunity and catalyst for structural changes in the workforce. By studying and presenting this project I can envisage the many advantages it will create and, as the SBM, am eager to take control and bring about this change. Knowledge gained from previous studies will be interlinked with the concepts and strategies as detailed in this plan to produce a successful outcome for the benefit of the whole school.
Appendices
Appendix 1 -PESTLE Analysis
Appendix 2 -School Meals Questionnaire
(website and paper copies available)
Appendix 3 -GAP Analysis
Appendix 4 -The 7 S Framework
Appendix 5 -Alignment of the 7 S Framework
Appendix 2 -School Meals Questionnaire
Q1 – Which of these statements best describes what your child usually does at lunchtime? Please circle one option only.
Has a paid meal
|Takes a packed lunch |
Has a free meal
Goes home
The 7 S Framework is a management model that describes 7 factors, which together, determine the way in which organisations operate. These seven elements are all interdependent, so failure to consider one of these factors may affect the others. In implementing the catering changes, all seven of these factors will need attention.
Shared Values
Central beliefs and attitudes.
Strategy
Plans and direction, over time, to reach identified goals.
Structure
The way in which the organisation's units relate to each other.
Systems
The procedures, processes and routines that characterise how the work should be done: child care decision making; financial systems; recruitment and performance appraisal systems; information systems.
Staff
Numbers and types of personnel within the organisation.
Style
Cultural style of the organisation.
Section 2
Report to the Senior Leadership Team
A study of the possible change of Catering Provision at School
Strategy Related to the Change of Catering Provision
The Primary School has used the same provision for catering for many years even though there have been occurrences of lack of communication, poor flexibility to provide or change working practices. If the decision for change was authorised I, as SBM, would ensure effective implementation by:
← Articulating the change vision – staff involved must accept the vision and understand the need for change, if this is not understood the next steps in the transformation process will fail. Good two-way communication is essential. ← Empowering individuals – promotion of positive experience for all involved, allowing opportunity for staff to make choices. ← Creating short term wins – implement slowly and show recognition of success. ← Providing emotional support for all involved.
Analysis of Culture
At present the school has little involvement in any aspect in the catering provision, which has created a "them and us culture". This culture will greatly hinder any change and as SBM I would communicate clear guidelines and provide strong support with additional guidance from the SLT. I understand and expect some resistance however, by sharing our responsibility for success and encouraging mutual respect I would hope to gain trust, commitment and support. Developing a sense of purpose in doing what is right for them and right for the school will encourage staff and inspire them to continue.
Present and Future Scenarios
The current situation in this department does not accurately depict the environment and standards in the rest of the school and we have clearly become complacent with this arrangement. In order for the school to have a "whole school" approach this issue must be resolved. The completion of the
Gap analysis (Appendix 3) highlights what should be implemented to reach our desired situation.
In considering the human factor of change my position within the SLT would need to be recognised, demonstrating the pivotal role from which I could champion the process of change.
Forces at work and how they will affect my approach
I believe one of the major driving forces is the opportunity to make these changes inline with the Local Authorities Job Evaluation process, this is a window of opportunity and limited in duration hence it is necessary to create a sense of urgency. Creating momentum is a crucial aspect in gaining the needed cooperation amongst staff thus avoiding complacency and hence reducing risk of failure. I also believe a committed, enigmatic leader can stimulate such momentum and greatly enhance the chances of success.
In time I intend to further investigating the opportunity to develop the service as a "business" that could provide school with a potential source of income, as well as promoting this service for extended school provisions and community cohesion.
Conclusion
My recommendation to the SLT is to familiarise themselves with the contents of the report, after which I would suggest serious consideration be given to our present situation and the improvements detailed herein that could be realised by moving forward with this change of provision.
The school has moved forward dramatically over the last five years and this has been achieved by embracing a clear vision and taking the necessary calculated leaps of faith into the future.
If we continue without change…………………….nothing will change!
Bibliography
Belbin, R M, 1993, Team Roles at Work, London, Butterworth-Heinemann
Blanchard, K, Donald, C & Parai-Carew, E, 1996, The One Minute Manager Builds High Performing Teams, New York, Harper Collins Business
Brown, M & Rutherford, D, 1998, Changing Roles and Raising Standards, School Leadership and Management, 18(1), 75-88
Davies, B & Ellison, L, 1999, Strategic Direction and Development of the School, London, Routledge
De Jager, P, 2001, Resistance to Change: A new view of an old problem, Futurist, 35(3), 24-8
DfES, 2001, Schools achieving success, CM 5230, Nottingham, DfES
DfES, 2003, Every Child Matters, CM 5860, Norwich, HMSO
DfES, 2004a, Five Year Strategy for Children and Learners: Putting people at the heart of public services, CM 6272, Norwich, HMSO
DfES, 2005b, Extended schools: Access to opportunities and services for all: A prospectus, Nottingham, DfES
Druskat, V U, 2001, Building the emotional intelligence of groups, Harvard Business Review, 79(3), 80–91
Everard, K B & Morris, G, 1996, "font17">Effective School Management, London, Paul Chapman Publishing
Kotter, John P, Leading Change, Harvard Business School Press
O'Sullivan, F, Thody, A & Wood, L, 2000, From Bursar to School Business
Manager: Re-engineering leadership for resource management, London, Prentice Hal
Stoll, L and Fink, D, 1996, Changing Our School: linking school effectiveness and school improvement, Buckingham, Open University Press
Websites
www.everychildmatters.gov.uk
www.ncsl.co.uk
www.teachernet.org.uk
www.tda.gov.uk