Chapter 1 of "Great Expectation" by Charles Dickens Essay Sample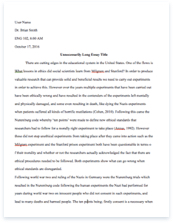 The whole doc is available only for registered users
OPEN DOC
Pages:
Word count: 1277
Category: dickens
Get Full Essay
Get access to this section to get all help you need with your essay and educational issues.
Get Access
Chapter 1 of "Great Expectation" by Charles Dickens Essay Sample
Dickens generates interest in Pip and also makes you feel sorry for him through the use of many techniques. One of these techniques is in the manner he explains Pip's name. Dickens describes how Pip taught himself his name from his father's tombstone and also of his sister "Mrs. Joe Gargery". He learned his family name Pirrip from his father's grave and his sister, Mrs Joes Gargery, taught him that his Christian name was Philip. Pip's "infant tongue could make of both names nothing longer or more explicit than Pip", so this is what he called himself.
The manner in which Pip tells us about his family is interesting. It starts off with us knowing that only his father is dead, but through time it
builds up to tell you that his mother is also dead along with his five little brothers. Pip imagined what his parents would have looked like. He imagined his father as, "square, stout, dark man, with curly black hair". Pip imagined his father like that due to the shape of his tombstone and the shape of the letters on it.
He imagined what his mother looked like by the shape of her tombstone and from the "character and turn of the inscription", which said "Also Georgiana Wife of the above".
Pip said that he drew a childish conclusion that his mother was "freckled and sickly".
He also said that his brothers "gave up trying to get a living exceedingly early in that universal struggle".
Dickens generates feelings of both interest and sympathy, at the same time, through the effective description of the surroundings. "marsh country, down by the river, within, as, the river wound, twenty miles of sea" He describes it as their "marsh country" as if it belongs to him.
"distant savage lair from which the wind was rushing" makes it sound gloomy and sombre.
This is also linked to the way Dickens' presentation of the convict immediately grabs our attention by going straight into the convict's speech with no build up. "hold your noise! cried a terrible voice, as a man started up still, you little devil, or I'll cut your throat!". This gets our interest because we want to know who it is.
Something else, which immediately draws us in is the manner in which Dickens describes the convict. The convict is described as "A fearful man, all in coarse grey with a great iron on his legs". The words "fearful", "grey" and "iron" are used to emphasis the convict's powerful masculinity.
Dickens also wrote "A man with no hat, and with broken shoes, and with an old rag tied round his head" that describes him as an un-presentable person who looks bedraggled and impecunious.
Dickens finally describes the convict "A man who has been soaked in water, and smothered in mud, and lamed by stones", which leads the audience to believe he was a man who has been travelling on foot for a long time possibly a runaway.
Dickens also creates a powerful contrast between Pip and the convict; by the contradicting nature of their speech. The convict speaks in an improper uneducated manner and doesn't ask Pip question he just orders him to "tell us your name!", with no manners at all. In this quote the convict is being very impolite and he is dominating Pip.
Pip's language is the complete opposite, even though he is being shouted at. His language is well formed and polite English. As he says, "There sir", "yes sir" and "my sister, sir". The word "sir" indicates that even though he is being treated badly he still manages to maintain his decorum.
The difference in the language is also mirrored by the convict's actions towards Pip. These actions are vicious. "turned me upside down, and emptied my pocket", shows that the convict is demonstrating his physical superiority. This also highlights the difference in their moods. Clearly Pip will be feeling unhappy and more than likely scared, "After each question he tilted me over a little more, so as to give me a greater sense of helplessness and danger" shows the fear experienced by Pip. The convict felt different, "with a threatening shake of his head", this means that he was unpropitious and probably feeling withstanding and maybe important.
As well as the difference in their language, the violent nature of the convict speech creates a powerful effect. "Or I'll have your heart and liver out" demonstrates that he is violent and evil and it creates a powerful atmosphere because it is building up the tension and you are concerned for Pip's well being.
Another thing, which creates a powerful effect, is the way in which the convict repeatedly refers to "the young man". "But that young man will softly creep and creep his way to him and tear him open" this means that wherever Pip is, if he doesn't do what the convict says, that the "young man" will be there. He is threatening Pip and using the young man to do it.
Another quote is "You never dare say a word or dare", the use of the word "dare" twice emphasises the threatening manner of the convict, showing that he is a violent man and if Pip does disagree he will get hurt.
Additionally, Dickens description of the convicts movements confirms the impression that the convict is frightening and violent. "Hugging himself in both arms, and picking his way with his sore feet" this makes the convict sound needy and unhealthy. The words "sore feet" make it sound like he has been walking barefoot for a very long time. It also gives the impression that the convict is in a bad state and this therefore makes him look terrifying.
In the final paragraph Dickens creates a strong sense of atmosphere. One of the parts that contribute to this atmosphere is the manner in which Dickens creates the landscape. "The marshes were just a long, black, horizontal line" and "The River was just another horizontal line, not nearly so broad nor yet so black". Dickens is comparing the river to the marshes. He is saying the marshes are broader that the river but they are both like horizontal lines and also that the river isn't as black as the marshes. This describes the landscape as tranquil and that it would be subset, which is very atmospheric.
The final description of the convict is also very atmospheric. "The man was limping on towards this latter, as if he were the pirate come to life", this quote is a simile, as Dickens is comparing the limping convict to a pirate come to life. A pirate being a character that everyone can associate with as being frightening.
The last thing that creates a strong sense of atmosphere is the description of Pip's emotions. "I was frightened again and ran home without stopping", this is the last line of the chapter and leaves it as a cliff-hanger, showing that the convict did scare Pip by being such a frightening man.
In conclusion I think that chapter 1 is one of the most memorable in English Literature because of the way Dickens builds up the tension all the way through the first chapter. From gaining our interest and sympathy for Pip at the same time and the way that he has also created a dramatic contrast between the two characters Pip and the Convict. Finally, the first chapter ends with the audience on the edge of their seats when Pip is running home.