Charles Dickens Uses to Create the Two Important Chapters Memorable Essay Sample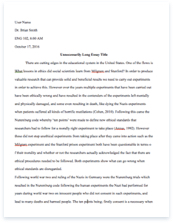 The whole doc is available only for registered users
OPEN DOC
Pages:
Word count: 1866
Category: dickens
Get Full Essay
Get access to this section to get all help you need with your essay and educational issues.
Get Access
Charles Dickens Uses to Create the Two Important Chapters Memorable Essay Sample
Charles Dickens, born on the 7th February 1812, lived a hard life. At the age of 12, young Dickens was removed from school and sent to work in a blacking factory. He considered this to be the worst time of his life although, his childhood contributed greatly towards his literate work. He also had a great deal of compassion for the lower classes, especially children and wrote a number of novels. 'Great Expectations', a story of a young male child called Philip Pirrip (nicknamed 'Pip'), is about an orphan who has lost most of his family but is raised by his last surviving sister and her husband.
The story begins in a semi-rural area in England where the reader firstly meets Pip. Pip a young but impressionable boy is visiting the graves of his dear family – father, mother, brothers and sisters he barely knew. Pip however comes face to face with an escaped convict, Abel Magwitch. Although their confrontation is fierce, Magwitch has a great influence on Pip's life later.
Dickens uses the surrounding settings of the opening chapter to create a bleak threatening mood. This is of a descriptive and dramatic scene, which allows an increase in the realism for the reader. Evidence of this is; '…on the authority of his tombstone.' The word TOMBSTONE brings the reader to imagine a graveyard, dark and sinister. Other evidence of a bleak, frightening surrounding is the word bleak itself; "I found out for certain that this bleak place, overgrown with nettles, was the church yard". Dickens shows you exactly what the area looks like, that Pip is in from the opening chapter and throughout the whole novel.
Dickens opens the scene with a dreamy setting of a marshy area in the middle of the country describing the shape of the field and rivers. Evidence is; 'Ours was the marshy country, down by the river…' and '…that the low leaden line beyond was the river'. This could explain that Pip could be in a lower class than most of the people living in big houses anywhere near the city. The Victorian readers wouldn't have been surprised at this because most fortunate or affluent people would have lived in towns or cities because they could afford it. The modern reader on the other hand, would feel sorry for Pip because he is poor and underprivileged, although some readers would have seen living in the country as a dream and would at least want to experience it.
His presentation of the scene, not only helps understand where Pip is, but what he is going through as he is portrayed firstly, as a younger and smaller person compared to Magwitch who is two to three times Pip's size. This main difference is shown as; 'He looked into my young eyes…' The second point being that Pip as a young boy, bullied by an adult would have really created a strong hatred towards Magwitch by both the Victorian and modern readers, ultimately describing cruelty such as harsh language, bullying and the inability of a young boy to defend himself from these obstacles in life.
The third portrayal is of Pip's physical features and an important part of the chapter, because it shows how imaginative the author is about what Pip's parents looked like. Evidence of this is; '…gave me an odd idea that he was a square, stout man…' and 'I drew a childish conclusion that my mother was freckled and sickly.' Dickens' Victorian reader would have been very impressed with Pip; because even though he's alone and sad he can still bring himself to picture his parents' faces and relive some of the sadness. The modern reader would have reacted in a similar way but would have been less impressed with his creativity because of culture change.
His fourth presentation point of Pip in the first chapter is him as a lonely child who has no real family to love and take care of him is evidenced by a quote,
'I never saw my father or my mother…'
Pips' presentation helps create an innocence about him, which helps get the readers on his side and against Magwitch. They would feel remorse about what happened to Pip, his family and his life's hardships.
In Pips fifth presentation, Dickens demonstrates how respectful and obedient Pip is as a child towards Magwitch through his language, body gestures even though in every way even though he's been bullied and insulted in a way. Dickens shows evidence of this by; 'Oh! Don't cut my throat, sir…' Even though Pip is scared, his choice of words astonishes the readers because Pip shows respect, politeness and compassion towards Magwitch by using very polite and respecting words like 'sir'. Pip is shown in a polite manner to demonstrate how different he is when he's compared to Magwitch.
Dickens' first presentation of Magwitch in the first chapter is as a convict. Dickens shows this in the sentence "…a great iron on his leg." The quote describes a convict with big lock and chain on his legs. The Victorian readers would have seen this as being terrible and evil, although the modern readers wouldn't have been as harsh in their judgments, but would have seen Magwitch as being a bad person because he's a criminal and he's intimidating.
Dickens presents Magwitch as a frightening man to create a difference between him and Pip. Dickens give evidence as text; "…a fearful man all in coarse grey…" This quote taken from the text describes what Magwitch looks like. It creates an image of a villain and dickens would have created him in this image to frighten the readers to in a way being more biased towards Magwitch than Pip. The Victorian readers would have seen Magwitch as pure evil because of his inappropriate dressing. The modern readers would have seen Magwitch differently because of differences between the Victorian and modern cultures. The modern readers would probably have seen Magwitch as a poor escaped convict.
Magwitch's character is also presented as a violent cruel man. Dickens shows this by getting Magwitch's character to bully Pip and treat him badly. This is shown in the text; "…turned me upside down…" The Victorian readers would have seen this as one of the worst physical things that a person like Magwitch can do to a small young child like Pip. The readers would also have seen this as bad mannered which is not what a gentle man would do. Although the modern readers would have similar opinions, they would see Magwitch like a school bully, turning class mates upside down and taking their money away.
Dickens finally presents Magwitch as an agitated man who gains status by bullying smaller people like bullying Pip, a helpless child. Magwitch is also seen as a ruthless cunning man who eventually takes refuge by lying to Pip about another young man who's supposed to kill Pip if he tells anyone about Magwitch or if he refuses to cooperate. Evidence of this is shown as; "There's a young man hid with me…I am keeping that young man from harming you…" The Victorian and modern readers would have been disgusted with Magwitch because a strong big man like him has resorted to lying to a Pip who is three to four times smaller than Magwitch. The readers would also be frightened of Magwitch's threats because he is a criminal and normally shouldn't be lying about his threats. The readers would compare Magwitch to Pip and would probably like Pip because he's not at all as horrible as Magwitch is.
Charles Dickens uses dialogue in the opening chapter to show the readers that Magwitch has a higher status than Pip. "Keep still, you little devil, or I'll cut your throat!" This is an important part of the chapter because it shows the readers that Magwitch has a higher status than Pip, even though Pip is a better character by heart. Dickens also uses dialogue to show both characters Magwitch and Pips personalities and to show who is a good, innocent character. Magwitch is shown as an evil character through his speech; "what fat cheeks you ha' got"….. "Darn me if I could eat'em." Dickens' Victorian readers would have thought of this as repulsing and evil because the Victorian readers see Magwitch's speech as a threat and not as a joke unlike the modern readers. Pip on the other hand is seen as a graceful figure through his speech; "Oh! Don't cut my throat, sir"… "Pray don't do it, sir." Pips words; "Pray don't do it" would influence both readers decision, because his word 'Pray' would have been seen as religious. The modern readers would have mainly seen Magwitch's words as a joke but as the Victorian readers did, as a treat too. The readers would have seen Pip as feeble because Pip actually begs Magwitch not to hurt him in a polite way.
Dickens shows the characters class using the dialect of both Magwitch and Pip. Evidence of this is firstly in Magwitch's speech; "you young dog…" Magwitch's dialect choice of words would have helped the readers to see that Magwitch is a lower class because Magwitch uses a slang type of language which is not suitable in a normal public conversation. Pip's speech; "Goo-good-night, sir." would have told the readers that Pip has been grown up in a respectable surrounding which also tells the readers that Pip is a higher class because of his politeness. Dickens displays how polite Pip is to an escaped convict Magwitch. Evidence of this is; "Pip. Pip, sir." Even though Magwitch is horrible to Pip, Pip is always polite to him. Both readers would have seen Pip's behaviour as astonishing, because as Magwitch is a criminal which would be the lowest class any person could get to, not many people in the Victorian days would want to respect a person who is evil and disgraceful. Unlike Pip.
Dickens uses the dialogue to show the readers how Magwitch is more of a threat to Pip than Pip is to him. Evidence of this is; "…your heart and your liver shall be torn out, roasted and ate." Dickens' use of the dialogue shows the readers that Magwitch is a threat to Pip because he may betray Pip and harm him. The readers would believe this because the would have already seen that Pip is gullible and would believe that if he helps Magwitch he wont be hurt. This leads to stereotype. Dickens comparison of stereotypical views readers have on criminals to what Pip has on Magwitch is shown in historical knowledge and Pip's view is in his dialogue; "If you would kindly please to let me keep up right, sir…." Victorian communities practically hate criminals, and wouldn't ever respect them. This is shown differently with Pip. Pip actually respects Magwitch and doesn't blame him for anything he's doing. Some of the modern readers would have seen Pips actions as wonderful although some would rather let Magwitch suffer. The readers would have seen this as forgiving and a heavenly thing to do.