Chemistry Lab Report Example Essay Sample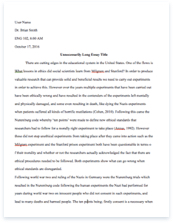 The whole doc is available only for registered users
OPEN DOC
Get Full Essay
Get access to this section to get all help you need with your essay and educational issues.
Get Access
Chemistry Lab Report Example Essay Sample
Requirements:
Heating Block
Cyclo Mixer
Micropipettes
Depyrogenated Micro tips
Depyrogenated 10 x 75 mm Borosil glass reaction tubes
Depyrogenated 13 x 100 mm Borosil glass tubes
Lysate
Control Standard Endotoxins (CSE) E.coli (10 Ng/vial)
LAL Reagent Water (LRW)
Depyrogenation:
All the glass wares are depyrogenated in a hot-air oven at 250o C for 30 minutes.
The method used for detection:
Gel Clot Method.
Control Standard Endotoxin(CSE) stock solution:
 The CSE solution is prepared using Endotoxins reference standard.
 Preserve the reconstituted concentrate in the refrigerator or 2-8oC cooling cabinet.
Reconstitution of CSE:
Reconstitute entire content of CSE vial using 5 ml of LAL reagent water.
Mix for 30 minutes in a cyclo-mixer.
Initial dilution is of 20 EU/ml. i.e.
RSE/CSE Ratio of geometric mean end points: 10 EU/ng
10 EU / ng * 10 ng / vial = 100 EU/ vial
100 EU/ vial/ 5 ml/vial = 20 EU/ ml (CSE Reconstituted Potency)
(EU/ ml = IU/ ml)
Make serial dilutions with the help of this dilution.
Mix all the contents well for at least three mins.
Mix the dilution for at least 30 secs before proceeding to the next step.
CSE dilution of different concentration shall be prepared before performing the test.
Prepare the dilution as per the given table.
Preparation of Limulus amoebocyte lysate (lal) working solution:
Use a LAL reagent of conformed sensitivity.
Remove the LAL reagent vial from the refrigerator and place it to acclimatize with the room temperature.
Reconstitute the lyophilized LAL with LRW as indicated on the vial test.
Swirl gently to dissolve, avoiding liquid contact with stopper.
 Add 0.1 ml of reconstituted lysate into each tube.
Add LAL reagent first in the negative control, then samples, positive product control and followed by positive controls.
Testing the sensitivity of the LAL reagent:
A std. solution is made of the following concentrations equal to 2λ, λ, λ/2, λ/4 diluting std. endotoxins stock solution (20 EU/ml) + LRW.
2λ = 0.25 EU/ml
Λ = 0.125 EU/ml
λ/2 = 0.06 EU/ml
λ/4 = 0.03 EU/ml
Mix a volume (100 µ ltr.) of the lysate solution (0.125 EU/ml) and a volume (100 µ ltr.) of one std sol in different tubes of 10 x 75 mm.
Incubate the reaction mixture at constant temperature and time (usually at 37oC for one hour).
It is crucial to forming a firm gel; then the only result will be recorded as positive. For this, take 1 test tube from the incubator and completely invert that at an angle of 180o.
Preparation of Test Solution:
Dissolve the active materials using LRW up to maximum level (M V D) at which the endotoxins limit can be determined. The Endotoxins limit active substance administered parenterally is expressed as IU/ml or IU/mg. Etc. in monographs.
MVD (maximum valid dilution) = Endotoxins limit x Concentration of test solution
Lysate Sensitivity (X)
M VD depends on the LAL sensitivity and drug concentration.
Calculate the M VD of product with the help of above mention formula.
Sample dilution prepared at MVD/2 and sample tested at MVD (add 50 µ ltr. LRW in the final reaction tube to prepared MVD from M V 1)/2).
Prepared two replicates tube for test Positive Product Control, Negative control, and Sample.
Test (PPC) = 50µl Diluted sample MVD/2 + 50 µl CSE (0.125 EU/ml) + 100 µl lysate (O. 125 EU/mI. sensitivity)
Sample = 50 Diluted sample MVD/2 + 50 µl LRW + 100 µl Lysate
Negative control (blank) = 100 µl LRW + 100 µl Lysate.
Incubate all the tubes at 370C +- IOC for 60 minutes +2 minutes in the Multiblock heater.
Interpretation:
After incubation of 1 hour, check the result by carefully inverted each reaction tube at 1800.
A stable clot remains intact when the container is inverted; the result is recorded as positive, if the test solution runs out of the tube, the result is recorded as negative.
The test is proved to be correct if the effect is negative for both cases: Positive in positive control & Negative in the negative control (Blank).