Childrens Act Essay Sample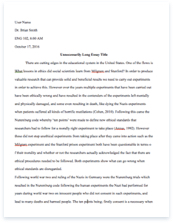 The whole doc is available only for registered users
OPEN DOC
Download Essay
Get Full Essay
Get access to this section to get all the help you need with your essay and educational goals.
Get Access
Childrens Act Essay Sample
Everyone who works with children have a duty to keep them safe from harm and or abuse. This is known as 'Child Protection'. There are regulations, laws and codes of practice in place that make this a legal requirement. These legal requirements must be followed in order to protect the child from harm at your place of work. The child needs to feel safe and protected whilst in your care.
Within the setting policies and procedures are set in place to form a system of guidelines that all members of staff must follow. These guidelines cover various areas of safety within the setting and all staff must familiarise themselves with them. * All equipment must be checked regularly
* All documentation must be secured safely with access only to those permitted * Risk assessments must be completed on activities, equipment and rooms * Child details must be updated and checked regularly
* Signing in / out procedures must be followed at all times and passwords adhered to * All incidents must be recorded and reported firstly to your supervisor and then to parents / guardians upon collection of the child * Any concerns for a child must be recorded and reported to your immediate supervisor, who will then put a plan of action in place.
It is also important to remember that staff must take steps to protect themselves from harm, injury, abuse and false accusations. Following the guidelines will reduce the risks.
* Never place yourself in situations where allegations can be made, such as being alone with a child, parents or guardians * Record all incidents of concern and inform your supervisor * Follow the 'man handling' rules when moving equipment * Check equipment before use
* Ensure that you have the correct child data and information before the sessions start * Never divulge information to other staff members who do not need to know Off-site visits are very popular with the children, but can carry greater risks to the children and yourself. You should always ensure that the following guidelines are adhered to: * A risk assessment is done for the whole trip including travel arrangements to and from venue and the venue itself * Child to adult ratio is maintained at all times
* Permission forms are completed for each child * Emergency contact details for each child are correct (these details must be taken with you on the trip) * First aid kit suitably stocked and any child medication eg; inhalers are in date * Mobile phones are fully charged and have credit
* An itinerary of the trip is made available to parents / guardians * Children are informed and reminded of our rules of safety before and during the trip
All staff members have a duty to safeguard children and must report 'poor practice ' committed or suspected by other staff members to their immediate supervisor. This action will in no way compromise your position within the setting as you are protected by legislation as a 'Whistle Blower' You must keep written records of your concerns, stating times, dates and location of incidents. Once you have reported your concerns to your supervisor, it is then their reasonability to investigate and take the necessary steps to correct the situation.
If you have reported any concerns about abuse to your supervisor and you feel that your concerns are not being taken seriously or that the appropriate action has not been taken, you can report this to Social Services. This procedure also relates to suspicions you may have about children being abused outside of the setting as well as concerns you have about colleagues.
Should you be accused of poor practice or abuse by a colleague you are also protected by law and are deemed to be innocent until proven guilty. The allegation will be investigated and you will be able to present evidence for your case. A solicitor and or union representative will also assist you in your case.