China and African Relations – Energy and Military Essay Sample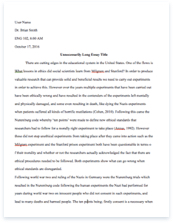 The whole doc is available only for registered users
OPEN DOC
Pages:
Word count: 912
Category: china
Download Essay
Get Full Essay
Get access to this section to get all the help you need with your essay and educational goals.
Get Access
China and African Relations – Energy and Military Essay Sample
China has established diplomatic ties with the African countries to promote bilateral cooperation, which has also improved the relationship between China and African countries (The Editor 2000). The diplomatic relations has improved on the trade between China and African countries which had been rising in the recent past (The People's Republic of China 2003). This literature review shall address how China and Africa relate in their economic activities and concentrate more on energy and military activities. China has invested heavily in Africa in energy solutions and military support (Marx 2008). The article also addresses on how each of the country is reacting on the investments done and how beneficial it is for each of the player or if the relationship is exploitative on any way and the African perspective on the engagements.
China has high demand of energy owing to its booming economy. It has experienced 9% average annual growth for the last two decades which requires a lot of energy to sustain its growth (Watson 2003). China relies mostly on coal as a source of its energy and it is the second largest consumer of oil in the world besides United States. As a result, china has opted to source for oil in Africa. Africa has so far has 9% of proven oil reserves and it is believed to hold more because most of it has not been explored enough (FMPRC, 2009). China was able to garner one third of its oil import from Africa last year which it got form Sudan, Angola, Equatorial Guinea and the Republic of Congo, and it is also sourcing for more suppliers from Gabon, Chad, Algeria and Nigeria.
China is quietly setting its feet to secure Africa's oil. China has so far pursued production and exploration deals in smaller and less visible countries such as the Republic of Congo, Equatorial Guinea and Gabon (Rob 2008). This is believed as the starting point of a larger strategy to penetrate in most other African countries which have oil reserves. Angola and Nigeria are the largest producers of oil in the continent, in 2007 China gave Angola $2 billion as a loan and aids to develop the country infrastructure and in Nigeria China has so far invested $2 billion dollars in oil refinery. China is following up how other countries such as Japan, United States and Europe were been able to exploit Africa by offering poor African countries exploitative and comprehensive trade deals which are combined with aids (Obulutsa 2009). Although, china has not yet made inroads into Africa's oils reserves it is aggressively seeking for it and so far the most successful Africa investment is in Sudan which at the moment it is exporting 60% of its oil output to china (Stephanie 2008).
China's foreign policy has evolved with time in realization of the need to secure its economic interest. China has so far managed to block United Nations Security Council resolutions of authorizing peacekeepers in Darfur, and has put on pressure on deployments of United Nations peacekeepers from Khartoum in Sudan where China has invested more in the oil industry (Parenti 2009). China sells large consignments of its arms to Sudan, Ethiopia, Tanzania, Equatorial Guinea, Zimbabwe Eritrea and Burundi among others. Chinese sales of its arms to African countries makes up to 15.4% for the last four years. China has also sent most of its military trainers to assist their African counterpart. People's Liberation Army of China has regular military interaction with 41 African countries which is has planed to increase further by 2010 (Bonvillian 2003).
Military activities supported in Africa are arms sales, peacekeeping operations and military exchanges. Military relations and Arm sales has improved China relationship with African countries which are always in conflict such as Sudan, Nigeria and Zimbabwe to meet their political goals (Paulo, 2008). Sales of Chinese arms and military assistance enhances its status as an international political power and it is able to have access to significant natural resources and also be able to secure what they  have already captured.Although, the investment done by China in Africa will uplift the African countries economic status such investments are short run. China motive to invest in Africa in energy and military is exploitative (Chris 2001). Its intention is to have an access to as much energy source in Africa and obtain maximum protection on the natural resources which they would have tapped.
References
Bonvillian, Paulo. 2003. Foreign Policy: China military activities in Africa. New York: Elsevier,
Chris, Alden. 2001. Africa & China: Forging Africa's Strategic Partnership. China Brief.  8(13) 56-67
FMPRC, 2009. China, S Africa launch friendship association. Retrieved on Apr 28, 2009 from http://www.fmprc.gov.cn/zflt/eng/yhjl/t449356.htm
Marx, Emmanuel. 2008. Africa 2008. Post Publications. 23(2): 110-154
Obulutsa, George. 2009. China's Hu in Tanzania, offers lavish aid. Retrieved on Apr 28 2009 from http://www.alertnet.org/thenews/newsdesk/LF128236.htm
Parenti, Jennifer. 2009. China-Africa relations in the 21st century. Joint Force. 10(3) 24-36
Paulo, Watson. 2008. China involvement in oil exploration in Africa . Business Opportunity. 30(7): 12-27
Rob, Davies. 2008. China & Africa relation conference. Butterworth-Heinemann, Oxford
Stephanie, Hanson. 2008. China, Africa, and Oil. Economics Journal. 25(1): 1-8.
The Editor, 2000. Eyewitness of China Africa Friendship. Retrieved on Apr 28, 2009 from http://english.peopledaily.com.cn/200010/11/eng20001011_52355.html
The People's Republic of China, 2003. Bilateral Relations. Retrieved on Apr 28, 2009 from http://www.fmprc.gov.cn/eng/wjb/zzjg/fzs/gjlb/3099/
Watson, Nthambi. 2003. The Role Of China In Sudan economy. Compass. 50(2): 78-97